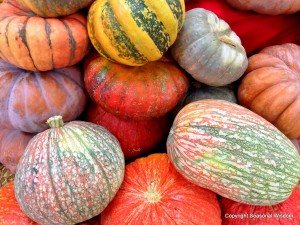 Autumn is one of my favorite times of year, and a big reason is the abundance of unusual pumpkins, winter squashes and gourds available right around now.
Just look at these heirloom pumpkins I spotted at my local market. The wild colors, shapes and sizes are inspiring, aren't they? In this Seasonal Wisdom post, you'll see heirloom pumpkins and squashes that not only look pretty as fall decorations, but taste delicious in the kitchen too.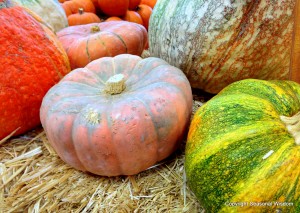 Gone are the days when you could only find standard orange pumpkins, available in different sizes. These days, you can buy and grow a wide variety of heirloom pumpkins, including that green and yellow striped 'American Tondo' (100 days) shown above.
Also known as 'Zucca Rotondo', the Italian heirloom is edible when harvested young and still has a two-tone green skin.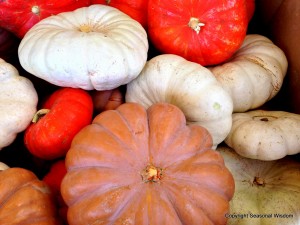 Among these pumpkins are a few 'Musquee de Provence' heirlooms. In fact, I bought that pale-orange one in the center recently.
Also named 'Fairy Tale', this old French variety is a renowned favorite of chefs.  I'm eager to try it in my kitchen soon.  Meanwhile, the pumpkin is so pretty that it's scary.
Behind that odd white pumpkin are several 'Red Warty Thing' pumpkins (110 days).  They may not be the most beautiful things you have ever seen, but the warty pumpkins have a delicious taste that is said to be comparable to 'Blue Hubbard' winter squash.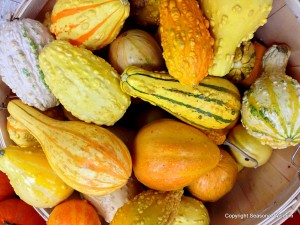 Speaking of warts, these gourds are colorful, hard-shelled ornamentals that deserve a prominent place on your holiday table or throughout your home.  Gourds can be dried or cured after harvest to preserve for different crafts and decorations.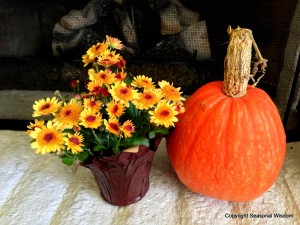 This winter squash 'Lakota' grew in my garden this summer, but it lacks the green/black splashes often found on this heirloom.  I adore it anyway.
Native Americans were fond of the sweet, nutty flesh on this winter squash. Superb for baking, 'Lakota' will store well until I'm ready to use it in a winter meal.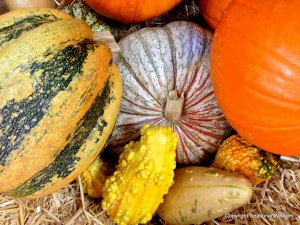 Learn More: I hope this Seasonal Wisdom post encourages you to experiment with unusual pumpkins, winter squashes and gourds.
Here's more help for growing them in your garden, and enjoying in your kitchen.
Seasonal Wisdom's Stuffed Winter Squash Recipe
Chef Brenda's Roasted Butternut Squash Soup with Nasturtiums
Seasonal Wisdom's Fall Bounty for Garden Variety blog
Seasonal Wisdom's Pumpkin Soup with Sage Recipe
Speaking of pumpkins, here are Halloween superstitions, Halloween folklore and more.