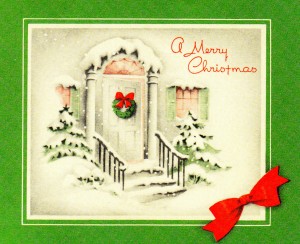 Take a tour of vintage Christmas cards, and gather little-known Christmas trivia to impress your friends at holiday parties. Image courtesy of Have Yourself a Very Vintage Christmas.
From the 1920s
As you know from reading Seasonal Wisdom, we love history and arcane folklore about the holidays. In fact, here are some crazy facts we bet you didn't know about Christmas:
Christmas was outlawed, holiday trees weren't always popular and Xmas isn't bad. Read more.
Winter solstice and Christmas, old gift-giving traditions and Lord of Misrule. Read more.
Christmas trees can be recycled in earth-friendly ways, from bath oils to garden mulches. Read more.
Now, one of my earliest Christmas presents this year was the new book Have Yourself A Very Vintage Christmas by Susan Waggoner, which my sister just sent me.  This delightful book has wonderful vintage craft projects using authentic vintage Christmas card designs from the 1920s to 1960s, including gift cards, stationery, treat boxes, covered ornaments, along with recipes and other seasonal tips.
Along with a comprehensive vintage art portfolio and 200 color illustrations, the book is packed with historical design facts too. Waggoner does a nice job of identifying key design trends over the decades. Here's a mini historical tour on Christmas card design, based on information and images gathered from this creative new resource for DIYers and Christmas lovers.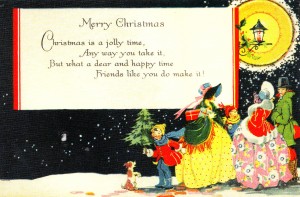 During the Roaring Twenties, life seemed radically modern with Flappers wearing shorter skirts than in earlier times, and dancing the Charleston with wild abandon. However, the Christmas cards during this wild decade were, ironically, often quite traditional and nostalgic for earlier times.
Nineteenth-century, snowy village scenes from the Charles Dickens era were very popular during the 1920s, as you can see above.  Ivy was often seen in these cards, as were old-fashioned lanterns lit by candlelight.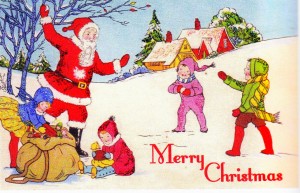 Cheerful kids were found in Christmas cards during the 1920s, usually doing ordinary things like sleeping peacefully in bed or playing in the snow. Even Santa looked thinner back in the olden days than he does now.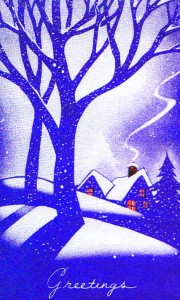 The Thirties meant an abrupt shift from the carefree decade before.  After the Stock Market Crash on October 29, 1929, the Great Depression officially began — throwing millions suddenly out of work, and causing the worst financial mess the modern world had ever seen. Not surprisingly, the tone of Christmas cards changed as well.
As Waggoner writes, it was common to see cards, gift tags and other Christmas items in blue ink. These cards required less expensive ink to print, and reflected the nation's new somber mood.
The 1930s cards had a distinctly different look than the cheerful, snowy villages seen during the merry 1920s. Now, remote houses stood off alone, surviving a long winter's night, as we see in the above card.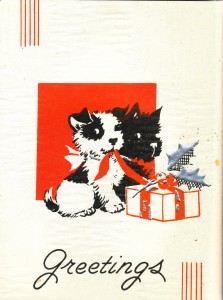 Man's best friend played a starring role in keeping up the nation's morale during the 1930s. Dogs are seen more frequently in this decade, writes Waggoner. The terrier — with its fierce, spunky spirit — was particularly popular during these rough financial times.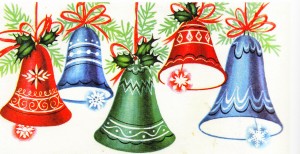 After World War II ends in 1945, Christmas cards become celebratory and cheerful. Patriotism is more noticeable, with red, white and blue commonly used in cards along with traditional green. Bells of victory are featured on Christmas cards of all types.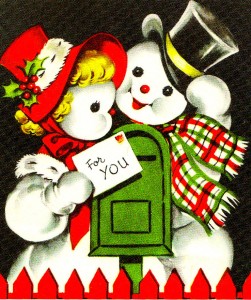 Smiling images of Mr. and Mrs. Snowman are also popular in the 1940s. The snowy couple pops up frequently in 1940s art, sometimes wearing tropical Miami-style hats and always sporting huge Hollywood smiles. The book offers several fun examples that can be used for crafts.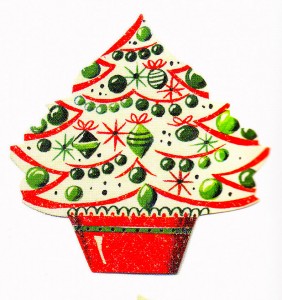 The Fifties take Christmas cards into wild new directions. Christmas trees take center stage in cards and homes  now that the fireplace hearth — so popular in earlier cards — is a less common fixture in modern houses.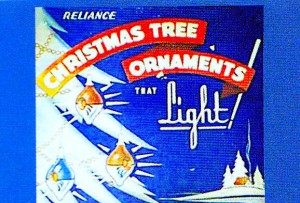 Now instead of yule fires, electric lights are providing the glow in the 1950s homes.  Here's more cool vintage Christmas decorations, provided by my neighbor.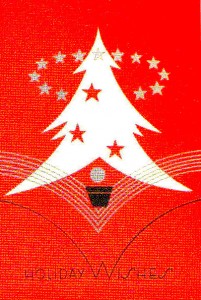 Sixties Christmas cards tended to feature mod, monochromatic color scenes and lots of white. The overall look was serene and cool, although often you might see other cards that were more nostalgic or retro.
If you've found this post helpful, definitely go check out this wonderful book packed with lots of historical tidbits and many cool card designs for different projects — from vintage gift tags to glittering glass ornament balls.
Disclosure: As discussed above, I was provided this book as a gift from my sister. I received no product or compensation in connection with this book review.
More Vintage Cards (And a Bit of History Too):
Can't Get Enough? Here are more vintage Christmas cards.
Then scoot on over to Red, White & Grew where Pamela Price is sharing an amazing collection of Postcards from the Past, which she inherited from her maternal grandfather. These treasured cards date back to the early 1900s. Be sure to tell her I sent you. Enjoy!