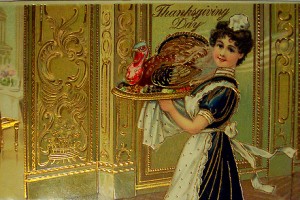 Thanksgiving is nearly here. So, we're sharing some great Thanksgiving entertainment resources to ensure you have a healthy, delicious and safe meal.  Illustrating this post are wonderful vintage Thanksgiving cards from riptheskull on Flickr. Enjoy!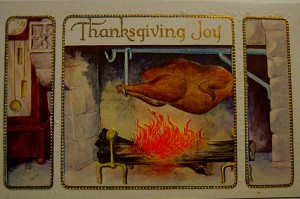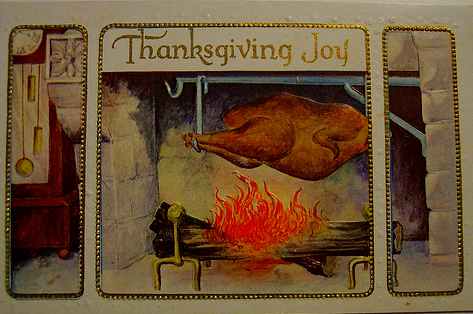 Turkey Times and Cooking Tips: If you're like most Americans, it's not every day that you cook a large turkey for family and friends. So, you probably have a few questions … like how much turkey will you need? How long should you cook your turkey? To stuff or not to stuff a turkey? And why would anyone brine a turkey?
Learn how long to roast a turkey, and get basic safety advice from the USDA.
General cooking tips about roasting turkeys can be found from Whole Foods, including how to brine a turkey.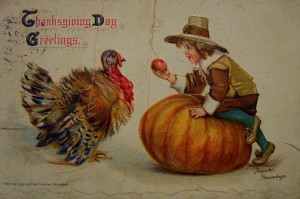 Heritage Turkeys or Locally Raised Turkeys:
In recent decades, we've lost many wonderful heritage turkey breeds, as food producers have focused mainly on the Broad Breasted White turkey found in grocery stores all over the United States. As a result, some of the nation's most delicious tasting breeds of turkeys have simply disappeared.
Thankfully, that's changing. As Grist reports, heritage turkeys are making a comeback.  Now it's easier than in recent years for you to purchase and taste these rare birds. This is great news for those who value food diversity, and want to eat healthier, better tasting turkeys. In fact, your purchase of of a heritage turkey helps to keep these breeds alive.
Learn how to find a heritage turkey in this Turkey Guide from Slow Food USA.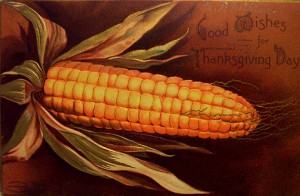 Besides the Turkey:
Just because it's Thanksgiving, doesn't mean those side dishes can't be healthy and delicious.
How about a recipe for Pear, Prosciutto & Hazelnut Stuffing from EatingWell.com?
Or, a Smashed Spiced Sweet Potato recipe from EverydayHealth.com, with cumin and chili powder?
Love Green Bean Casserole, but don't love the canned soup in most recipes? Try this version from A Veggie Venture. She says it's the "world's best green bean casserole." Although I can't confirm this claim myself, I'm definitely tempted to try her healthier version this year.
Want more? Here are different Thanksgiving side dishes from Delish.com.
Drink up! Matching the right wine with all those unusual Thanksgiving flavors can be a challenge.  Wine Spectator says, "… even the Pilgrims would have a hard time finding the right match." Here are their tips for wines for Thanksgiving.
Want something more exotic to drink this Thanksgiving? The Huffington Post has eight Thanksgiving cocktails with ingredients like maple syrup, apple brandy, cinnamon and other yummy autumn flavors.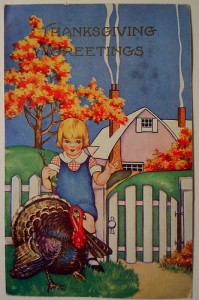 Thanksgiving Decorating Ideas:
Looking for inspiration for your Thanksgiving home decorations? You're in luck.
There are lots of decorating ideas from HGTV, including easy tips and videos about topics like setting a stylish table and decorating with autumn touches.
From attractive fall wreaths to elegant table centerpieces, Martha Stewart shares her favorite Thanksgiving decorating ideas here.
For a fresh and modern way to decorate this Thanksgiving, check out these colorful, hip ideas from Hostessblog.com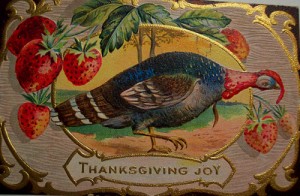 Easy, Green Thanksgiving:
From pesticides and artificial additives to food packaging chemicals, there are lots of things you don't want to eat this Thanksgiving.
Keep your family healthy and well by paying attention to some of the latest food safety research findings and advice from Environmental Working Group. From using safe cookware to selecting the right foods, this article has lots of news you can use.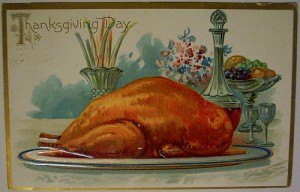 Expert Advice: Even if you're a newbie, there's help for you. For instance, 11 of the nation's top chefs offer their advice for hosting a wonderful thanksgiving, especially if it's your first time.
However you decide to celebrate, remember to have fun, give thanks, and eat well.
And if you're having a little trouble feeling grateful on Thanksgiving, keep in mind these wise words …
"Let us rise up and be thankful,
for if we didn't learn a lot today, at least we learned a little,
and if we didn't learn a little, at least we didn't get sick,
and if we got sick, at least we didn't die;
so, let us all be thankful."
Buddha