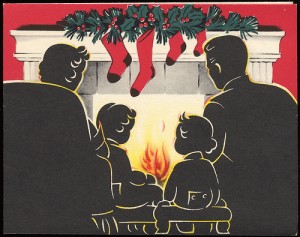 Another holiday season is here.  And it appears we have survived the "End of the World," as Dec. 21, 2012 is nearly over as I write this post.  That's a relief. Even though 2012 has been a rough year for many, it's nice to know we have turned the corner, and that 2013 is nearly upon us.
To get you in the holiday spirit, here are more charming vintage holiday cards from throughout the twentieth century. Come take a peek … Photo courtesy of roadsidepictures on Flickr.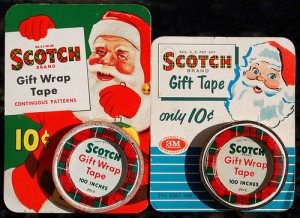 Vintage holiday cards provide a window into the past, as Seasonal Wisdom described in this article about Christmas cards in the twentieth century.
Although it's unclear when exactly these gift tape packages were sold, the price shows it was not recently. That's for sure. Image courtesy of roadsidepictures.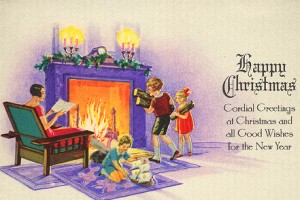 Roaring Twenties: From the woman's "bob cut" to her craftsman-style arm chair, this greeting card appears to be from the 1920s.
Ironically, the only thing "roaring" in this card is that gorgeous holiday fire… and that's actually common during this decade, as explained here.
The playing children, burning candles and holiday foliage were all popular motifs at the time. Image courtesy of roadsidepictures.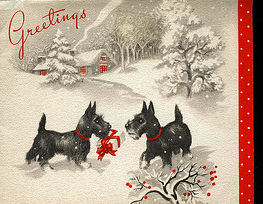 Challenging Thirties:  Man's best friend played a starring role during this decade, as the nation struggled under the Great Depression.
Scottish terriers were an especially popular dog breed for the time, as you can see above and here.
Meanwhile, note the lone house off in the distance. This was a common theme during this rather rough time. Photo courtesy of roadsidepictures.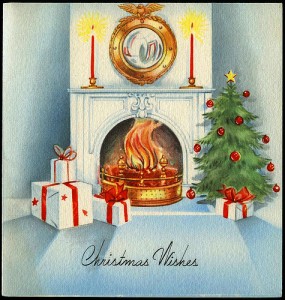 Fighting Forties:  Greeting cards became a lot more patriotic during this wartime decade, as the United States fought and recovered from World War II.
The eagle in the mirror, and the stars and stripes on the packages, are a few patriotic clues. Red and blue colors often dominated these holiday wishes, rather than the green and red motif we notice at other times. Photo courtesy roadsidepictures.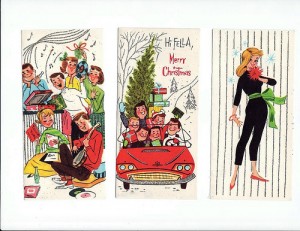 Fifties and Sixties:  How groovy are these holiday greeting cards?
Note the tight Capri pants on the hip female, as well as the turtlenecks on the guys. And see all those records, kids? Not a CD, DVD or computer in sight.  Photo courtesy of Ravensmagiclantern.
Wishing you a wonderful holiday season!
Don't miss – how Christmas was once illegal, and the role of Lord of Misrule during the holidays. Here are seven earth-friendly ways to recycle your Christmas tree, including a pine needle-infused bath oil.
Meanwhile, thanks for being such loyal Seasonal Wisdom readers. Your comments keep me inspired to look for fun things to write about, and I consider your readership one of the best gifts of the year. So, thanks to you all.
Look for more articles in 2013 about
Growing and enjoying local foods year round
Celebrating nature wherever you live
Benefiting from a seasonal lifestyle, and
Enjoying old folklore that makes life more interesting!
We're planning lots of great giveaways, guest posts and other surprises too. Hope to see you there!  Ho ho ho!