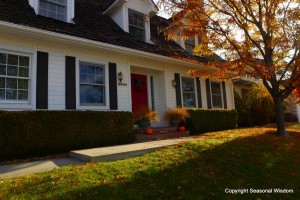 The days are growing chilly, and the nights are lasting longer now.  Colorful leaves are dancing on the autumn winds and falling gently upon the ground.  But before you say goodbye to your garden, here's a fall garden guide to prepare you for the colder months that lie ahead.
In this post, Seasonal Wisdom shares regional fall garden tips, autumn recipes and folklore in celebration of this popular time of year.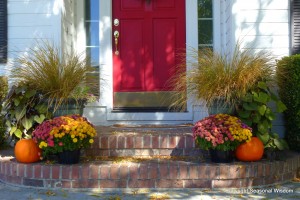 Rose G. Kingsley wrote in The Autumn Garden (1905) that "autumn is, indeed the crowning glory of the year, bringing us the fruition of months of thought and care and toil.  And at no season, safe perhaps in Daffodil time, do we get such superb colour effects as from August to November."
It's not just a pretty time in the fall garden it's also a busy one.  From selecting cool-season plants for the front steps (like we did here) to applying organic matter to your garden beds, there are several important garden chores now.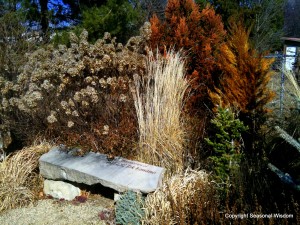 Fall Gardening Resources
Fall and early-winter can be a beautiful time in the garden. Here's a late-fall/early-winter photo I took over at Edward's Nursery in Boise, Idaho a few years ago. This little garden spot shows how you can create winter interest with conifers and grasses when everything else is dying back (or dead) in the garden.

You'll want to feed your soil with organic matter around now. In our garden, we add several inches of well-aged manure and worm castings over a fall weekend, while mulching all the beds well.
You can also grow cover crops to boost organic matter and add healthy beneficial organisms to your soil, reminds Cornell University Department of Horticulture.
Regional Fall Garden Chores
Spring bulbs, including favorites like daffodils, tulips and hyacinths, are planted around now for spring beauty. Here are 20 tips for planting bulbs from the Telegraph.
Garlic is also planted now for summer harvests. The organic growing peeps at Peaceful Valley/Groworganic.com offer garlic planting advice in a video.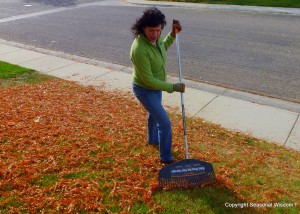 Don't Toss Out Fall Leaves:  Too many gardeners rake up their fall leaves and throw them away. Yet, these leaves have many valuable uses in the garden.
Here are some of Seasonal Wisdom's favorite ways to use fall leaves around the garden, instead of adding one more thing to the landfills. Believe me, your garden will thank you.
By the way, it's great exercise to rake leaves, as I've experienced on many fall weekends in my life. This Oregon State University study reports raking leaves may be as good as a trip to the gym.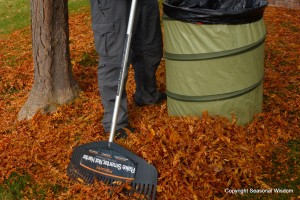 Around here, we use fall leaves in our compost pile, shredded finely on our lawn and raised beds, and more. Fall leaves decompose into terrific organic matter for your gardens.  If there isn't too thick a layer of leaves already on the ground, we just chop them up with the lawn mower and leave them right on the grass.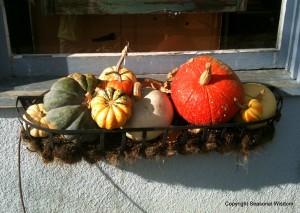 "There is no season when such pleasant and sunny spots may be lighted on,
and produce so pleasant an effect on the feelings, as now in October."
Nathaniel Hawthorne
When I think of fall, I crave pumpkins and winter squash. Here are Seasonal Wisdom tips on how to grow and enjoy pumpkins, the pride of many a holiday table.
As for winter squash, Chef Brenda shares her delicious Roasted Butternut Squash Soup with Nasturtiums recipe. You may also like my Stuffed Acorn Squash recipe.
Prefer apples? Try my Hungarian Apple Soup or Fall Fruit Cobbler .  This French Onion Soup is rocking too, if I do say so myself. During cold and flu season, I eat plenty of different types of onions and garlic.  "Both are antimicrobial and might help ward off bacteria and viruses, as well as combating congestion," writes the Minnesota Star Tribune. 

Over a delicious fall meal, be sure to have a chuckle about these Halloween Superstitions and Halloween Folklore, with luscious vintage greeting cards courtesy of RiptheSkull on Flickr.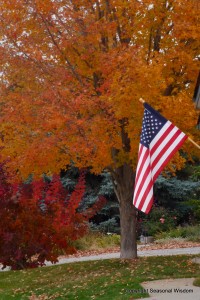 "Even if something is left undone, everyone must take time
to sit still and watch the leaves turn."
Elizabeth Lawrence
Nature Rocks! Save a few moments from all that fall cooking and gardening to appreciate Mother Nature's artistry in autumn.  Take a walk. Sit in a park. Collect colorful leaves. This seasonal beauty comes and goes so quickly each year. It really does deserve a round of applause, as you can see in this picture of my old neighborhood.
Learn why some trees turn colors each fall.

Autumn color abounds in the foothills of Boise, Idaho, as you can see above. Take an armchair tour of the beautiful City of Trees, and see for yourself how this Northwest state capital really shines each fall.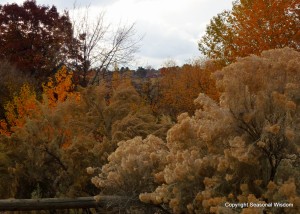 Old Man Winter
Yes, winter is right around the corner, but it's also a great time to start making changes to your garden for the next growing season.
Here are some of Seasonal Wisdom's favorite tips for an attractive winter garden.
Miss summer already? Five talented and entertaining garden writers tell Seasonal Wisdom how to survive winter in cold climates.
Want some help organizing your garden shed? STAY TUNED for some creative ideas coming soon.
Disclosure: As a member of Fiskars' national garden writer team, I was provided with that nifty rake and collapsible garden bag (shown above) for no charge to review. However, I was not paid to write this article, and my opinions are strictly my own.
Enjoy your garden this fall, folks! What's your favorite garden "chore" in autumn?