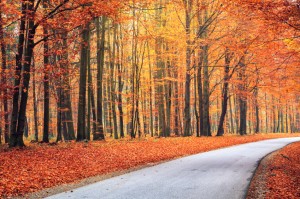 Guest Post: Another amazing autumn is here! Seasonal Wisdom is delighted to feature these fall-based Feng Shui tips from NY-based consultant Ann Bingley Gallops of Open Spaces Feng Shui.  Learn how you can use the timeless lessons of Feng Shui to enjoy this season to the fullest. Here's what Ann has to say …
Use Fall To Your Advantage, Feng-Shui Style
We've entered the heart of Fall, when gardens show signs of fatigue after their summer activity, and plants and trees begin their annual shut-down.
It's time to shut down the irrigation system, turn off the fountain, bring in remaining goodies from the garden and start covering things up for the hibernation of winter ahead.
How are you feeling, right now? Are you consolidating your summer gains and buckling down for a winter of concentration and focus?
 In Feng Shui, fall is the season of the Metal element, which signifies "contracting" action: consolidation, fall harvest and a sense of completion in the cycle of the year.
Feng Shui's Five Elements are Water, Wood, Fire, Earth and Metal; each is associated with a particular time of year.  Learn more about the Five Elements.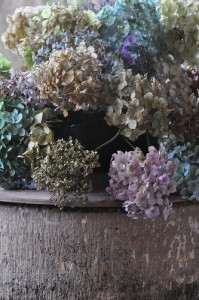 Faded flowers photo courtesy of Garda on Flickr
Metal is symbolically represented by the various shapes, colors and textures that appear in autumn. For example, Metal appears in the pale shades of a fading hydrangea.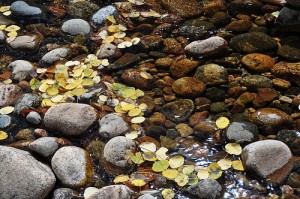 Photo courtesy Snap Man on Flickr.
Metal is also symbolized by the round shape and condensed nature of rocky boulders as they begin to dominate the autumn landscape
In Feng Shui you need each of the Five Elements in your life for distinct aspects of energetic balance.
Metal is the element of discernment, organization and planning, paralleling your activities during the fall as you assess what has occurred thus far in the year and make plans to consolidate those gains over the winter.
Use the strengthening power of Metal to your advantage this fall.  You can signify your dedicated Intention to do this in your space with metal objects, items that are round or oval shaped, and objects in shades of pastel or white.
As you place these objects in your home or office, dedicate their placement to your goals for months ahead.  Place your plans more firmly into the "real" by grounding them with your Intention, as embodied in the items you are placing.
Here comes Winter – what do you wish to have accomplished by the time the re-awakening of Spring arrives?
Here's to good Chi!
Learn More: See Ann's Feng Shui tips for Winter and Spring, created for Seasonal Wisdom readers.
About the Author 
Ann Bingley Gallops, owner of Open Spaces Feng Shui in Brooklyn New York, is an expert Feng Shui consultant, blogger and speaker.  A Feng Shui consultation with Ann helps you get unstuck, create a positive environment where you can blossom and thrive, and attract abundance in every part of your life.
Ann is the author of Map Your Space To Change Your Life: A Guide To The Feng Shui Bagua . She practices Feng Shui with an MBA from Columbia University, a Practitioner's Certificate from the Western School of Feng Shui, and Red Ribbon Professional membership in the International Feng Shui Guild.
Follow Ann on Facebook, Twitter and Pinterest, and on the Open Spaces Feng Shui blog.