Talks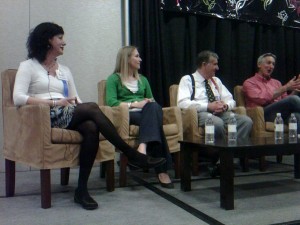 Enjoy edible flowers and historic plants. Grow your own groceries. And save money and time in the garden. These are a few topics I've spoken about recently at leading flower and garden shows, symposiums, local nurseries, gourmet grocery chains and book stores around the nation.
The above photo shows me as speaker and participant in "Incredible Edibles" panel at the Northwest Flower & Garden Show with Lorene Edwards Forkner, Joe Lamp'l, Willi Galloway and Graham Kerr of The Galloping Gourmet.
"Teresa is a natural speaker whose personal experience and connections with skilled gardeners nationwide provides a wealth of great information to those wanting to grow their own food. Her style is a wonderful marriage of horticultural knowledge and culinary experience, and her seminars were filled with both recipes and practical gardening tips great for the novice edible gardener."

Janet Endsley, Seminar and Social Media Manager, Northwest Flower & Garden Show (nation's second largest show)
Filled with colorful images, stories, resources and practical tips about gardening, food and folklore, Teresa's talks have entertained groups of all sizes. Detailed handouts with local and national resources are provided with each appearance.
"Teresa O'Connor's talk was well received by those attending Idaho Botanical Garden's 2010 Rethinking Idaho Landscapes horticulture symposium. Attendees gave her highest marks on the event's evaluation forms, and her presentation provided excellent, useful information. I for one am trying a new squash this year."

Elizabeth Dickey, Education Director, Idaho Botanical Garden
Teresa has spoken at venues from Boise to Boston Flower Shows, as well as the Mother Earth News Fair in Puyallup, Washington.
A Few Recent Talks…
"The Allure of Edible Flowers"
"Grow Your Own Groceries"
"Up In Air: Vertical Gardening Solutions"
"Tips for The Time-Crunched Gardener"
"Growing Food in Small Spaces"
"Kitchen Gardens with Style"
"Top Gardening Mistakes … And How to Avoid Them"
"Growing Herbs Beyond Parsley, Sage and Thyme"
"Frugal is Fabulous: Clever Ways to Save Money in the Garden"
"Garden Secrets from Well-Known Experts"
Contact me if you'd like to learn more or have me speak at your function.