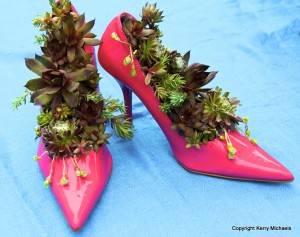 When it comes to container gardening ideas, Seasonal Wisdom often turns to the wise advice of Kerry Michaels, who writes the Container Gardening Guide for About.com.
For more than four years, Kerry has charmed her readers with terrific photos, great gardening tips and clever designs. A great example is the way she stuffed succulents into these hot-pink stiletto shoes she bought for 50 cents at a local vintage store. So, imagine my surprise when Kerry called and wanted to interview Seasonal Wisdom …
Photo copyright Kerry Michaels.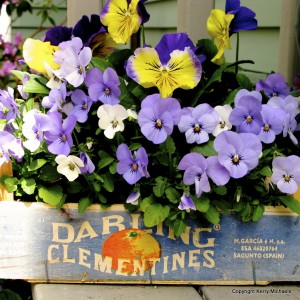 In her weekly column, Kerry often designs delightful plantings in unusual containers. Just look how she combined cool-season pansies with a vintage clementine box. Drainage is key to healthy plants, so Kerry always ensures her containers have proper drainage holes.
A couple weeks ago, Kerry contacted me to request a profile for her new series on container gardeners around the nation. She recently featured the talented Barbara Wise, who is the author of the upcoming book Container Gardening for All Seasons.  Barbara gives lots of practical design and growing tips in her article; you should definitely check it out.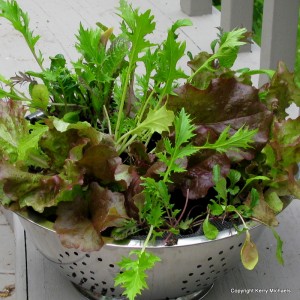 Over the years, I've grown to love the way Kerry is so clever and humorous with her container plantings. Why not plant Johnny Selected Seeds 'Elegance Greens Mix' in an old metal colander?
Gardening Tip: To prevent a mess when she waters, Kerry lined this colander with window screening before planting. That way the water can drain gently, and all the dirt won't flow out the holes. Learn more about how Kerry did it.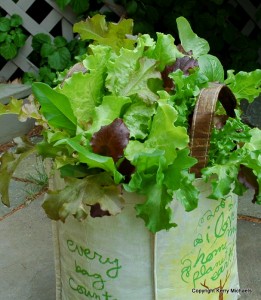 Here's another clever planting of lettuces and salad greens in an old shopping bag, where drainage holes were added at the bottom. To recreate this container, here are instructions and a video.
I'm pleased to say that Kerry's creative photos have often been featured in my talks around the country, when I speak on growing your own food at home.
So, of course, I'm THRILLED to be featured in this profile.  Check it out, and let Seasonal Wisdom know what you think.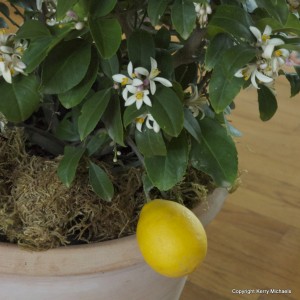 Meanwhile, remember these good container gardening tips from Kerry:
Have fun with your container garden designs.
Think outside the "pot" for your containers. Just make sure they have good drainage.
Remember you can definitely grow food in small spaces. In fact, just look above at that gorgeous Meyer lemon plant growing in a pot near a sunny window.
How do you like to plant flowers, fruit and vegetables in containers?
Learn More:
Container Gardening Guide – About.Com