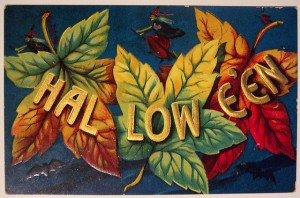 To all the Seasonal Wisdom readers out there … Happy Vintage Halloween! This autumnal holiday is one of our favorites, particularly all the strange and wonderful Halloween superstitions, folklore and strange facts.
Come join us as we look back at this popular holiday, whose history is stranger than fiction. All these vintage Halloween cards are courtesy of RiptheSkull on Flick. Read more if you dare…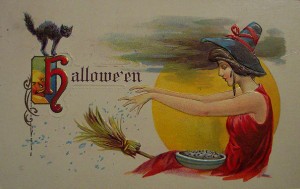 Halloween has many strange traditions you probably didn't know.
This vintage Seasonal Wisdom post takes you back in time to learn strange Halloween facts and folklore rituals, with more vintage cards from RiptheSkull on Flickr.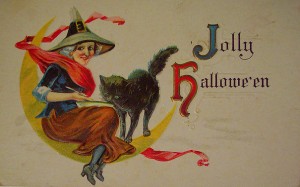 From ghoulies and ghosties and long-legged beasties, And things that go bump in the night, Good Lord, deliver us!" Old Cornish Prayer
Halloween has long been considered a scary night, when the veils between the living and dead are especially thin. Read old and often-humorous Halloween superstitions in this vintage Seasonal Wisdom post.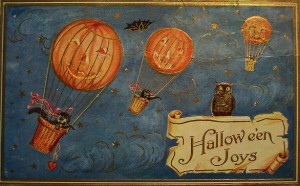 Pumpkins are a common symbol of Halloween. They're easy to love in the garden and the kitchen, especially when they aren't flying through the sky.
Learn more about growing and eating pumpkins here.
See unusual pumpkins, winter squashes and gourds.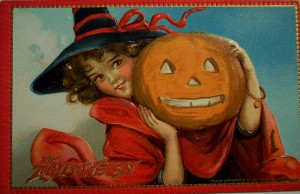 When I was a little girl, this scary old poem was one of my favorites. Little Orphan Annie by James Whitcomb Riley.
Be sure to read this poem aloud with lots of gusto.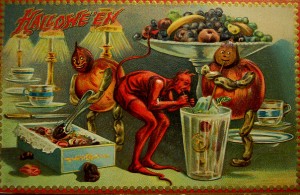 You aren't the only one who finds Halloween a scary place in terms of all the calories.
Here are different Halloween candies with the lowest calories. Definitely worth a read!
Hope your Halloween is fun, safe and happy.
All vintage Halloween cards in this post are courtesy of RiptheSkull on Flickr.