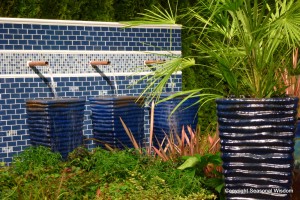 From traditional garden fountains to contemporary styles, such as this one above, water treatments were making a splash at the 2013 Northwest Flower and Garden Show in Seattle recently.
Regardless of your design style, you'll find a good mix of fountains in this post. Come take a look and see for yourself…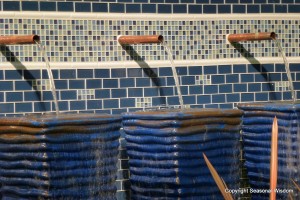 My favorite parts of attending the 2013 Northwest Flower and Garden Show — besides giving a talk on vertical gardening — included hearing all the other great talks and visiting the amazing demonstration gardens.
Nearly every garden had a water treatment of some type, each different in its own way. For example, this contemporary fountain came from the California Dreaming garden, designed by Under the Arbor Landscape Design. The cool fountain wall itself came from Falling Water Designs.
Don't you think it would make a great privacy wall for a contempory home or restaurant? (Click on photos to enlarge them.)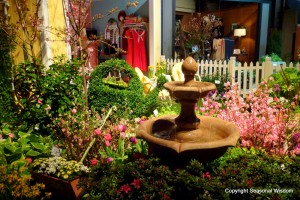 This charming garden features tulips, azaleas, primroses, daffodils and other romantic spring flowers. The traditional, two-tiered fountain here is closely linked to the feminine style of this garden.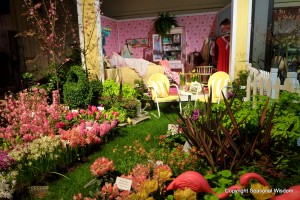 This Pillow Talk garden, designed by Wight's Home and Garden, is inspired by the popular 1959 movie with Doris Day and Rock Hudson. The pastel-colored, wildly-romantic garden would have been owned by Doris Day.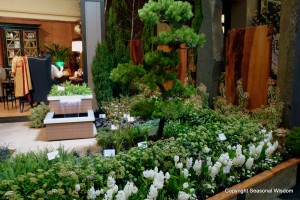 Next door is Rock Hudson's garden. Notice how the warm neutral colors in his office are spotlighted by the crisp, sophisticated garden design in white and green.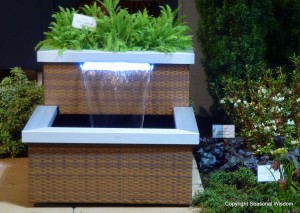 Naturally, "his" fountain is more modern and streamlined. (We are talking about 1959 stereotypes, after all.) Wicker and metal adorn his contemporary fountain, while a planter box grows yarrow on top.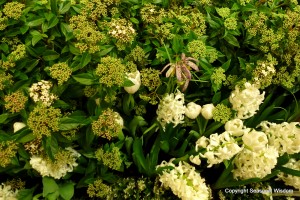 A closer look at his serene gardens shows white hyacinths, tulips and other flowers growing wildly together.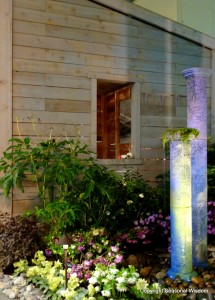 Over at the Beach Garden designed by Plantswoman Design, two striking water columns by the garden shed are uplit and surrounded by spring flowers.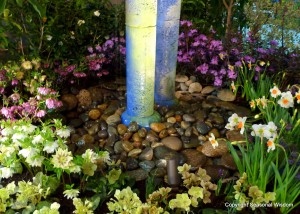 Near the bottom of the water treatment are spring flowering plants, including Narcissus 'Barret Browning' and Helleborus Winter Jewel Series.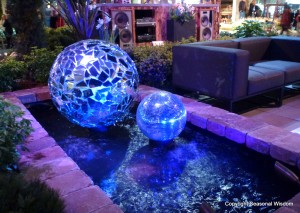 Prefer to "boogie down" in your garden? This Disco Fever garden by Susan Browne and Issaquah Landscaping may just give you a "Saturday Night Fever."
The formal stone pond has two dazzling disco balls that will have you lusting after leisure suits and bell bottoms.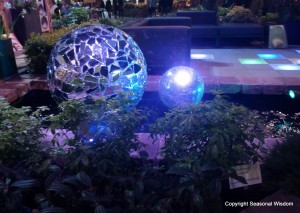 To get you in the mood, the outside floor tiles change colors in tune with the music. This makes this Seventies Retro garden an ideal place to "get down" and have a little fun.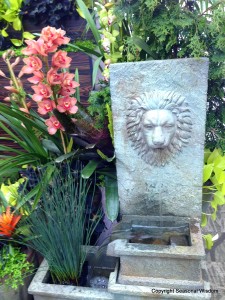 A small demonstration garden by Molbak's Garden and Home was one of my favorites.  Along with this classic lion fountain, there are wonderful plants in hot orange, black, lime green and salmon pink.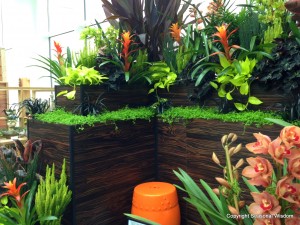 From orange bromeliads to black mondo grass and lime-green asparagus ferns, this little garden bursts with life and good cheer. Even on a cloudy Seattle day, you can't help but smile when seeing it.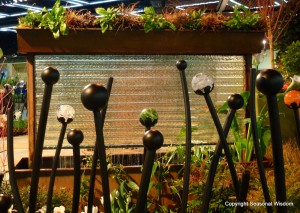 The Renewal: Enchanted April in the Northwest garden features this attractive, space-saving water feature made of glass and iron. A planter, bursting with leafy plants, sits on top.
Designed by Jim Honold, Home and Garden Art, the garden is "fenced in" with a playful fence topped with glass spheres.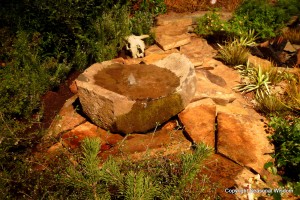 At the western part of It's All In The Movies garden sits this simple rock fountain, which looks like it has been here forever.
All you need is a nice firepit under the stars and some comfy chairs for lounging, with maybe a couple horses grazing in a nearby pasture.
No doubt John Wayne would feel right at home in this garden created by the Washington Association of Landscape Professionals.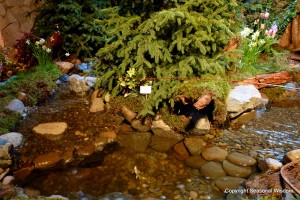 Looking for something more naturalistic? How about a real "river" running through your property?
This four-season garden – appropriately named A River Runs Through It – was created by Evergreen Landscaping and Ponds.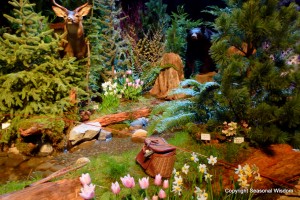 The animals aren't real in this photo, but the garden looks like the perfect setting for outdoor enthusiasts. It reminds us how Mother Nature can be a great inspiration for our home gardens.
Don't forget to read my trend report on how rocks, wood and innovative plants starred at the 2013 Northwest Garden and Flower Show. The above rock fountain was created by Butchart Gardens.
Also, don't miss my upcoming show report with creative garden designs for your own home. Coming soon!
Meanwhile, how are you using water features to add excitement in your garden?
All photos and content copyright Seasonal Wisdom.