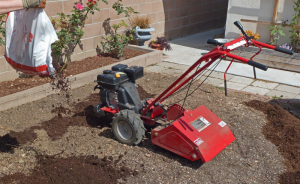 Earlier this season, Seasonal Wisdom reviewed the new Troy-Bilt Bronco Axis Tiller and gave it a test spin. Here's your chance to watch this tiller in action.
This two-minute video shows me tilling a new garden bed with organic compost for better soil texture and quality. As you'll see, the Troy-Bilt Bronco Axis tiller is easier to operate than ordinary tillers. Check it out…
Take a minute to see the Troy-Bilt Bronco Axis Tiller in action. Or visit YouTube to watch this video.
After I tilled our garden with organic compost, I covered the soil with layers of newspapers and wood chips. This saves water, smothers weeds and balances soil temperatures. When I'm ready to plant, I'll just brush aside the wood chips, cut into the newspaper and plant in the amended soil.
Disclosure: As a #Saturday6 blogger for Troy-Bilt, I was provided with this tiller at no charge and compensated for my time. However, my opinions are always my own.