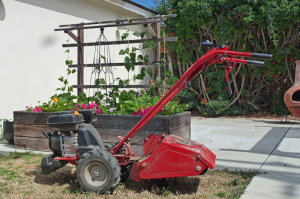 If you're like many gardeners, you may have some rather back-breaking memories of working a rototiller.  I know I did. That's why I wondered whether I could use this powerful new Troy-Bilt Bronco Axis Garden Rototiller myself to turn my soil, without breaking my back.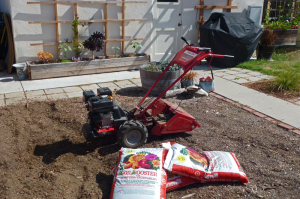 When Troy-Bilt asked me recently to test the new Bronco Axis Garden Rototiller as part of its Saturday6 blogger program, I was rather intrigued. First off, I had a large square garden bed – which had recently been the home of two dead fruit trees that had been removed.
I liked the idea of working in good amounts of soil amendments like manure, bat guano, worm castings and compost before planting.
Although I could have done lasagna sheet mulching, tilling the soil was faster and I had already waited quite a bit of time to have those trees removed.
Also, I live in California which is experiencing a severe drought. So, our family and many of my friends plan to remove much of our lawns soon, and replace them with drought tolerant plants. I knew a good quality tiller would come in handy for those garden projects too.
The question was whether I could handle the tiller project on my own, without my husband there. If you've ever worked a rototiller, you know exactly what I mean. These machines typically require a lot of strength to work them. The Troy-Bilt Bronco Axis Rototiller uses a different type of system, however, which is much easier to work.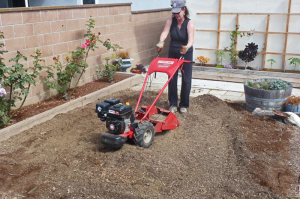 Unlike other rototillers, the Troy-Bilt Bronco Axis Rototiller has counter-spinning, twin vertical tines that work almost like egg beaters. This allows the machine to till the soil easily in just one pass. Even I could work this machine!
You can also adjust the tilling depths down to 6.5 inches, depending on what you need.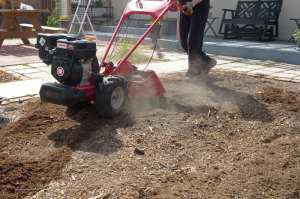 There's a 208cc Troy-Bilt engine that keeps the machine moving, without a lot of that jerking and bucking motion typically found in tillers. The instructions say there is a Just One Hand Operation, but I had to use two hands to control the machine. Maybe after I've practiced a bit more, I'll be ready to release one of my hands.
I was able to easily mix in these amendments without having to over-till the soil. Now I'm ready for laying out the pathway and planting the bed with edible flowers, herbs and vegetables.
From this point forward, I'll keep improving the soil with regular sheet mulching of compost, fine wood chips and other organic materials. But I was very grateful to have this easy-to-operate tiller for the upfront work.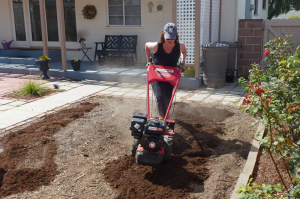 Yes, this rototiller still requires upper arm strength, but at least I didn't feel like I'd fallen off a truck afterwards. The ease in using this machine was a noticeable improvement over a typical rototiller.
The Troy-Bilt Bronco Axis Garden Rototiller has a limited lifetime warranty on the cast-iron encased transmission and a 2-year limited warranty on the equipment.
The tiller would be a good tool for gardeners starting a new garden, particularly in heavy clay soil. If a bunch of your neighbors are planning to remove their turf this year, consider chipping in on a machine to prep the soil before planting.
Your backs will thank you, and so will your gardens.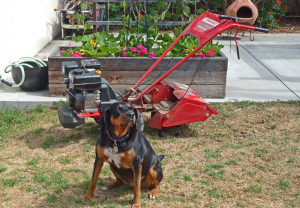 Maggie was such a good hound dog, while we were working, that we even let her pose with the tiller afterwards. She gave it a "paws up" too.
Disclosure: As a Saturday6 blogger, I was compensated to write this review and the tiller was provided at no charge. My opinions, however, are my own.  Images: Seasonal Wisdom.