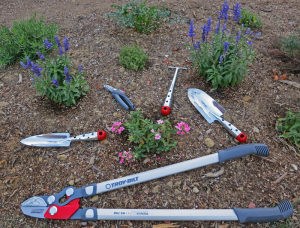 One of my favorite aspects of serving as a 2015 Troy-Bilt Saturday6 blogger is that I'm able to review some of the company's newest garden products – and pass along some of these high quality garden tools on to a lucky Seasonal Wisdom reader.
Enter to win this Troy-Bilt Garden Tool Giveaway (valued at more than $115). If you win, you'll be all set for your fall garden chores.  But hurry! This random drawing ends midnight on Tuesday, Aug. 25, 2015.  CONGRATULATIONS to Mary from South Carolina for winning. 
What You Could Win from Troy-Bilt
Troy-Bilt recently introduced a new set of garden hand tools, made with German steel, which are meant to last. Here's your chance to win:
Comfort Max Anvil Pruner ($39.99)
Comfort Classic Anvil Lopper ($59.99)
Premium Flower Trowel ($5.99)
Premium Planting Trowel ($5.99)
Premium Garden Rake ($6.99)
Troy-Bilt Comfort Max Anvil Pruner ($39.99)
Fall pruning projects will be easier with these anvil pruners, which also have an integrated wire cutter.
Unlike bypass pruners – which are designed for young, green growth – these anvil pruners work best on tough, mature or dead wood. I'm right handed, but the safety lock position on the top makes these pruners equally useful for left-handed gardeners too.
These Troy-Bilt pruners have extended-life blades that resist rust and repel sap. Their triple-hardened German steel blades have a non-stick coating for a smooth cut.
Troy-Bilt Comfort Classic Anvil Lopper ($59.99)
In our garden, these anvil loppers are helping to tame a trumpet vine that is a bit too aggressive.
The heavy-duty, German steel blade can cut up to 1.75 inches thick of tough, mature branches. But the lightweight aluminum handle absorbs the shock and minimizes stress on your hands and shoulders. That's a good thing after a long autumn afternoon working in the garden.
Troy-Bilt Premium Planting Trowel ($5.99)
If your fall gardening chores include transplanting small plants, this flower trowel will come in handy.
This garden tool even feels solid in the hand. The steel is gloss-galvanized and triple-sealed to "help protect the tool from corrosion and rust," reports Troy-Bilt.
Troy-Bilt Premium Flower Trowel ($5.99)
Fall is a good time to plant or divide several types of perennials. This sturdy, three-inch wide plant trowel will be helpful for those chores.
Like the other tools, this trowel has cool Space Age-looking cut-outs on the handle that enable a solid grip when you're working.
Troy-Bilt Premium Garden Rake ($6.99) 
I've used this practical garden rake to loosen hard soil and make it easier to pull weeds. I've also used it to smooth out garden soil after planting or transplanting. It works great for both chores.
Something tells me this is the kind of tool you'll end up using for lots of unexpected garden chores.
Enter to Win
It's easy to enter. Simply use the Rafflecopter device below.
This giveaway ends at midnight on August 25, 2015. The winner will be notified immediately. PLEASE CHECK YOUR SPAM FOLDER on August 26 and get back to me right away, if you win.  This giveaway is finished. Congratulations to Mary from South Carolina for winning.
Only U.S. residents are eligible to enter this giveaway.
Disclosure Details
As discussed in several blog posts, I am one of Troy-Bilt's Saturday6 bloggers for 2015. This garden tool giveaway was sponsored by the company Troy-Bilt, which provided these prizes at no charge.  My goal is for the winner of this random drawing to enjoy these tools for many years to come.
 Good Luck Everyone!