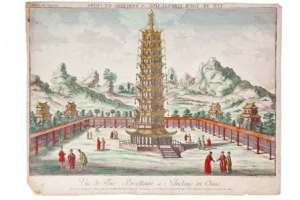 Imagine having access to one of the most comprehensive libraries about plants and gardens anywhere in the world. Well, that feat is easier now with a gorgeous new book called Flora Illustrata, which spans more than eight centuries with illustrations of rare manuscripts, iconic books, engravings and botanical drawings.
One example is "Vue de Tour Porcellaine a Nancking en Chine." Shown above, it displays a pagoda in a Chinese garden-landscape, which greatly influenced the development of landscape gardening in Europe with its irregular layout and exotic decoration. The colored engraving is after a print in Johannes Nieuhof, An Embassy from the East-India Company to … the Emperor of China, London, 1673. Art and Illustration Collection, EKR 379.
See more of the treasures of Flora Illustrata…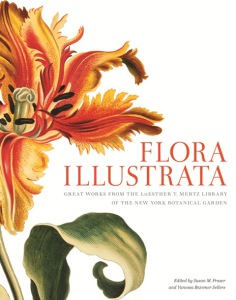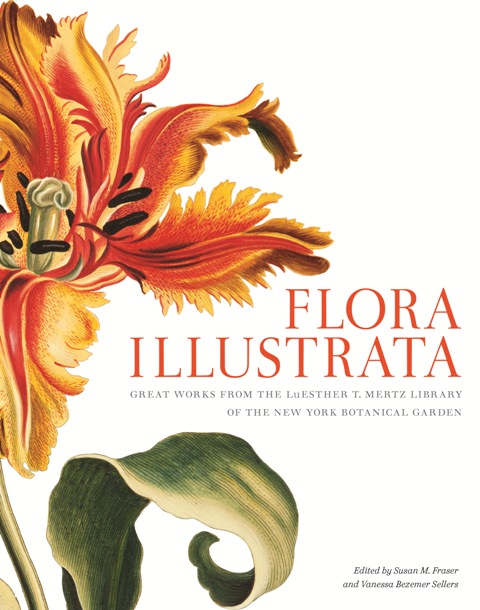 The richly illustrated Flora Illustrata book flings open the doors to the impressive and immense collections of the LuEster T. Mertz Library of The New York Botanical Garden.  Edited by Susan M. Fraser and Vanessa Bezemer Sellers, the stunning book was published by The New York Botanical Garden/Yale University Press.
What I particularly liked about the book was that the library's collection is presented within the context of what was happening culturally and historically during that time.  For example, one of the 11 chapters covers "European Medieval and Renaissance Herbals," and has pages and pages of beautifully illustrated herbals, flower books and garden prints. Another chapter explores "Linnaeus and The Foundation of Modern Botany."
Paging through this book is an interesting history lesson. You can see how people gardened, what plants they grew, and how they enjoyed the space. There also are lots of information and visuals that show how horticulture, garden design and floriculture evolved over the centuries.
More than just a pretty coffee table book, this resource reveals a lot about our changing relationship with plants and gardens. It would make a wonderful holiday gift for those who appreciate gardening, history and art.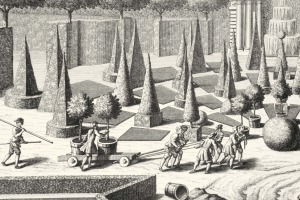 An army of gardeners were needed to maintain a highly manicured Rococo park, as you can see from these engravings from Salomon Kleiner, Viererleÿ Vorstellungen, Augsburg, ca. 1730.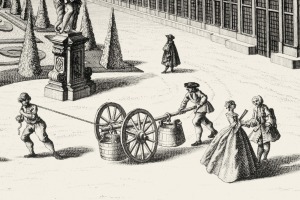 The fashionably dressed members of the Viennese beau monde seem unaware of the many workers attending to the necessary garden work around them.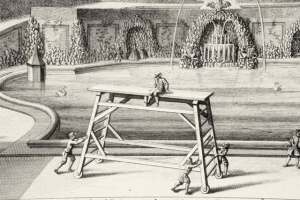 When William Bartram sent his cousin Humphry Marshall a box of plants for European clients in 1792, a single "Magnolia auriculata M. Fraseri" was among the forty-five "curious" species.
Magnolia fraseri, in Curtis's Botanical Magazine, London, 1809, vol. 30, plate 1206.
Although this magnolia was published more than 200 hundred years ago in a British botanical magazine, it still looks contemporary today.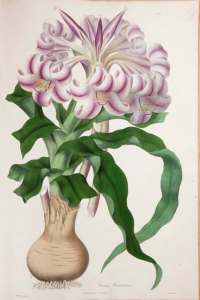 Crinum herbertianum, vol.2, plate 145, in Nathaniel Wallich, Plantae Asiaticae rariores, London, 1830-1832.
This image was drawn by Vishnupersaud, one of the most famous Indian botanical artists of his day.
It was produced under the auspices of the English East India Company's Royal Botanic Garden, Calcutta; drawings by several Indian artists were translated into hand-colored lithographs by Maxim Gauci.
Flora Illustrata Exhibition
To mark the publication of this landmark book, The New York Botanical Garden is presenting an exhibition, Nov. 15, 2014 to Jan. 19, 2015, called Flora Illustrata: A Celebration of Botanical Masterworks.
More than 50 books and objects will be on display. If you're lucky enough to be in New York around this time, make sure to get over and see it.
Disclosure:  A copy of this book was provided at no charge by The New York Botanical Garden, but my opinions are always my own.