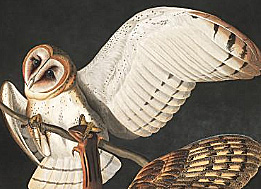 If you love nature and fine art illustrations, you may like this news.  The National Audubon Society is offering free high-resolution prints of John James Audubon's Birds of America. Printed between 1827 and 1838, the illustrations include 435 life-sized watercolors of North American birds, including this striking barn owl detail.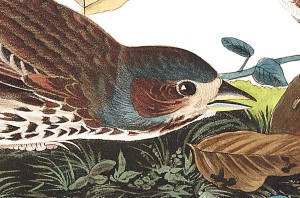 Detail of Fox-Coloured Sparrow.
The National Audubon Society has generously offered access to the wildlife illustrations that made naturalist John James Audubon so renowned. (I am only showing a portion of each illustration in this blog post.) Along with free prints, there are also observations about each bird from Audubon's own notes.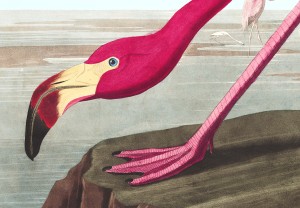 Detail of American Flamingo.
The American Flamingo section, for example, includes Audubon's observation that he saw his first flock of flamingos after sailing from Indian Key, Florida in May 1832.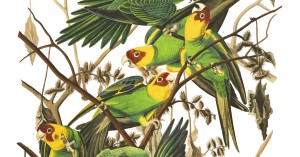 Detail of Carolina Parrot.
About the Carolina Parrot, Audubon wrote, "At dusk, a flock of Parakeets may be seen alighting against the trunk of a large sycamore or any other tree…"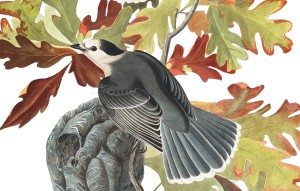 Detail of Canada Jay.
The images are provided courtesy of the John James Audubon Center at Mill Grove in Audubon, Pennsylvania, and the Montgomery County Audubon Collection.
It's worth a visit to admire these historic wildlife illustrations in their full glory, and perhaps pick up a free print for your home. You may just look differently at those birds in your backyard. I like to think that Audubon would have liked that too.
You Might Also Like