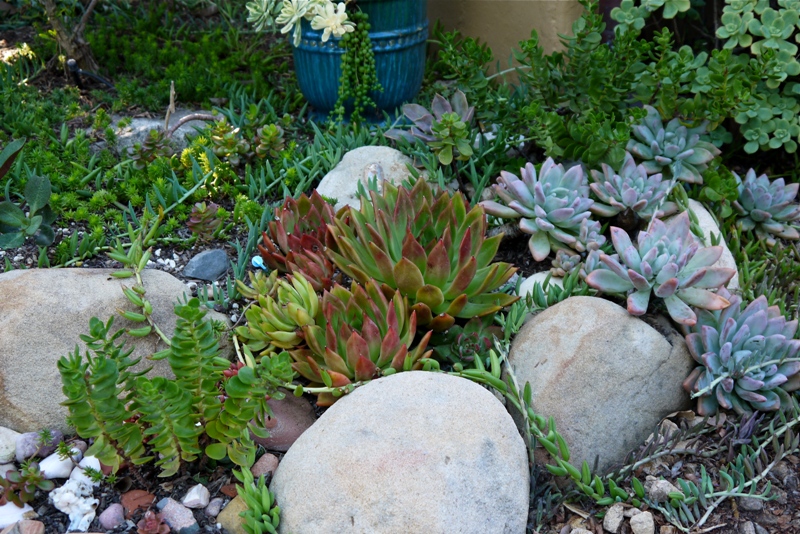 At the end of a quiet leafy street in Santa Barbara, California, lies a small home garden that doesn't need much water, but is loaded with charm. You won't find flowering annuals here, but you will find brightly colored foliage and stems. Take a tour of this attractive water-wise garden, and get tips for your own outdoor spaces.
All photos are copyright Nell Foster, JoyUsGarden.com.
California Drought
After years of historic drought conditions in the West, it's never been more important to save water in California gardens. In Santa Barbara, the city announced Stage 2 drought restrictions on May 20, 2014 after three of the driest years on record.
An estimated fifty percent of water used in Santa Barbara is for landscaping, and gardeners must cut water use by more than 20 percent, among other restrictions.
Out here, folks need creativity and common-sense to produce a water-wise garden that's enjoyable and good for the environment.
Water-Wise Garden
Nell Foster understands. As the owner of JoyUsGarden.com, this author and blogger re-did her 270-square-foot front garden a year after she bought her home. She ripped out the thirsty lawn and planted succulents and other drought-tolerant plants instead.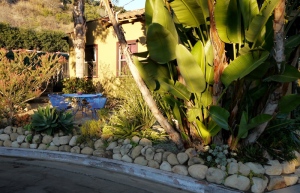 Above is the water-wise garden from the street, and below is the view of the front garden from the driveway.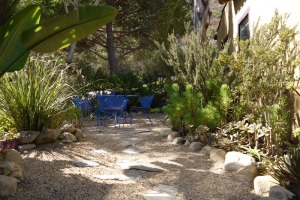 A natural-looking stone path leads to a brightly colored table, which is an ideal spot for dining alfresco.
"I live on a dead-end street, so there's never much traffic," explains Nell. "I love eating outdoors and being able to enjoy my garden."
Saving Water in Garden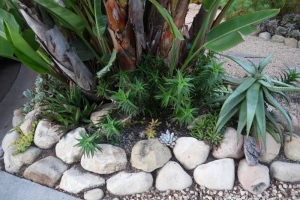 Along with using mulch, Nell's garden is watered with a drip irrigation system. This method delivers water right at the roots. To further save water, the plants are irrigated before the sun comes up.
"I run the system at 6 a.m., before the sun and heat are factors," says Nell. "There's too much chance for evaporation at mid-day."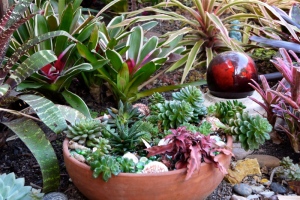 Nell keeps a pail in one side of her double sink to collect gray water.
That's how she waters her container plants, such as this bowl of drought-tolerant succulents and Cryptanthus, surrounded by different bromeliads.
Water-Wise Side Yard — Before and After
About four years after moving into the 1920s-style house, Nell tackled her 135 square foot side yard.
Here's how it looked before…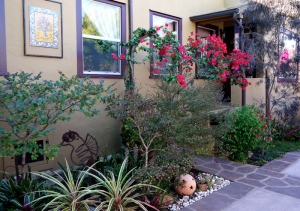 Here's how the side garden looks now.
The house got a hip new paint job and new stonework too, as you can see.
In the spotlight is a bright magenta Bougainvillea 'Barbara Karst', which adds a little drama to the scene. Also featured are several bromeliads and Sansevierias. The three plants with white variegation are variegated pineapples or Ananas comosus 'Variegata'.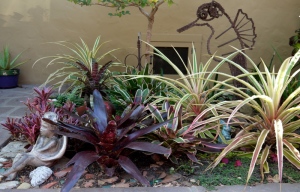 Here's a closer view of those gorgeous bromeliads and variegated pineapples. Their foliage patterns are stunning, even if this photo doesn't really do the plants justice.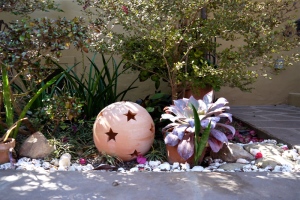 Nell combines her plantings with garden art that reflects her fun personality.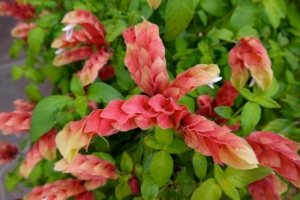 Shrimp plant (Justicia brandegeeana) sits off in the corner of Nell's side garden. This pretty shrub is native to Mexico, Honduras and Guatemala. I particularly like the red bracts on the end of the stems, and so do the butterflies and hummingbirds.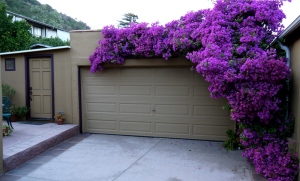 A vividly colored bougainvillea grows with relatively little water up the side of Nell's garage and studio.  It's a dramatic sight even from the street. Gardeners sometimes use this plant to create a  safety barrier, because of the thorns on the stems.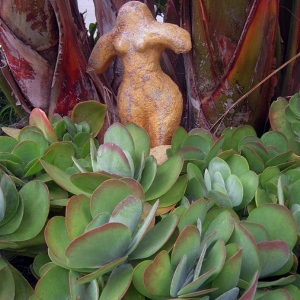 In her small garden, Nell has succeeded in creating a charming outdoor space with lots of colors and textures. Her water-wise garden manages to sparkle even without flowering annuals or thirsty turf playing a role on this arid stage.
I walked away with lots of design and water-saving ideas for my own garden, and I hope you do too.
Connect with Nell
Check out Nell's books
Ornaments to Make Your Christmas Sparkle – New!
Mother Nature Inspired Christmas Ornaments
Nell's Holiday Tablescape for Seasonal Wisdom
This specially created tablescape features edible ingredients and is ideal for holiday entertaining.
How are you saving water in the garden?