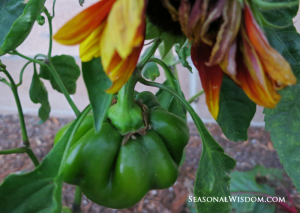 The days are growing shorter. The neighborhood kids are back at school. And my little suburban garden is transitioning from summer to fall. Some plants performed wonderfully this growing season. Other plants didn't do as well.
Here's a little virtual tour of what's happening here, as well as some plants that are new to the market this year.
Gardening in a Drought
From Hungarian peppers to black sunflowers (shown above), my small California garden is thriving even with this historic drought.
We've had to make several adjustments, such as installing two rain barrels to use for watering plants. We also save water while rinsing vegetables in the kitchen sink and while the shower water is heating up in the bathroom. Between the rain water and gray water, we've been able to significantly reduce our irrigation from the garden hose. Other ideas for saving water in garden.
Here's what grew well, and what didn't…
'Mystic Haze' Dahlia
This summer I fell hard for this pretty dahlia with near-black foliage and pretty orange flowers. 'Mystic Haze' grows about 24 to 30 inches tall, and blooms prolifically on a full sun spot on my patio. Unlike some other dahlias, this one does not need to be staked.
If you like dahlias, definitely give this a cutie a try.
Kodiak Black Bush Honeysuckle
This perennial shrub (Zone 5) was sent to me by Proven Winners to review this summer. It's available on the market this year. The tough native is adaptable to most soils, including dry shade. In my yard, it's growing in a partial sun area and doing quite well.
Some gardeners will be glad to know this plant is deer resistant! You can expect this shrub to grow about 3 to 4 feet tall and wide.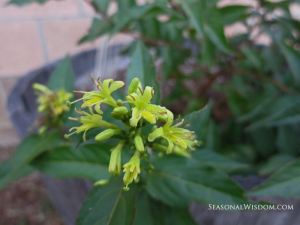 In summer, pretty yellow flowers appear on this shrub. It's nearly September, and I still have flowers on my plant. They've been blooming more than a month already.
But perhaps most exciting about this Proven Winners shrub is that the foliage turns dark burgundy-black in spring and autumn. I'm still waiting for mine to turn, but I'm eager to see it!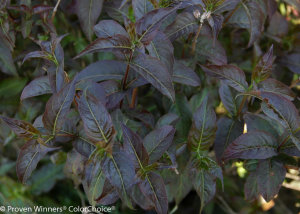 Meanwhile, above is an image from Proven Winners, so you can see how Kodiak Black bush honeysuckle got its name.
Artichokes
These fuzzy purple flowers warm my heart. When you leave the artichokes on your plant, they eventually grow into these strange and wonderful blossoms.
Even if you don't care for eating artichokes, this interesting plant adds structure and drama to your garden for several months.
We'll prune this plant back soon, so it can prepare for the next round of artichokes. Learn more about growing artichokes in your garden.
Sunflowers
Sunflowers are very easy to grow from seeds, but I actually bought a six-pack of these striking orange-black sunflowers at the Ojai Farmer's Market.
The cheerful flowers are growing among my edible plants, attracting bees and other helpful pollinators to the garden.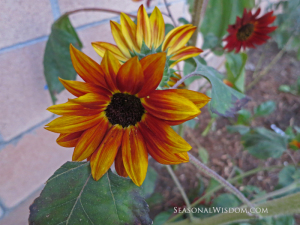 These sunflowers are a little wild and informal, but they add lots of charm and color to our garden. I'm sorry to see them start to die back already, and have pledged to grow them again next year.
Sedums
Succulents of all types are finding their way into my garden during this drought. I love the colors, textures and unusual shapes. Plus, they couldn't be easier to grow in well-draining soil.
In this container, I planted a variety of different sedums including the classic 'Autumn Joy'. These carefree plants are thriving in this sunny container near my pergola.
Tomatoes
I consider myself a quite proficient tomato grower, and I usually have excellent growing results when I follow these ten tips for trouble-free tomatoes.
But living in coastal California can make growing tomatoes a challenge. These edible plants require warm sunny days, and we had several weeks of cool, foggy days (with no rain, alas) in June and July.  My healthy plants started to suffer.
I grabbed a couple handfuls of tomatoes (see above), but most of my summer tomatoes came from the farmers' market and friends this year.
Watermelons
My tomatoes were a disappointment, but my watermelons made up for it.
I'm growing 'Charleston Gray' watermelons this year in a new garden bed. This heirloom plant will eventually grow 25-pound melons with red flesh. Mine weighs more than 5 pounds already, I bet.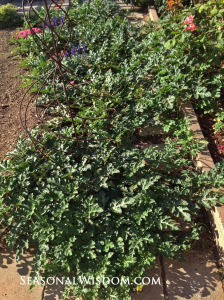 As you can see, you'll need lots of room to grow this watermelon so it can sprawl out a bit. Consider yourself warned.
What Lies Ahead
This fall, I have a lot of plans for my garden. There are empty spots that need new easy-care shrubs, such as New Zealand Flax (Phormium). We're looking to reduce the lawn in our garden, because of the drought. Our gardens need their regular applications of compost, worm castings and other organic matter. And we're busy planting cold weather edibles for winter.
How was your garden this year?