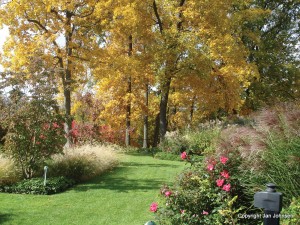 Gardens are magical places, which can restore our spirits and bring us closer to nature's miracles. Often our gardens have a "power spot," which is a just a bit more special and noteworthy than other places in our yards. To learn more, Seasonal Wisdom turned to Jan Johnsen, author of Heaven is a Garden – Designing Serene Outdoor Spaces for Inspiration and Reflection (St Lynn's Press, 2014).
Come learn how to find the power spot in your garden and create an outdoor space that brings you peace of mind all year long.  All photos from Jan Johnsen, all rights reserved.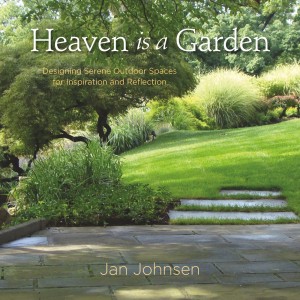 Heaven is a Garden is not your typical gardening book. The pages of this book draw from Johnsen's 40 years as a landscape architect and her travels to Japan, where she observed the healing powers and serenity of these ancient gardens personally.
As a result, Johnsen explores garden design with a mix of the East and the West. She combines ancient wisdom with contemporary horticultural practices to provide a more holistic approach to landscape design. She also encourages gardeners to look differently at their outdoor spaces, and to play with trees, rocks, colors, shapes and water sources to create heavenly spots in the garden.
The results are tranquil, serene landscapes that affect the readers on different physical and spiritual levels. I found myself looking around my yard with a new, more informed perspective, and I bet you will too.
Creating a Power Spot in Your Garden
In this guest post, Johnsen shares her thoughts with Seasonal Wisdom on how to find the "power spot" in your garden…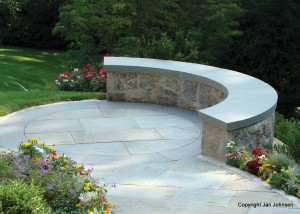 Every garden can be made into a special place. In my book, 'Heaven is a Garden – Designing Serene Outdoor Spaces for Inspiration and Reflection' (St Lynn's Press, 2014) I talk about the many ways you can use plants, color, shape, rocks, trees and water to create a serene haven that encourages you to connect with the cosmos, the earth or simply the fireflies.
Such a garden can be as grand or as simple as you wish. It can be a community endeavor or a solitary undertaking. It can be filled with plants or be devoid of all vegetation. But what can be common to all these different gardens: the intention to create an outdoor space that replenishes, renews and relaxes.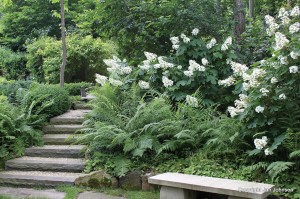 One fun thing you can do to make your garden a little more special is to find its "power spot."  This is a place that, for some reason, seems a little more interesting than anywhere else. A high section of lawn, a shaded corner or a half hidden rock can become the designated power spot in your yard.
Any land feature can be a power spot – the way to determine this is to walk around and stand quietly in different areas and feel the mood each one generates. Essentially it is all about how you feel standing in that spot. Higher points make good power spots, even if it is only a foot or two higher than anywhere else. But a power spot doesn't need to be elevated; it can also be located in a shaded area in a corner. This area feels comfortable, like a favorite sweater.
If you are wondering where a power spot is on your property, please know that anyplace you deem to be a power spot is correct. The area that appeals to you the most will undoubtedly speak to others as well!
You may see something wonderful in a slight slope or be attracted to a particular rock. My advice is, 'Go ahead and highlight it!'
Clear around it, illuminate it or make a small path that leads to it so friends can can get to it easily. Once they ascend to the top of a cleared slope or sit on a swing beneath a great tree, they will understand why you call it your "power spot."
About the Author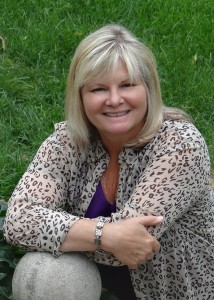 Jan Johnsen is a professional landscape designer and is a principal, along with her husband, of the established design/build firm, Johnsen Landscapes & Pools, in Westchester County, NY. She is an adjunct professor at Columbia University and an award-winning instructor at the New York Botanical Garden. She is also a contributing editor for Garden Design Magazine.
Follow her popular garden blog, Serenity in the Garden and Facebook page, Serenity in the Garden blog.
Buy the Book
Heaven is a Garden – Designing Serene Outdoor Spaces for Inspiration and Reflection