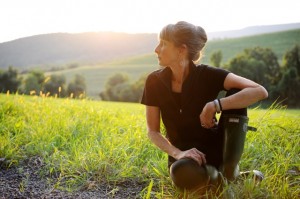 If there's one thing Margaret Roach can say with conviction, it is that "my garden saved me."
The former editorial director of Martha Stewart Living Omnimedia left at the pinnacle of her career to move to upstate New York. Now she's head gardener at her highly acclaimed garden blog A Way to Garden, and hosts popular garden tours at her 19th-century house in the hills, while writing bestselling books.
Margaret's latest book is The Backyard Parables: Lessons on Gardening, and Life.  In this post, she sits down with Seasonal Wisdom to talk about the book, the wonders of nature and the timeless value of parables.
In "The Backyard Parables," you will find Margaret's award-winning garden writing advice on everything from succession planting to critter-proofing flower bulbs. But if you think this is just an ordinary gardening book, think again.
Beginning in winter and ending with fall, this seasonal ode to nature is part memoir, part gardening handbook.  Along with practical and scientific information, you'll find a healthy dose of spirituality and philosophy in the parables that Margaret has gathered over 30 years of gardening.
In these parables, or simple stories with deeper intent, she explains how she deals with insect pests, invasive plants and other gardening tasks, while connecting closely with the natural world around her. It's the perfect book to read on a winter day, while waiting for another gardening season to arrive.
Enter to win an autographed copy of "The Backyard Parables. For more information, keep reading…
A Talk with Margaret Roach
Recently, Seasonal Wisdom had the good fortune to ask Margaret about her book. She kindly agreed to answer from her home garden in upstate New York (shown above), USDA Hardiness Zone 5B garden, where she explains that "the fall was long, and dry—but spectacular."
Above, a Fothergilla major bursts into yellow and orange in her autumn garden. The shrub is native to the Southeastern United States.
Question: Margaret, why did you feel compelled to write your book as a series of seasonal parables, rather than a simple gardening how-to guide?
Answer: My motto on A Way to Garden is "horticultural how-to and woo-woo." It's never been enough for me to memorize how deep to plant a tulip bulb, or when to prune lilacs.
Yes, I can rattle off those facts, and answer such reader questions. But I always connected far more deeply to the other side of the equation, the intimate relationship with the garden; the lens it provides into spirituality, into science, into sensuality. For more than 30 years, the garden has been my primary teacher, my mentor.
So, while I didn't think "Horticultural How-To and Woo-Woo" would make a very good book title, I wanted to reflect the two layers of learning the backyard provides for me, and the word parable came to mind.
Question: Let's talk a bit more about parables, these simple stories with deeper intents.
Answer: I chose the word "parable" to use in the title before I knew much about the tradition of parables. I had no idea they were vital in many (all?) cultural and spiritual traditions throughout history.
I ended up reading the 40 parables in the Koran, for instance, and others from Talmudic literature, and parable-like lessons from Confucianism and ancient Greece. And perhaps no surprise: A lot of them were derived from the facts of nature.
Question: You include some of your famous garden and food tips, but your book's main focus is on the seasonal ebb and flow of nature. Why was this approach important for the book and what you wanted to write?
Answer:  I feel fortunate to have glimpsed the elemental cycle playing itself out outside all these years that I have gardened—which is not that different from the measurements of our own human lives, is it? Fresh starts and false starts; triumphs and losses; lots and lots and lots of do-overs.
As I say in "The Backyard Parables," if you keep at it for more than four seasons, until the patterns inevitably repeat themselves you get your first big hint of what the garden can teach you: This has been going on like this before you ever stepped into the circle, and will do so after you leave.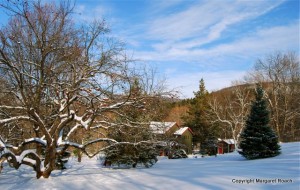 Question: What did you hope to convey by beginning The Backyard Parables in winter?
Answer: Everything that grows actively needs rest. Though quieter, winter is the season of Conception, in my garden calendar (and also in the calendar of a human life). It's when things begin, even though we don't see evidence of it above-ground up North. It's like the vernalization of many seeds that need a cold period before they can sprout.
In winter, we get ready for the rigors ahead.
Question: In the book, your detailed descriptions of the natural world, and attention to fine details, seem to reflect the mind of a biologist. What motivates you to study birds, frogs and other creatures with such determination?
Answer: If there were one thing I could list as a regret in my life so far, it would be that I didn't know when I was in school that I had an affinity for science—or at least for the natural sciences.
It turns out that studying insects and birds and small mammals and such doesn't simply help us understand what's going on in the garden (e.g., who's eating the kale leaves, and why—important stuff, but only part of the education you get).
By investigating those "why's" you also become privy to a whole other language with words such as marcescent  or altricial and a thousand other examples of juicy, loaded terms—which to me inspire even deeper thinking.
Question: How important/beneficial/enlightening do you feel it is for others to become intimate with nature?
Answer: Put simply, what other teacher is there, who is always available with a curriculum of endless lessons appropriate for any level of student? Don't skip class!
Win an Autographed Copy of this Book!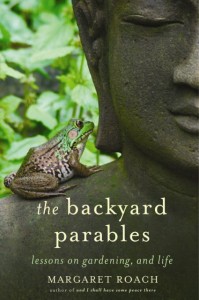 To enter this book giveaway, please use the Rafflecopter device below. But hurry! This giveaway ends at midnight on November 19, 2013.
Disclosure: This prize package was provided at no charge to Seasonal Wisdom. However, I was not paid to run this promotion, and my opinions are strictly my own.
Good luck everyone! Please note this giveaway is only available to U.S. residents. Don't forget to check your spam folders, in case you win.  This giveaway is over. Congratulations to Anne of Pensacola, Florida for winning.
Learn more about Margaret Roach: