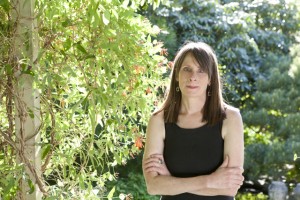 Imagine one day you decide to give up the big corporate job, with a staff of 150 people, and move to a rural setting in upstate New York. Would you have the guts to leave behind the prestige and financial security? And how would it feel that first winter, when the low temperatures averaged -15 degrees F. and you suddenly found yourself with all the time in the world?
Photo copyright Erica Berger.
This is the story Margaret Roach tells in her new personal memoir, "and I shall have some peace there."
In December 2007, at the pinnacle of her career, Margaret left her job as editorial director of Martha Stewart Living Omnimedia in New York City. She moved to a two-story, 600 square-foot house in upstate New York, which she affectionately calls the "Little House in the Big Woods."
Built in the 1880s, the house is "the simplest of two-story structures," says Margaret. But with elbow grease and renovation work, the house becomes a peaceful retreat for the next chapter of her life.  As you can imagine, however, the journey isn't easy.
"Who am I if I am not mroach @ martha stewart dot com any longer?" she asks. "Working always did provide the answer: AVP, VP, SVP, EVP, sombody meant somebody with rank and the increasing esteem and dominion."
To steer herself through these new and confusing life changes, she recalls the advice of her former boss to "learn something new everyday." And she begins to study the seasonal changes in her rural garden and the animals that flock to her new home.
Foxes, frogs and birds become Margaret's teachers. And with an amazing amount of courage, she confronts an alarming number of snakes on her property, including copperheads and rattlesnacks.  She even begrudgingly befriends a cat named Jack, who brings her half-eaten treasures from the garden. Along the way, she slowly comes to peace with her new life … and learns a lot about herself in the process.
An accomplished gardener and author of A Way to Garden blog, Margaret shares interesting tidbits about animal behavior throughout the book, and when she talks about plants, it's often rare ones like Hylomecon japonicum ephemeral "that nobody, even most experts, had ever heard of or grown."
As she survives the first year in this strange, new world, Margaret takes readers on a zany ride, complete with Zen-inspired revelations, spa therapy, animal wisdom, and powerful tractors. One can't help but admire her courage to forge a new path for herself, and wish her well.
Disclosure: I met Margaret on Twitter, which is a story in itself about how social media is breaking down communication barriers between people with similiar interests.  Although I was provided a review copy of this book, my opinion is strictly my own.