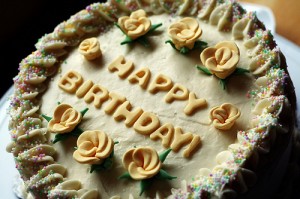 Seasonal Wisdom is celebrating a birthday. This blog is now officially three years old! And there is a lot of excitement coming … Photo copyright Freakgirl on Flickr. 
About three years ago, this blog started with a simple welcome message on Feb. 1, 2009.
It wasn't surprising Seasonal Wisdom began at this time. As I explained in my first post, many cultures in the Northern Hemisphere — from Switzerland to Japan — have long celebrated the coming of spring in early February. For someone who loves gardening and folklore, it seemed a natural time to begin a blog that celebrated the four seasons.
Since that time, Seasonal Wisdom has continued to grow, and your support has been wonderful. Please know that your comments from around the world have been a great joy. Thanks from the bottom of my heart!
That's why Seasonal Wisdom is celebrating its third birthday with exciting news, including more:
Product giveaways for the seasonal home and garden — coming soon!
Guest posts on everything from garden-to-table ideas to Feng Shui advice
Expert tips from innovative gardeners and cooks who live seasonally
Great gardening, food and folklore advice throughout the year
So, thanks for your support these last three years — and welcome to the thousands of new readers who have arrived to Seasonal Wisdom in recent months. It's nice to know that you really can "have your cake and eat it too."
Speaking of cakes, don't forget Isabel Gomes gives great tips for cake decorating if this birthday post happened to make you hungry. See you again soon. Cheers!