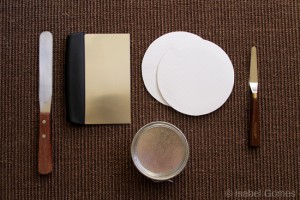 Guest Post – If you're like us, you're probably off to the gym already in the New Year to work off the holiday treats.  But there will come a time this winter and beyond, when you will no doubt crave a fancy dessert that is as beautiful as it is delicious. That's why we have called in the experts.
This wonderful winter cake by our dear friend Isabel Gomes — award-winning LA-based photographer and hobby baker — is the real deal. Created just for Seasonal Wisdom readers, this lovely cake is certain to cast away the winter blues. Best of all, it doesn't take forever to make this showcase dessert either. See how Isabel created this amazing cake…
All photos in this post copyright Isabel Gomes.
Isabel Gomes: This simple and sweet little cake can be whipped up in a very short amount of time and will not only look adorable on your dessert table, but will make you look like the baking diva you wish you had time to be.
Personally I like small cakes. They're easier to handle and store in the refrigerator during the icing process. Plus, I don't like to have a ton of cake lying around the house – it's too tempting! Even a tiny cake like this one will satisfy 4 to 6 of my sweet-toothed friends.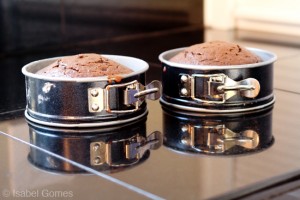 I used two 4 ½" spring form pans in this recipe. If you have a big family or more guests coming over, a cake baked in 6" pans can easily feed 8 to10 people.
Before you begin, here are a few specialty tools I recommend:
The first is a decorating turntable. I bought a plastic one at Michael's for under $20 and it has single handedly improved the look of my cakes. (See my green and white turntable, a bit further down in this post.)
You also want good quality cake pans. I like spring form ones (like the ones above), because I like the deeper sides. If I'm not giving away my cake, I'll use the releasable bottom part as a cake base.
Speaking of cake bases, if you're not using a spring form pan or are giving the cake away, you'll need a cardboard round cut to the size of your cake. (See the first photo of this post.) This is essential. You'll need something under your cake when you are moving it from the turntable to your decorative plate or cake stand. Cardboard rounds can also be purchased at Michael's or a food decorating website like Country Kitchen SweetArt. They are very inexpensive, but necessary.
Offset and straight spatulas as well as a bench scraper are also important to have on hand. (See the first photo of this post.)
Devil's Food Cake: Chocolate and coconut are a favorite combination of mine so I made this little cutie with Martha Stewart's recipes for devil's food cake, frosted with cream cheese frosting, and coated with sweetened coconut flakes. This batter will yield enough for 2 small cakes plus about a dozen cupcakes. This is a good opportunity to bake and freeze for another occasion.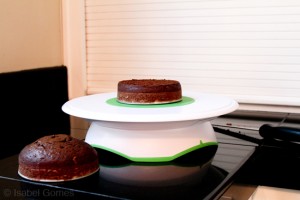 Getting Prepared: By this time your cakes should be cooled and can be popped out of their baking pans. Here's what you should do next…
Place one cake at a time on your turntable.
With a long serrated knife, slice off the rounded top part. Try to get as flat a surface as possible.
You'll usually see a line around the cake where it baked against the pan; use this line as your guide.
Or, leave the cake in the pan and cut across the top, while resting the knife against the top of the pan.
Don't worry if it's not perfect. We're going for a charming homemade look – not Sylvia Weinstock perfection.
Once you've cut the domes off your cakes, slice each one in half. Again place it on the turntable and slice while you turn the cake.
If you use one of the cake bottoms as your top, you'll get a nice modern square shaped cake.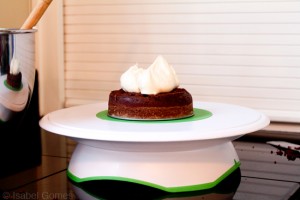 Now the Fun Part – Icing and Decorating: Place your bottom layer (don't forget to put it on the cardboard round) on your turntable and plop about a cup of frosting on top of it. It may seem like a lot of frosting, but it will flatten out. You want the frosting to be half as thick as each cake layer.
With a small offset spatula gently spread the frosting by moving the spatula in a side- to- side motion. Once it's evenly spread, top it with another cake layer and do the same thing until all four layers are assembled.
Now it's time to crumb coat. What that means is spreading enough frosting on the top and sides of the cake to hold in loose surface crumbs.
Don't worry if some of the cake shows through at this point. Place your cake, turntable and all in the fridge for half an hour.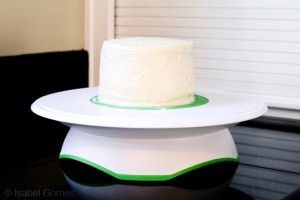 Once the crumb coat is firm, spread a generous amount of icing all over your cake. Start at the top and then work your way along the sides.
Don't worry if it's not perfectly smooth, the coconut flakes will camouflage any unevenness. A good trick to know if you've applied enough icing is to look down on your cake, you should see ½ inch of frosting all around.
Once you're happy with your frosting, take handfuls of coconut flakes and press them into the sides and top of your cake. Gently ease a bench scraper under your cardboard round to lift the cake off the turntable and place it on your cake stand.
Voilá! A Winter Wonderland Cake to chase away the winter blues…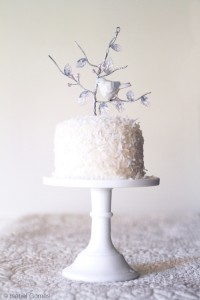 Leave your cake as is, or decorate it with a bejeweled ornament like I've done here.
Bon appétit everyone. I hope you do lots of baking in the New Year!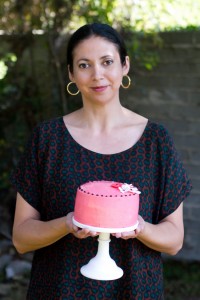 About the Author: Isabel Gomes co-owns Isabel Lawrence Photographers, a wedding photography studio with her husband in Los Angeles. When she's not traveling the world photographing fabulous events, she can be found in her kitchen whipping up sweet treats for her family and friends. In addition to Oprah and The Rachel Ray Show, Isabel's images have appeared in People, In Style and Town & Country.
Isabel's food and lifestyle photos can be seen at: www.isabellawrence.com/isabelwork.html
Her wedding and portrait images are at: www.isabellawrence.com
Her delightful blog is at: blog.isabellawrence.com/