In the foothills overlooking Ventura, California are the rapidly growing seeds of a new botanical garden, specializing in Mediterranean plants. On a recent spring day, Seasonal Wisdom took a quick stroll along the public garden's demonstration trail and enjoyed breathtaking views of the Pacific Ocean and Channel Islands in the distance.
Here's an armchair tour of the Ventura Botanic Gardens in spring.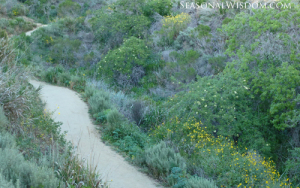 The Ventura Botanic Gardens is a labor of love. With more than 100 acres of public land leased from the City of Ventura, a group of dedicated and determined citizen volunteers are working to create a world-class public garden.
Already, the community-supported botanical garden has finished a one mile-long demonstration trail that snakes up the foothills, offering glimpses of stunning coastal California scenery. On the spring day I was there, the trail was bursting with elder trees (Sambucus mexicana), lupines and other wildflowers.
With the trail's lush plant life and sensational ocean views, it's easy to see why the six-foot-wide pathway was mentioned in Sunset magazine, and recently named the "best hiking trail in 2014" by Ventura County Reporter.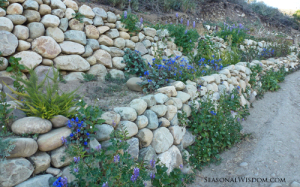 When completed, the Ventura Botanical Gardens will feature gardens representing the earth's five Mediterranean climate zones, as well as public gathering areas, botanic laboratories, event center and shop areas.
But that's a bit down the road.  For now, the garden organizers are busy adding another hiking trail, removing invasive plants from the grounds, planning Phase III and building part of the new Chilean Gardens.
Chilean Gardens
Above, the walkway is passing through the new Chilean Gardens. When this area is finally completed, it will "be the largest Chilean Garden in the world, outside of Chile," reports the Ventura Botanical Gardens.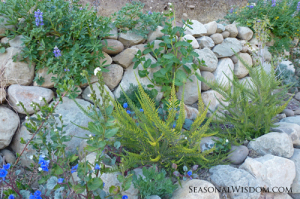 The bushy looking plant, which looks a bit like heather but is not flowering, is Fabiana imbricate. The garden's botanist says it is a native of Central Chile and amazingly drought tolerant.
Snuggled among the stones is the common California native wildflower Phacelia campanularia.
Also called desert bells or bluebells, the wild annuals pop up in spring after rain.  I find them awfully sweet.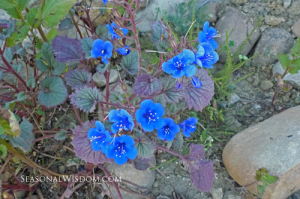 Protecting Open Space
As Southern California loses so much of its valuable coast to over-development and luxury real estate, it's inspiring to see this community work so hard to protect its coastal beauty for the public to enjoy for many years to come.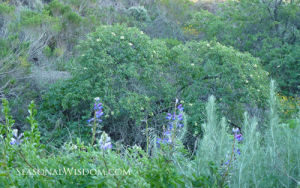 This special garden's  steady growth is certainly worth supporting.  Ventura Botanical Gardens offers many fun ways to get involved. Check it out.
Learn More
Native Plants of North Carolina