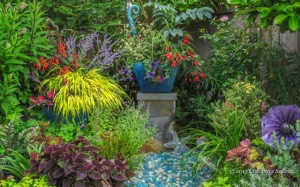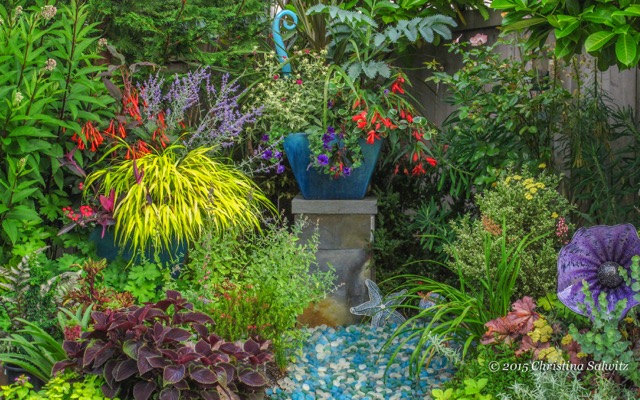 Flowers are fabulous. But what happens to your garden when those flowers stop blooming? The truth is that foliage really matters if you want gorgeous garden beds or containers.  To help you design your garden with spectacular foliage, renowned author and speaker Christina Salwitz shares her garden tips and plant ideas with Seasonal Wisdom.  Come take a peek…
Foliage Guru
When I think of plant foliage, I always think of my friend Christina Salwitz, owner of The Personal Garden Coach in Renton, Washington.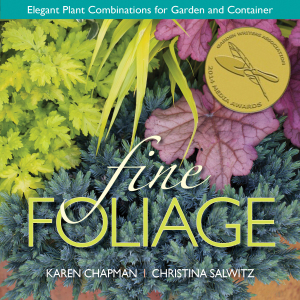 Christina co-authored the award-winning book Fine Foliage with Karen Chapman, and she has another book coming in 2016 called Foliage First. Her designs have been featured in Better Homes & Gardens, along with other publications. So, she really knows her foliage.
Fine Foliage Planting Ideas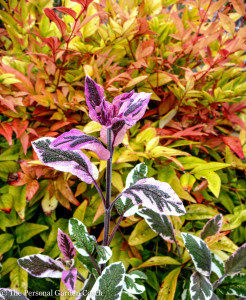 One of Christina's favorite combinations is Nandina 'Gulf Stream' and tri-color sage, shown above.
"I enjoy how big bold strong textures work together with fine delicate ones," says Christina. "My other 'go-to-idea' is using the subtlety or exuberance of color tones to play off one another in unexpected ways."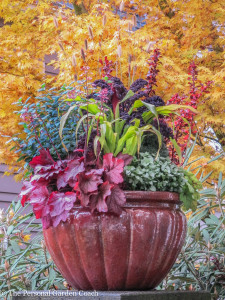 The above colorful planter features Blueberry 'Bountiful Blue'; Barberry 'Orange Rocket'; Kale 'Redbor'; Heucherella 'Stoplight'; Lamium 'Ghost'; Ornamental millet 'Aureum'; and Heuchera 'Berry Smoothie'.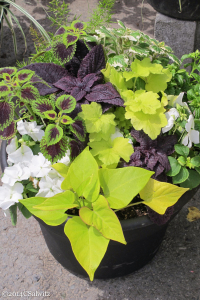 For a completely different look, Christina designed this container with variegated Plectranthus; Impatiens 'White'; Heuchera 'Lime Rickey'; Coleus 'Black Star'; Sweet Potato Vine "Sweet Caroline';  and Coleus 'Chocolate Drop'.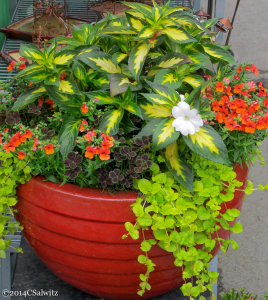 Yes, there are flowers in Christina's designs. But they certainly aren't the only stars in her gardens.
The above pot has variegated spreading White Sunpatiens; orange Nemesia; Oxalis 'Dark Dancer'; and Creeping Jenny.
Once you start designing gardens with foliage in mind, you'll find endless possibilities for combining plants, textures, colors and patterns.  Hope this article inspires you to go wild and experiment with fine foliage in your plantings. Your garden beds and containers will never be the same.
Connect with Christina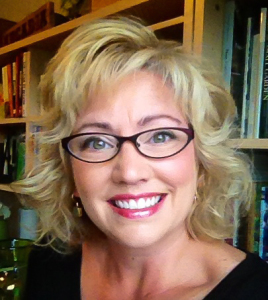 Fine Foliage Blog
More of Christina's favorite plants.
Christina is one of the well-known experts in Seasonal Wisdom's presentation called "Garden Secrets from Seven Experts." Contact me to learn more about hiring Seasonal Wisdom for a talk on this or other garden subjects.