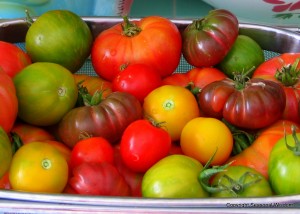 It's easy to understand why tomatoes are the most popular food to grow in the garden. Tomatoes taste so much better straight from the vine. Store-bought tomatoes just don't compare.
To get your homegrown tomatoes off to a great start, here are some of Seasonal Wisdom's favorite tomato tips and recipes…
Ten Tomato Tips for Trouble-Free Tomatoes
Why do some gardeners have gorgeous tomatoes, while others experience growing problems? Often it's because they didn't follow these ten tomato tips.
Different Tomatoes to Grow
Green Zebra tomatoes (shown above in my old garden) are among the colorful and delicious varieties to try this year.  Consider:
Six Tomatoes for Cooking and Preserving
Unusual Tomatoes and Eggplants to Grow
Three Ways to Cook with Tomatoes
Nothing beats a sun-kissed tomato picked from the garden and sliced fresh for sandwiches or salads. But you may want to cook them too!
Here are three of Seasonal Wisdom's favorite ways to cook with tomatoes…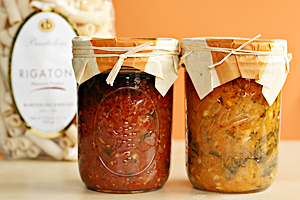 Photo copyright Viviane Bauquet Farre
Classic Heirloom Tomato Sauce

This delicious recipe for Classic Heirloom Tomato Sauce comes from the professional chef Viviane Bauquet Farre of FoodandStyle.com.
Once you taste this tomato sauce, you'll see why this Seasonal Wisdom post remains so popular.

Photo copyright Isabel Gomes.
Tomato Tart
My talented photographer friend Isabel Gomes of Isabellawrence.com shared this photo along with a delicious tart recipe she found in an old Williams-Sonoma catalog.
This one tastes as pretty as it looks!
Harvest Summer Tart
The best of the garden tomatoes, summer squashes and onions are combined with loads of fresh herbs and goat cheese. For last year's summer harvest, I concocted this recipe for Fiskars.
The secret to success? Use the freshest ingredients, and eat this tart right away. The puff pastry tastes best straight from the oven.
What tomatoes are you planning to grow? Do you have any tomato tips to share?
All photos are copyright Seasonal Wisdom, unless otherwise noted.