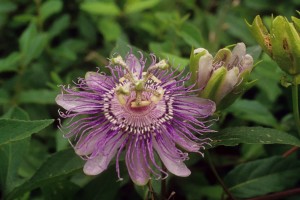 In honor of Valentine's Day, Seasonal Wisdom is raising a glass to herbs, fruits, flowers and veggies that are ideal for love and romance.
To get the scoop on this titillating topic, we climbed under the sheets with a copy of Plants with Benefits. This new book provides a tasteful guide to aphrodisiac plants, including the appropriately named passionflower (Passiflora incarnate) shown above.  You'll also find recipes and growing tips for these plants, along with folklore and history. Enter to win an autographed copy! All photos copyright Plants with Benefits.  Congratulations to Shana of South Carolina for winning this giveaway.
When Helen Yoest sat down to write Plants with Benefits, she began "a quest to understand how plants can play with our erotic feelings, as well as stimulate our sense of wellbeing and receptivity to intimacy."
Her plant research revealed that aphrodisiac plants are indeed "nature's little helpers" who can act as catalysts for fertility, and even improve sexual performance due to the plants' physiological and psychological effects.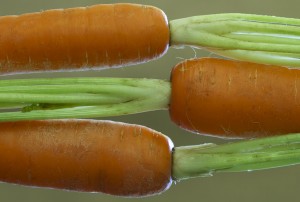 The 45 common (and not-so-common) plants in Plants With Benefits  have certain qualities.
Sometimes, they are psychologically suggestive due to their smell or shape.  It's easy to see why carrots might be in this group, for instance.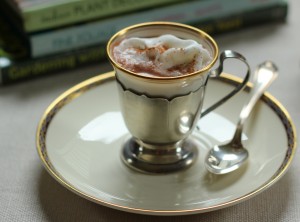 Other plants directly affect the brain chemistry by increasing the blood flow to sex organs or contributing other pleasurable sensations.
Cayenne pepper, cinnamon and cacao in the book's Hot Cocoa, Vianne Style recipe offer delicious flavors and help heat up the night in more ways than one.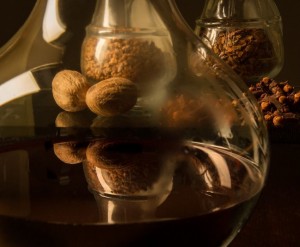 Other aphrodisiacs in Plants with Benefits have hormones that actually mimic our own human hormones, and can affect our libidos.
The coriander in the book's Hippocras Spiced Wine recipe has phytochemicals that support hormonal balance, writes Helen.
Some plants are quite healthy for us, and good nutrition stimulates a little passion too.  But the plants in this book had to be more than just healthy. They needed to have a rich aphrodisiac history as well.
Garlic may be famous for its antibiotic properties and health benefits. But the reason the plant is included in this book is that garlic also improves blood circulation and gets the blood flowing to important body parts. That's why Tibetan Buddhist monks abstain from garlic … to avoid stirring the passions.
In Plants With Benefits, you'll find lots of ways to stimulate your passions, learn about plants and incorporate these foods into your diets.
Win Plants with Benefits!
Here's how you can win an autographed copy of this book. Please click the below Rafflecopter device to enter this giveaway. 
This giveaway ends at midnight on Feb. 14, 2014. Please check your email's spam folder so we can contact you quickly if you win.  Congratulations to Shana of South Carolina for winning this giveaway.
Thanks for participating. Good luck everyone!
Connect with Helen Yoest, author of Plants With Benefits. Buy this book.
Disclosure: This prize was provided at no charge, and Helen Yoest is a garden writer friend. However, I was not reimbursed for writing or planning this giveaway. My opinions are my own, and I'm looking forward to sharing this book with the lucky winner.
Feeling Romantic? Don't miss this Seasonal Wisdom article on old folklore about Valentine's Day, illustrated with vintage valentines.