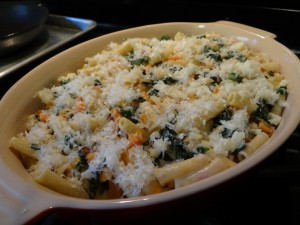 Even in winter you can eat delicious garden-fresh foods, such as this Bacon, Kale and Butternut Pasta that is just about to go in the oven. It's from the Cooking Light Pick Fresh Cookbook, and this seasonal recipe is as delicious as it looks. Photo copyright Mary Beth Shaddix.
In this post, the author Mary Beth Shaddix shares the recipe for this ultimate "comfort food" with Seasonal Wisdom. She also explains what it's like to run the kitchen garden that supplies Cooking Light, the nation's largest epicurean magazine, with fresh herbs, vegetables and fruits for its recipe testing. Plus, you may even win a copy of her cookbook! But hurry—this giveaway ends at midnight on Dec. 20, 2013.  Congratulations to Wendy K. for winning the random drawing.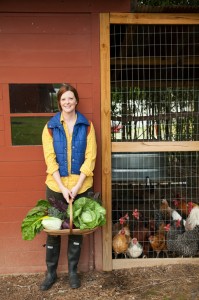 Photo copyright Cedric Angeles/Cooking Light
I should start this post by saying that Mary Beth is a friend of mine, who I met through the garden writing/blogging world. She's not only a genuinely nice woman, but a talented one. Her life has recently turned on to a new, exciting path.
"After 10 years working in the marketing and research department at Cooking Light, I ditched the suit and desk to try my hand at something more hands-on," explains Mary Beth.
Trading in her business suits for rubber boots, she began learning the breadth of gardening at a local retail nursery and became certified as a Master Gardener. Little did she know, the manager who curiously eyed her resumé at the nursery would soon be her husband.
They now grow together at their wholesale nursery and farm, Maple Valley Nursery, near Birmingham, Alabama. "Today, instead of drafting 5-year strategic plans, I knock on the back door of the test kitchens at Cooking Light magazine, delivering crates of tomatoes, bundles of plump radishes, and a watermelon so heavy that it broke the photography light table!"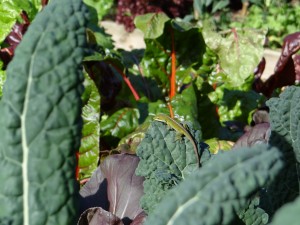 Photo copyright Mary Beth Shaddix
Mary Beth works with the Cooking Light staff to plot and plan what vegetables, fruits, and herbs to grow in the trial garden. Above, a lizard is protecting her cool-season kale and chard from pests.
"I spotlight our successes, paired with the Test Kitchen's recipes of how to use these gorgeous harvests, in the magazine each month," says Mary Beth. "Many of the adventures make it onto the blog, revealing if the purple sprouting broccoli was worth the six-month wait, or sharing the melon-snatching coyotes caught on camera."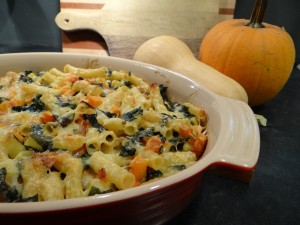 Photo copyright Mary Beth Shaddix
Mary Beth's Tips for Bacon, Kale and Butternut Pasta
Here's how Mary Beth prepares this hearty winter greens dish from the Cooking Light Pick Fresh Cookbook, in her own words:
If you'd like a hearty recipe to share with family during the holidays to showcase ingredients from your cool-season garden, this one pulls out all of the stops. I used our kale, chard, butternut squashes, garlic, onions, dried red pepper flakes and homemade crème fraiche.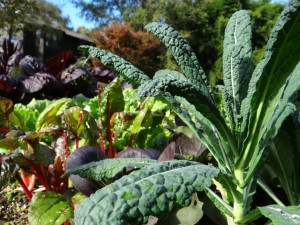 Photo copyright Mary Beth Shaddix
Lacinato kale, also known as Dinosaur kale or Tuscan kale to many, is a cool-weather must. I find its texture is the best for both cooking and eating fresh, and the flavor sweetens after a few frosts.
Paired with butternut squash stored from our summer garden, this recipe brings "homemade with love" to a whole new level. And bacon – everything is better with bacon! Your guests won't know that a meal like this is light, while you relish the fact that the garden provided the groceries.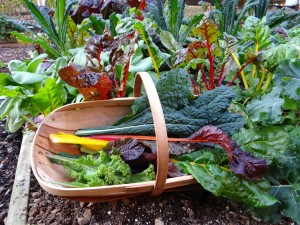 Photo copyright Mary Beth Shaddix
The versatility of this recipe works well for what you may have in the garden now. Switch kale for colorful Swiss chard. Or, add mustard greens for a tangy bite to balance the sweet butternut. I used 3 cups of chopped kale and 1 cup of chard in the version here.
You can also save time by prepping a few ingredients ahead.
Photo copyright Mary Beth Shaddix
The day before, tackle cubing the butternut and make your own crème fraîche.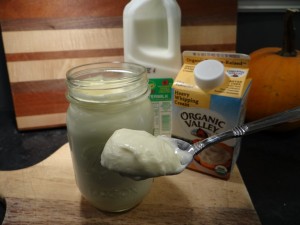 Photo copyright Mary Beth Shaddix
Our local grocer doesn't carry crème fraîche, so I made a batch with ingredients I have on hand: buttermilk and heavy cream. It's important to this recipe because it lends a tangy creaminess to the dish, but the sauce will not break down when heated.
Mix 2 tablespoons buttermilk for each cup of heavy cream. I doubled this amount so I'd have extra to serve atop roasted figs and pears for dessert. Mix in a jar, cover with cheesecloth, and leave in a warm, 70-degree countertop spot for at least 12 hours.
You'll find ways to use this tangy, rich crème on everything, from tacos to fresh fruit to Swiss Chard with Crème Fraîche, another recipe in the Cooking Light Pick Fresh Cookbook.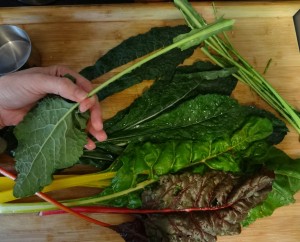 Photo copyright Mary Beth Shaddix
Using fresh kale and chard can be a snap in any pasta recipe with two tips. Easily de-stem the leaves by pinching the end of the stem between your thumb and finger, hold the end with your other hand, and pull quickly towards the tip. It zips off quickly, leaving you with stems for composting or vegetable broth.
Secondly, since kale can be slightly more rigid than other greens, dunk it in the boiling water for the last two minutes of cooking the pasta. Voilà—great results and one less pan to clean.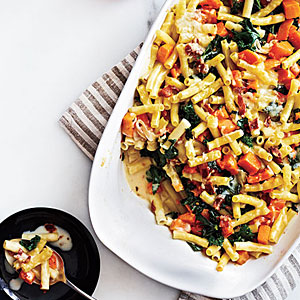 Photo copyright Johnny Autry/Cooking Light
RECIPE: Bacon, Kale, and Butternut Pasta – The Cooking Light Pick Fresh Cookbook
Hands-on time: 38 min. Total time: 1 hr. 15 min.
Bacon, pasta, cheese, and sweet winter squash are nothing you'd think to see on the light menu, but indulge. The Test Kitchen tried multiple variations of greens. Kale, with its earthy heartiness, helps to balance the sweetness from the squash. Also try Swiss chard, or for a more peppery bite, try substituting mustard greens.
INGREDIENTS
5 cups (1/2-inch) cubed peeled butternut squash
1 tablespoon olive oil
Cooking spray
12 ounces uncooked ziti (short tube-shaped pasta), campanile, or other short pasta
4 cups chopped kale
2 bacon slices
2 cups vertically sliced onion
1 teaspoon salt, divided
5 garlic cloves, minced
2 cups fat-free, lower-sodium chicken broth, divided
2 tablespoons all-purpose flour
1/2 teaspoon crushed red pepper
1 cup crème fraîche
11/2 ounces shredded Gruyère cheese (about 1/3 cup)
DIRECTIONS
1. Preheat oven to 400°.
2. Combine squash and oil in a large bowl; toss well. Arrange squash mixture in a single layer on a baking sheet coated with cooking spray. Bake at 400° for 30 minutes or until squash is tender.
3. Cook pasta 7 minutes or until almost al dente, omitting salt and fat. Add kale to pan during last 2 minutes of cooking. Drain pasta mixture.
4. Cook bacon in a large nonstick skillet over medium heat until crisp. Remove bacon from pan; crumble. Add onion to drippings in pan; cook 6 minutes, stirring occasionally. Add 1/2 teaspoon salt and garlic; cook 1 minute, stirring occasionally.
5. Bring 1 3/4 cups broth to a boil in a small saucepan. Combine remaining 1/4 cup broth and flour in a small bowl, stirring with a whisk. Add flour mixture, remaining 1/2 teaspoon salt, and pepper to broth. Cook 2 minutes or until slightly thickened. Remove from heat; stir in crème fraîche.
6. Combine squash, pasta mixture, bacon, onion mixture, and sauce in a large bowl; toss gently. Place pasta mixture in a 13 x 9-inch glass or ceramic baking dish coated with cooking spray; sprinkle evenly with cheese. Bake at 400° for 25 minutes or until bubbly and slightly browned. Serves 8 (serving size: about 11/2 cups).
CALORIES: 348; FAT: 19.8g (sat 5.6g, mono 11.1g, poly 2g); PROTEIN: 14.5g; CARB 29.4g; FIBER 2.9g; CHOL 73mg; IRON 3.3mg; SODIUM 589mg; CALC 220mg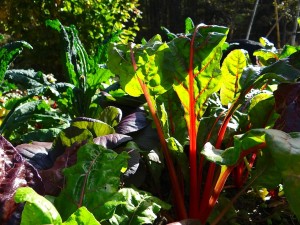 Photo copyright Mary Beth Shaddix
As the pasta dish bakes, pull out those seed catalogs that have been arriving in the mail. Dishes like this inspire me to begin "grocery lists" for what seeds to sow next spring. We're always dreaming of new ingredients to add to the Cooking Light Garden.
Follow what I'm growing for the test kitchens – and the fresh recipes created especially for our garden goods – each issue and on our garden site.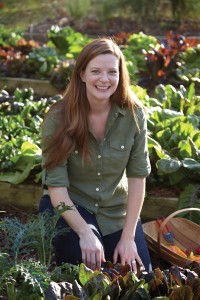 Photo copyright Jim Bathie/Oxmoor House
About the Author
Mary Beth Shaddix leads the Cooking Light garden, bringing harvests of fruits, vegetables and herbs to the pages of Cooking Light magazine and Pick Fresh Cookbook.  She and her husband grow together at their wholesale nursery and farm, Maple Valley Nursery, near Birmingham, Alabama. She is also the founder/owner of A New Leaf Consulting, helping national consumer brands and media companies tell their stories. www.marybethshaddix.com
Win this Book!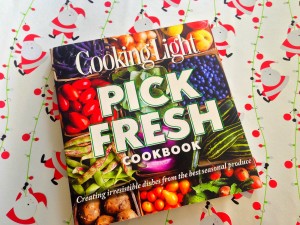 Photo copyright Seasonal Wisdom
Here's your opportunity to win an autographed copy of the Cooking Light Pick Fresh Cookbook.  This attractive cookbook is packed with lots of great, easy-to-understand information about buying, growing and cooking with 50 garden favorites. Including:
150 garden-to-table recipes, from appetizers to desserts
Tips about how to grow your own produce anywhere, whether it's a big backyard or small containers
Seasonal garden plans and good solid gardening basics
Lots of gorgeous, color photos on nearly every page
Personally, I'm eager to try the Melon and Fig Salad with Prosciutto and Balsamic Drizzle, as well as that Fresh Pea and Garlic Gazpacho. Perhaps that Roast Pork Tenderloin with Thyme-Scented Plums. Or, maybe that Fresh Mint Ice Cream …
Yum! Talk about a perfect last-minute holiday gift for your favorite gardener or cook!
Enter to win below … it's easy and there are several ways to participate.
Good luck everyone! PLEASE don't forget to check your spam folder to see if you won. This random drawing ends at midnight on December 20, 2013.  Congratulations to Wendy K. for winning! Thanks to all who entered.
Disclosure: This prize was provided at no charge. But my opinions are my own, and I was not reimbursed for writing or planning this giveaway.