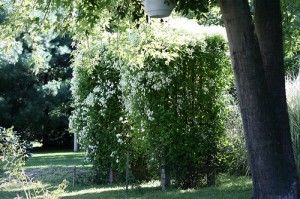 Contributor: Enjoying a lattice trellis garden at home is easy with these tips from Chris Long at Home Depot. Here's what Chris recommends in this exclusive guest post for Seasonal Wisdom readers… 
Summer's heat can be brutal, particularly for outdoor plants. But before you take up a project to revitalize your struggling outdoor garden, consider taking steps to bring additional focus to your plants by installing a lattice trellis garden. From ivy to roses, there are a number of plant varieties that can climb the crisscrossing wooden structures, and this inexpensive project can bring new life and beauty to your yard. Above photo Steven.Butler/Flickr.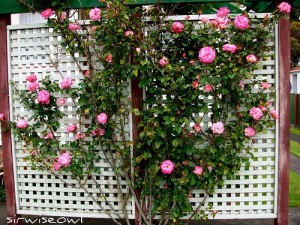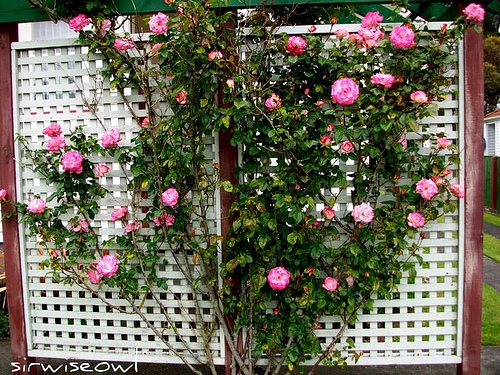 Photo Sirwiseowl/Flickr
If you decide that a lattice trellis will add the perfect touch to your outdoor garden, consider what style you would like before making a purchase. Will a free-standing lattice trellis suit your outdoor oasis, or is a wall trellis your best option?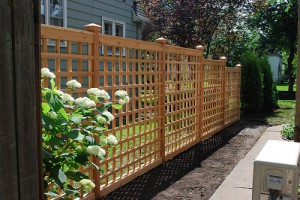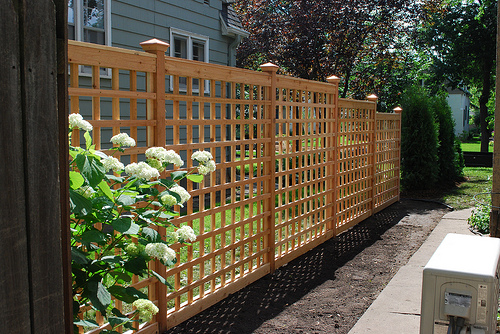 Photo Field Outdoor Spaces/Flickr
Free-Standing Trellis
If you are looking for a garden that stands strong on its own, consider purchasing and installing a lattice trellis panel that you can attach to posts anchored in the ground. This not only provides the perfect place for a vertical garden, but it can also provide privacy from peering neighbors.
Once you have your lattice trellis panel and posts, take the following steps to install them.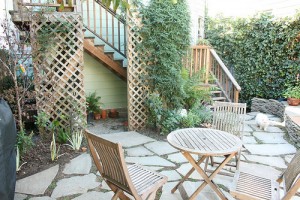 Photo by Rachel Black/Flickr
Dig your post holes the exact width of the lattice trellis panel, and make sure they are at least 24-inches deep.
Place the posts in the holes and fill in the holes around them. Don't use cement unless you are installing the trellis in an area that is frequently plagued by standing water.
Use a level to make sure that the posts are vertically and horizontally straight.
Pack dirt around the posts until the holes are fully covered.
Nail the lattice trellis panel to the posts.
Plant your climbing plants at the base of the trellis and weave the vines into the lattice.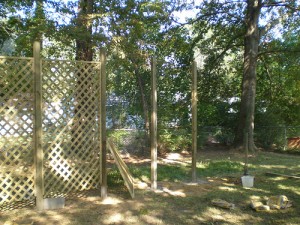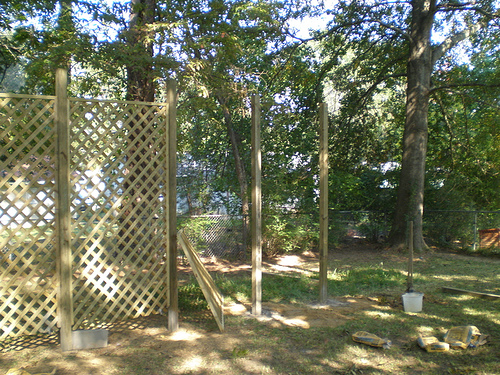 If a single trellis panel isn't enough, consider purchasing multiple panels and posts and follow the aforementioned steps to create a broader growing space and add greater privacy.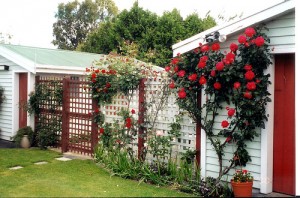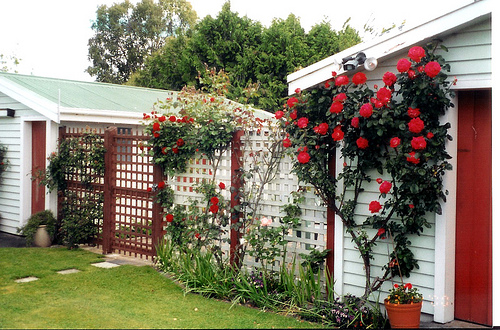 Photo SirWiseOwl/Flickr
Wall Trellis
If space is limited in your yard or on your patio, consider decorating a nondescript fence, wall, or railing, with a wall lattice trellis.
Use treated scrap wood to create two spacers that will support your lattice trellis. These should be about 2″ thick and 12″ long.
Pre-drill holes in the spacers using self-drilling outdoor screws and install them into the side of the house where the trellis frame can be attached to them.
Attach the lattice trellis to the spacers using a level to make sure it is straight.
Place a planter just under the trellis, weave the vines in the lattice, and watch your climbing plants grow.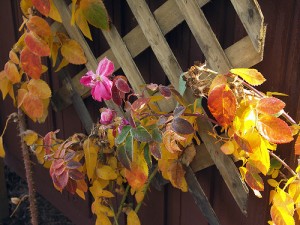 Photo Withrow/Flickr
When shopping for a lattice trellis, make sure to purchase one that is made of wood. Metal trellises are available, but they can heat up and harm your plants.
Be aware of the amount of sunlight that is available where you plant to install your lattice trellis, and seek out plants that will thrive in the location you have chosen. Care for the plants as prescribed, and watch them climb the trellis. You may need to adjust the vines at times, but they will become trained and add their own personality to your outdoor garden.
A vertical garden grown on a lattice trellis will bring plenty of inexpensive beauty to your yard, even during the dog days of summer.
Author's Note: Chris Long, a long-time store associate at a Home Depot in Illinois, writes for the Home Depot website. He enjoys writing on home outdoor topics ranging from lattices to home fencing choices.