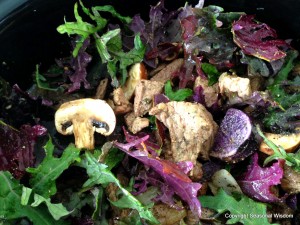 Baby, it's cold outside. As I make up this Slow-Cooker Frosty Day Stew, the day's high temperature will stay below 20 degrees F.  With hardy vegetables like purple potatoes, baby turnips, mushrooms and kale, this Frosty Day stew will take the chill off the cold weather until spring finally arrives.
Best of all, this healthy and delicious stew could not be easier to make, and you can forget about the meal while it cooks slowly for hours, filling your home with wonderful smells.
This Seasonal Wisdom Slow-Cooker Frosty Day Stew recipe is easily adaptable, so you can use fresh vegetables and spices available seasonally and locally.  Purple potatoes, orange carrots, green celery, white turnips and multi-colored kale allow this meal to be a colorful one, and that's a good thing says Everyday Health.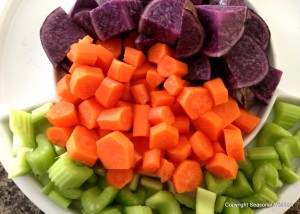 Each of these colors has different nutrients and phytochemicals to keep you healthy. By eating a rainbow of colors with your meals, you can ensure you're eating different types of vitamins, minerals and antioxidants.
Today, I focused on winter vegetables, but this stew could be modified easily with warmer weather foods like tomatoes, eggplants and squashes. I also featured local grass-fed beef, grown from a nearby rancher.
Pasture-raised animals have lower saturated fat, cholesterol and calories than ordinary feedlot animals. At the same time, these grass-fed animals are higher in vitamin C, beta-carotene, vitamin E and healthy fats such as the omega-3 fatty acids. Find local grass-fed beef at Eat Wild. This beef can be replaced with lamb, pork or chicken. Or, it can be left out completely for a vegetarian meal.
Slow-Cooker Frosty Day Stew
Ingredients:
4 potatoes, chopped (I used purple potatoes)
3 carrots, sliced
3 celery stalks, sliced
1 medium sized yellow onion, chopped
2 to 3 cloves garlic, finely chopped or smashed
6 little white turnips, chopped
8 crimini mushrooms, chopped
Big bunch of kale, destemmed and chopped
1 ½ pounds of stew meat, cut in small pieces (I used local grass-fed beef)
1 cup of red wine
3 cups of stock (I used beef stock, but vegetable stock works too)
2 teaspoons of mixed Italian herbs
1 teaspoon cumin
Salt and pepper to taste
1 or 2 tablespoons of olive oil
Directions:
1)      Mix meat with half the Italian herbs, half the cumin, and salt and pepper.
2)      Heat olive oil to medium in a frying pan, and brown meat pieces slowly on each side with a little onion. Grass-fed beef cooks faster, so use a slightly lower temperature and be careful not to overcook. Brown meat in a single layer, in batches for best results. Set aside browned meat.
3)      In the crockpot layer remaining onion, garlic, potatoes, carrots, celery, turnips and mushrooms. Add remaining Italian herbs, cumin and salt and pepper. Slowly pour the wine and stock into the crockpot.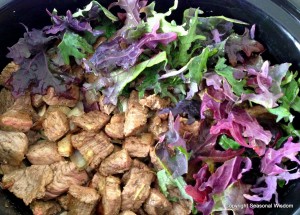 4)      Add the browned meat on top. Top completely with the kale.
5)      Cook stew covered in a crock pot for at least 4 to 5 hours on high, and 2 to 3 hours on low. You should be able to cut the beef with a spoon, and the aroma should be making everyone in the house starving.  You can also cook this stew on low all day long, so it's ready when you come home from work.
Serving Size: You'll have enough for leftovers for two people, or just enough for a warm meal for four.
Enjoy this recipe, and feel free to experiment with the vegetables and spices. Be sure to let me know how it turns out for you. Bon Appetit!