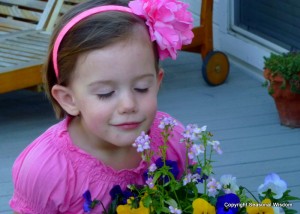 Getting children into the garden is a big goal for many parents and educators. That's why Seasonal Wisdom is delighted to host this Kids Gardening Giveaway with aHaModernLiving.  These three great prizes make wonderful holiday gifts – and each will inspire the young children in your life to turn off the television and video games, and spend time thinking about nature instead.
It's easy to enter this giveaway. But hurry! This random drawing ends on Saturday, Dec. 8, at midnight. Extra Bonus:  All Seasonal Wisdom readers will receive a special 10 percent discount for their holiday shopping – for kids or adults – at aHaModernLiving.com. Congratulations to Michele from Idaho for winning this prize! Thanks to all who participated.
At Seasonal Wisdom, we believe strongly that children are happier and healthier individuals when they can spend time playing in nature, especially in the garden. A while back, Seasonal Wisdom published this article – Five Reasons Why Kids Should Garden – and it remains one of the most widely read and shared posts on this blog.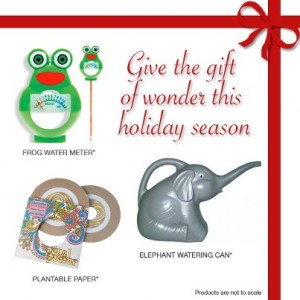 That's why Seasonal Wisdom is happy to be hosting this giveaway with Jayme Jenkins, the owner of aHaModernLiving. You may remember Jayme from the Nest in Style podcasts we did for Horticulture Magazine and on iTunes.
Special Discount: Along with these cute kids prizes, Jayme is offering all Seasonal Wisdom readers a special 10 percent off your first purchase at the online store, where you'll find lots of hip gifts for the kitchen, garden and bath. To get your discount, simply shop here and use the code — SW2012 (caps not required) — before the promotion expires on Dec. 24, 2012.
The Kids Gardening Giveaway features three inspiring and educational gifts for the children in your life — and each item encourages a love of nature and gardening. One lucky person will win in this random drawing: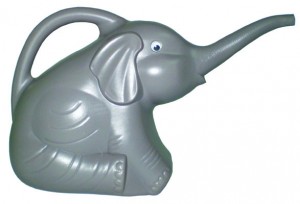 Elephant Watering Can (suggested retail price $10) – As seen in Fine Gardening and Family Circle magazines.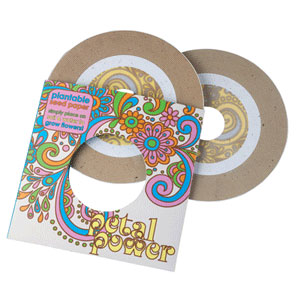 Petal Power Record Plantable Paper (suggested retail price $8.95) – There are two darling "45 records" with wildflower seeds embedded inside.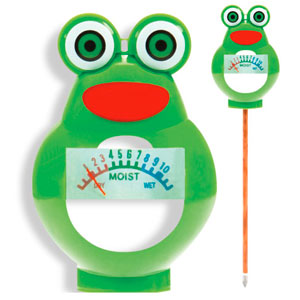 A Greenbo Frog Water Meter (suggested retail price $14.95)
– This cute frog water meter teaches kids the importance of irrigation, so they water the soil … not the plant.

Enter to Win!
It's easy to enter this kids gardening giveaway, valued at about $34. Just do the following before midnight on Saturday, December 8, 2012: 
Take a moment to like us on Facebook:
 Leave a comment below and tell us why you think it's important for kids to stay active in nature.
The winner will be chosen at random on Dec. 9, 2012 and contacted within 24 hours. If the proposed winner forfeits or does not claim the prize by Dec. 12, the prize will be re-awarded based on the sponsor's sole discretion. All prizes will be awarded.
Please provide your name and email to enter this contest, so we can contact you promptly if you win. Also, check your spam folder! The winner agrees to allow his/her first name to be mentioned in conjunction with this giveaway.  
The number of eligible entries will determine the odds of winning. This giveaway is limited to U.S. residents only, who are over the age of 18 years old. NO PURCHASE NECESSARY TO WIN. This sweepstakes is VOID WHERE PROHIBITED BY LAW.  By entering this giveaway, you are agreeing to these conditions. 
Good luck everyone! Don't forget to enter before midnight on Saturday, Dec. 8, 2012.  Congratulations to Michele from Idaho for winning this prize.
Disclosure:  These prizes were provided at no charge to Seasonal Wisdom. However, I am not an employee for aHaModernLiving.com, nor was I compensated for running this promotion.
Save Money : Don't forget this holiday gift to all Seasonal Wisdom readers — adults and kids! Save 10% for your first order at aHaModernLiving. Use SW2012 in the order form. Expires 12/24/12.
Connect with Jayme and aHaModernLiving on Twitter, Facebook and Pinterest.
Coming Next! Stay tuned for several experts' holiday gift ideas that inspire kids to spend more time outdoors.