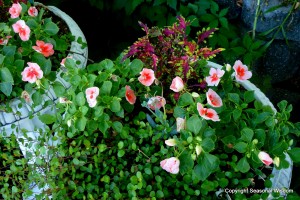 Are you looking for colorful coleus, impatiens, verbena and other charming container plants that are easy to grow? Come take a peek at a few container design ideas from my garden, which feature hot, new plant varieties — along with some old favorites.
These pots feature the new striking Coleus Under the Sea™ 'Bone Fish' from Hort Couture, along with pretty 'Peach Flair' impatiens and creeping wire vine. (Click on any of the upcoming photos for a closer look…)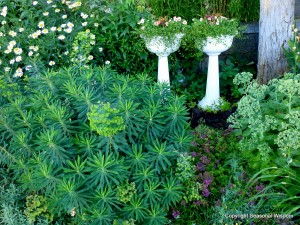 Cottage Style: The containers sit in a partial-shade spot in my garden, which gets dappled light and only a few hours of direct sun. Surrounding the standing pots are Shasta daisies, euphorbia and 'Autumn Joy' sedum that is just about to bloom. Each of the neighboring perennials gets a few more hours of sun than the containers. As you can see, I like to mix different textures and leaf shapes in the garden.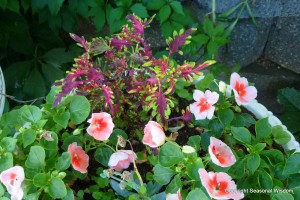 Here is a close-up of this eye-catching new coleus, which  is part of the Under The Sea™ collection that Hort Couture asked me to review this summer. 'Bone Fish' looks almost like a sea creature swimming over pale peach impatiens. The new coleus collection thrives in sun and shade with rich, moist and well-drained soil. Keep impatiens out of full sun, however, as they will wilt in the heat.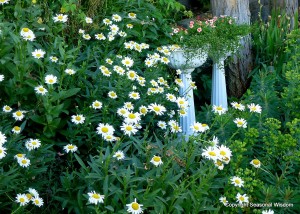 Mid-summer means that my Shasta daises are blooming wildly around these containers. Many of the daisy plants self seeded themselves, so I've dug them up and moved them around to arrange a pathway between garden beds. Be aware that you may need to keep an eye on this plant in your region. Right now, I just consider my daisies to be prolific producers of charming, free plants to pass along.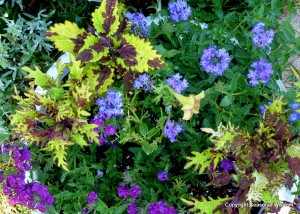 Bold Contrasts: For a completely different look, here is a wildly colored container that sits beneath a purple butterfly bush in my garden.  Hort Couture's 'Gold Anemone' and 'Sea Scallop' coleus — part of the ocean-inspired Under the Sea™ collection — are spotlighted in this bold design, along with Proven Winners Superbena® 'Royale Chambray,' peach 'Pink Lemonade' petunias and 'Plum Magic' verbena.
My container receives morning light and late-afternoon shade, during the hottest time of the day. But it has survived several days of triple digit temperatures with enough water. These new coleus varieties change colors based on the amount of daylight they receive. Mine look brighter than the ones on the company's website, for instance.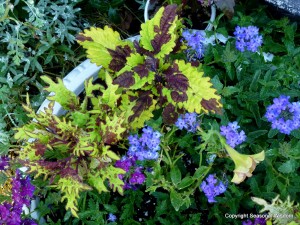 Here's a closer look at those new eye-popping coleus. By combining the gold and purple speckled plants with light blue, plum violet and pale pink blossoms, the unusual foliage really stands out.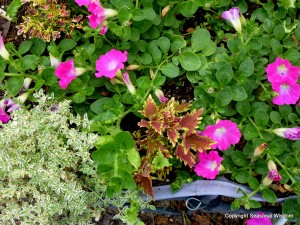 Classic Colors:  For a more traditional look,  here is a container that sits in full sun in my backyard by my kitchen garden. The Proven Winners Supertunia® 'Mini Bright Pink' petunia is growing like crazy alongside a variegated thyme plant and several Hort Couture Under The Sea™ coleus plants — including this elegant 'Langostino' in the foreground, and a sea-inspired 'Red Coral' in the upper left.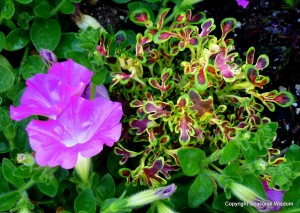 Come take a closer look at this new coleus. Striking foliage marks the Under The Sea 'Red Coral' coleus, which grows alongside a pretty petunia. I love the delicate, richly colored leaves on this new plant, which look more like seaweed than plant foliage.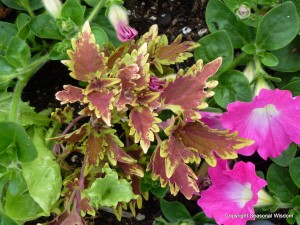 The 'Langostino' coleus from this new collection is quite handsome, I think, next to the thriving petunia.
If you're looking for plants with colorful foliage and unusual leaf shapes, take a closer look at the Under The Sea coleus collection. Combined with new and old plant favorites, the coleus can create charming and bold containers for a wide range of tastes.
Disclosure: As a garden writer, Hort Couture provided me with these free coleus plants to test this summer. The other plants, including the ones from Proven Winners, were purchased by me at an independent garden center.  All my opinions are my own.