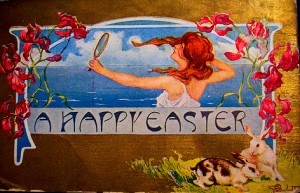 Easter has long celebrated the rebirth of nature, as Spring splashes her seeds and flower buds around the garden at this time. Seasonal Wisdom takes a look at Easter folklore over the centuries, as well as vintage Easter cards from Riptheskull on Flickr.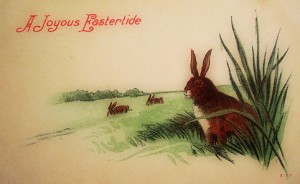 In earlier centuries, Easter marked the time for folks to wear new clothes, clean the home, sweep out winter's dust, tend the garden, and strew dirt floors with aromatic herbs for warmth, cushioning and natural pesticides.
Around the British Isles, there was a well-established belief that the sun danced for joy as it rose on Easter, wrote Ronald Hutton, a distinguished history professor at University of Bristol and author of several books on Britain's ritual year.
Lots of basic facts about Easter — such as how the day is closely connected with the Spring equinox, and why eggs and bunnies are symbols of this holiday — can be found in this Seasonal Wisdom post.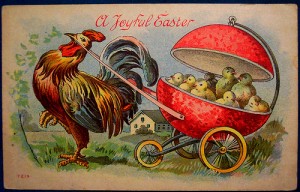 Easter and the days right afterwards kicked off the spring fairs and festivities in past centuries. Depending on what day the holiday was celebrated that year, Easter often ushered in warm-weather activities like morris dancing, may poles, horse-raising and sporting events in England during the seventeenth and eighteenth centuries.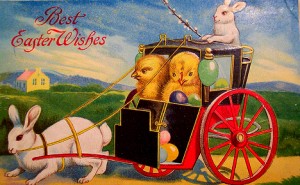 An odd tradition around Easter was the custom of wishing success to one's farm crops in a similiar way to "wassailing" apples around midwinter and the New Year. On Easter afternoon, farmers would wander around their corn or wheat fields with plum-cakes and cider, making toasts to the health of their plants. For example, farmers in Herefordshire, England were said to recite these words as they saluted their corn crops:
"Every step a leap, every leap a sheaf,
And God send the master a good harvest."
During this beautiful time of the natural year — with new birth all around us — may you celebrate and enjoy this time in your own home.
To get you in the swing of things, check out my Sensational Spring Pinterest board. You'll find everything from table decorating ideas to all-natural egg dyes.
Don't forget to stop by Riptheskull on Flickr to see more cool vintage cards. Learn more historical facts about Easter.  And, however you decide to recognize this special time of year, be sure to take a minute to appreciate Mother Nature's work.
"Well pleaseth me the sweet time of Easter
That maketh the leaf and the flower come out."
Bertran de Born