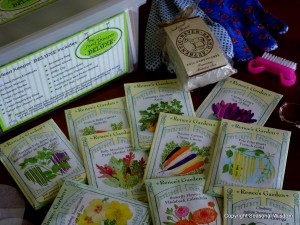 It's time to start growing spring vegetables in much of the United States. That's why Seasonal Wisdom is pleased to host this special Spring Seed Starter Giveaway. You'll find lots of gardening goodies to get your spring kitchen garden off to a great start. But hurry! This giveaway ends at midnight on March 30, 2012.
Want to grow vegetables this year, but looking for a little support? No problem. Seasonal Wisdom has partnered with Renee's Garden Seeds, The Seed Keeper Company and Authentic Haven Brand to help you grow your own food this year. Check out what this exciting prize package features: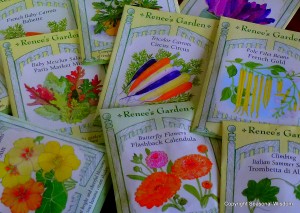 1) A Special Collection of Renee's Garden Seeds: First, the winner will receive 12 seed packages (valued at $35). These aren't your ordinary, run-of-the-mill veggies either. We're talking purple carrots, yellow beans, red romaine lettuce, and other delicious and rare seeds from Renee's Garden Seeds. There are also lovely edible flowers like nasturtium and calendula too.  These are some of my favorites, and I've grown many of these seeds in my own garden.
The vegetable and flower seeds were selected not only for their taste and beauty. They can also be sown directly in the garden, so you don't need to start them indoors. Just plant the cool-season seeds in spring; then sow the warm-season varieties after the last frost date in your area. Share extras with friends and neighbors by throwing an informal seed exchange. Here are the seeds included in this prize package:
Cool-Season: (Plant before last frost date; or late summer for fall)

Baby Mesclun, 'Paris Market Mix' — French-inspired baby salad greens that you can cut, and they'll come again.
Breakfast Radish, 'Petit Dejeuner' — Sweet red and white elongated radishes.
'Cutting Lettuce, 'Sea of Red' – -Upright red lettuce that give edible accents to your garden beds.
Shelling Peas, 'Sabre' – New for 2012  – Peas that grow on vines 2 to 3 feet long.
Tricolor Carrots, 'Circus Circus' — Purple, orange and white carrots.
Warm-Season: (Plant after last frost date)
Climbing Summer Squash, 'Trombetta' — Attractive climbing Italian squash.
Container Zucchini, 'Astia' - New for 2012 – Zucchini that grows in a container; ideal for small spaces.
Pole Bean, 'French Gold' — Very prolific yellow beans; performed great in our 2011 garden.
Pole Bean Mixture, 'Rattlesnake' and 'Purple Pod' — Mixture of spotted and purple pole beans; pretty and tasty.
Edible Flowers: (Never eat plants sprayed with pesticides.)
Calendula, 'Flashback' (petals edible only) — Gold, peach, apricot and orange petals backed with red or maroon.
Nasturtium, 'Cup of Sun' (petals, leaves and unripened buds only) — New for 2012 - Cheerful lemon-yellow and gold flowers.
Scarlet Running Bean, 'Magic Beanstalk' (flowers and beans only) – Climbing vine with edible scarlet flowers that later become runner beans.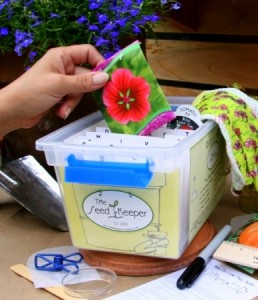 2) A Seed Keeper Kit:  Organize and store these seeds in a nifty Seed Keeper Kit (valued at $24.99). Along with A-Z dividers for your seeds, there are practical tips like a frost zone map and planting definitions. You'll also receive a pair of garden gloves, seed sorting dish, 5 seed saving glassine envelopes for loose and captured seeds, 5 wooden 6″ plant stakes, a permanent black felt-tipped marker, 6″ wooden garden ruler and handy utility clip.
I won a Seed Keeper a couple years ago during a Twitter #gardenchat, and the kit has come in handy for all my seeds.  If you like keeping organized in the garden, the Seed Keeper Kit will make your life easier.
3)  Natural Manure Teas:  To keep those seeds germinating and growing in the garden, we're throwing in a three-pack of all-natural alfalfa, cow and horse manure teas from Authentic Haven Brand. (valued at $12.95).
These manure teas come directly from pasture-raised livestock at the Haven's California ranch, established in 1924.  Fed on grass, like Mother Nature intended, this livestock is not exposed to antibiotics, fertilizers or growth hormones during its lifetime. So, you can rest assured these manure teas are safe for your organic kitchen garden at home.
They're easy to use too. If you can brew a cup of tea, you can brew one of these soil-conditioning teas for your garden.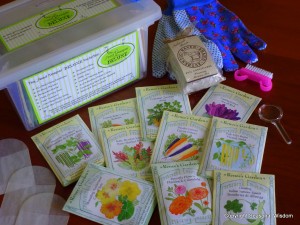 Enter to Win! We'd be delighted if you would follow Seasonal Wisdom and our three sponsors on Facebook, but this is NOT a criteria to win:
How to Enter: It's easy to enter this Spring Seed Starter Giveaway (valued at $73), but hurry! This giveaway ends at midnight on March 30, 2012. Simply leave us a comment below about why you like growing your own food from seeds. This giveaway is now over, and the winner has been contacted.
The winner will be chosen at random on March 31, 2012 and contacted within 24 hours. If the proposed winner forfeits or does not claim the prize by April 3, the prize will be re-awarded based on the sponsor's sole discretion. All prizes will be awarded. Please provide your name and email to enter this contest, so we can contact you promptly if you win. The winner agrees to allow his/her first name to be mentioned in conjunction with this giveaway.
The number of eligible entries will determine the odds of winning. This giveaway is limited to U.S. residents only, who are over the age of 18 years old. NO PURCHASE NECESSARY TO WIN. This sweepstakes is VOID WHERE PROHIBITED BY LAW.  By entering this giveaway, you are agreeing to these conditions.
Disclaimer: This is a sponsored post, and the prizes were provided at no charge for this giveaway.
Please be sure to enter this giveaway before midnight on March 30, 2012. Good luck everyone! Meanwhile, stay tuned for more exciting guest posts and garden giveaways in the upcoming months.
All images in this post are copyright Seasonal Wisdom, The Seed Keeper Company or Authentic Haven brand.