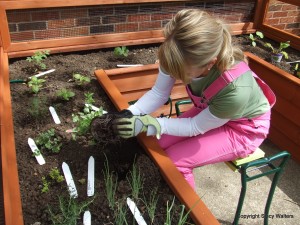 Contributor — This is the time of year when gardeners pull out their trusty tools and tackle their spring to-do lists. But before you spend hours working in your garden, make sure your body is ready for the tasks. There's no need to suffer from unnecessary aches and pains, especially with expert advice.
That's why Seasonal Wisdom is delighted to feature this guest post from Stacy Walters, RKT, who created Fit to Garden™.  Her program helps gardeners use proper techniques to safely perform the bending, kneeling, twisting, standing and squatting movements necessary for effective lawn and garden care. In this post, Stacy shares her favorite tips for gardening safely this year.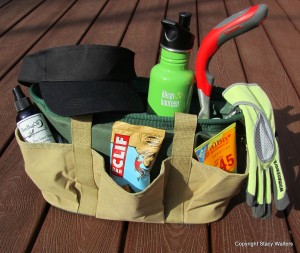 To get you ready for this busy season, Stacy Walters, creator of the Fit to Garden™ program, shares her top five tips for spring gardening safely. Here's what Stacy says:
1) Have a Survival Kit: If you're like me, once you're out in the garden there's not much that can drag you out of the garden.  At the end of a long day you may realize that you forgot to eat, drink, or apply sunscreen.  Before the gardening season officially hits, spend a few minutes gathering the necessities.  Your kit items should be stored in an apron, bag, flower pot, wheelbarrow or anything that can conveniently travel around the garden with you.  Items to include in your kit include:
Water bottle (BPA free to ensure the bottle will not leach chemicals)
Organic protein bar
Ergonomically correct trowel
All natural sunscreen
All natural insect spray
A hat or headband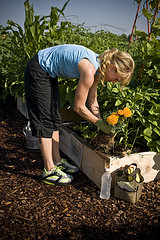 Don't! Bend over.
2) Avoid Bending at Waist: The bottom line is bending at the waist causes an enormous amount of strain on the low back which can lead to next day soreness or injury.  Instead, avoid discomfort by alternating between the following positions: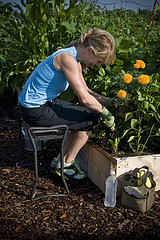 Do! Sit on a stool.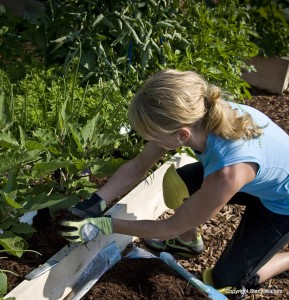 Do! Kneel in the garden.
  3)  Use Proper Shoveling Biomechanics: To protect your back and joints while shoveling, follow these guidelines:
Switch leg and arm positions frequently.
Keep a broad scissor stance. A good rule of thumb is to stagger your feet as wide as your shoulders.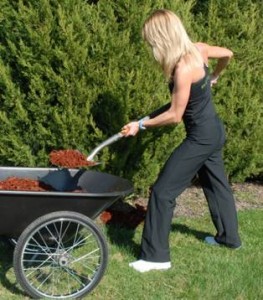 Proper way to shovel.
Avoid holding on to the tool at the end of the handle, keep one hand half way down the handle to enhance your maneuverability.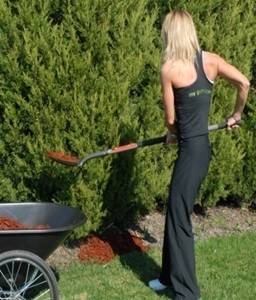 Improper way to shovel.
4) Use Proper Hand Tool Biomechanics: The use of everyday gardening hand tools can cause strain and be a major source of discomfort. The hands, wrists and elbows are complex joint structures, which are vulnerable to overuse injury and degenerative conditions.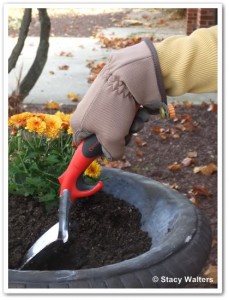 Improper Grip
To ensure a proper grip, shake hands with the trowel with your thumb resting on top.  This grip seamlessly prepares the body to recruit the appropriate muscles of the hand, wrist, elbow and shoulder to perform the work.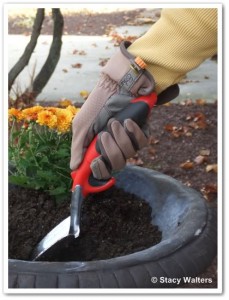 Proper Grip
 5) Always Stretch After Gardening: Perform these two simple post-gardening stretches to improve your posture and low back flexibility.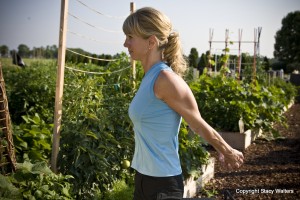 To stretch the chest, shoulders and biceps, clasp hands behind the back with palms facing in.  Keep the chest and shoulders open and lift arms.  Hold 30 to 60 seconds.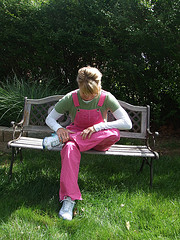 To stretch the low back, hip and gluteals, sit in a chair and cross one ankle over the opposite knee.  Gently lean forward from the waist.  Hold 30 to 60 seconds and switch sides.
Practice these five simple techniques this spring and stay Fit to Garden™!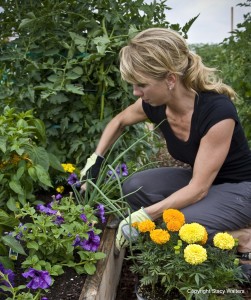 About the Author: 
Stacy Walters is a Registered Kinesiotherapist, Master Gardener, and budding freelance writer with a passion for green living.  The development of Stacy's brainchild, Fit to Garden™ , is the result of the fun-loving blend of her enthusiasm for her profession and gardening obsession.
Learn More:
Visit these sites for more information:  http://stacywalters.com/ and http://corporategardencoach.com/.
Thanks, Stacy, for these great health tips!
How do you keep in shape for gardening, dear readers? Are there special ways you avoid injuries while working outdoors? Share your tips below. Meanwhile, stay tuned for another great garden giveaway coming soon!