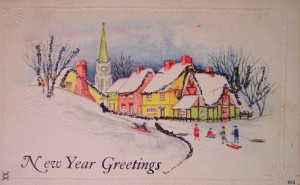 Get your New Year's off to a great start with these entertainment tips, along with fun historical facts and wonderful vintage cards from Riptheskull on Flickr.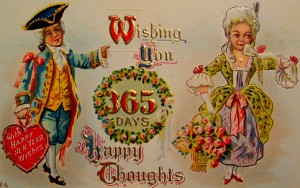 Happy New Year's! Or, Is it? Around the world, countries have celebrated the start of the year at different times throughout history. Sometimes cities in the same countries even had different days for New Year's. Learn more strange facts about New Year's Day in this Seasonal Wisdom post.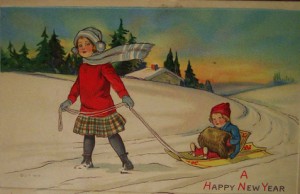 Healthy New Year's Eve Meals: Don't want to fight the crowds, but would prefer a delicious meal at home? How about Rack of Lamb with Warm Apple and Lentil Salad? Or, Seared Steaks with Caramelized Onions and Gorgonzola? These healthy New Year's Eve recipes from EatingWell.com have lots of delicious menu ideas for the big night.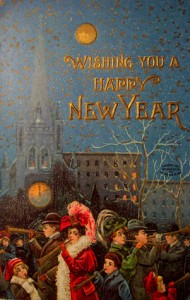 Worth Bringing Back in Style:  If you're nostalgic for old-fashioned but elegant ways to celebrate the ending of the year, this delightful article from the Huffington Post provides 10 Glamorous Old-World, New Year's Entertaining Tips.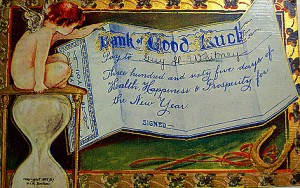 Lucky Foods for New Year's Day: Some foods are considered very fortunate to eat on the start of the year. This interesting feature from Epicurious describes various lucky foods and provides recipes for foods that bring good fortune in the new year.
Make a Toast to Wassail: Don't forget to enjoy a cup of this very old drink, which has influenced our culture in more ways than we often appreciate. Learn more about wassailing and a strange January tradition of toasting the apple trees.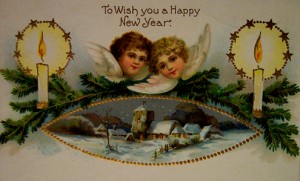 Wishing You A Happy New Year: However you decide to celebrate the start of the year, we hope you have a very peaceful, prosperous and happy 365 days. Thanks for visiting Seasonal Wisdom and look for more stories about gardening, food and folklore all year long.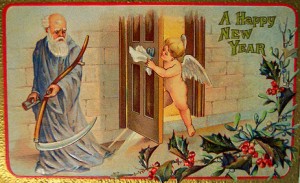 Old Man Time is pushed out the door by the New Year's angel.
See more Riptheskull vintage cards.