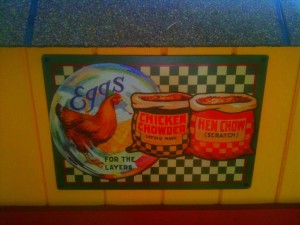 Raising chickens at home is a popular trend taking the United States by a storm.  Americans are housing these chickens in a wide range of chicken coop designs, from contemporary to colorful vintage. Here are five cute chicken coops worth a look. Photo copyright Teresa O'Connor
This chalet style coop was part of Boise's 2011 Tour de Coop, an annual event that showcases backyard chicken coops of all types. The charming coop (shown above) features a solar light, vintage details, fun signage and plenty of color.
The second stop on this tour is across town. The charming coop is a small, but efficient space, which couldn't look more different than the first coop.
The owner built this cute chicken coop from scratch, using plans available at backyardchickens.com.
The lucky chickens who get to live here include Belgium Golden Campine, Gold Laced Wyandotte and Rhode Island Reds.
This coop owner produces everything from fresh eggs to delicious honey in his backyard. Not far from the chicken coop are two apiaries maintained by the owner. These bee hives provide plenty of fresh honey for the family.
The third chicken coop on this blog tour was also built by scratch by the owners. Taking up only a small amount of space in their suburban backyard, this little coop has everything a chicken could want.
The fourth chicken coop on this tour wasn't built by the owner. Instead, she ordered a custom-built chicken coop from a Boise firm called For The Birds Chicken Coops.
The last stop on this tour is actually located in Eugene, Oregon. But as you'll see below, this chicken coop is certainly worth the trip.
Some very happy chickens are living in this handcrafted coop in Oregon, built by Jayme Jenkins, my Nest In Style partner.
When Jayme isn't keeping chickens, she's busy with her uber-cool online store aHa! Modern Living. Find her on Twitter and Facebook.
Form follows function in this chicken coop. The design is as practical as it is attractive.
Jayme's four chickens are all different. "Blackie is a Black Australorp and Patches is a Welsummer," she explains. "While Betty is a Buff Orpington, and Squeak is a Silver-laced Wyandotte."
From cute chalets to clean contemporary coops, there's a wide range of chicken coop designs out there. Whatever you're looking for, you'll probably find it.  So, have fun while you're looking.
Do you have a backyard chicken coop? We want to see it at Seasonal Wisdom's Facebook page.
Learn More: