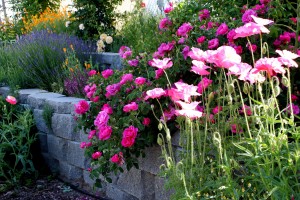 Poppies are easy to love. The flowers mix beautifully with roses, lavenders and other perennials, and provide a romantic, carefree look to any garden. Best of all, poppies are easy to grow from seeds, and many of them reseed to provide beauty year after year.
The above pink 'Shirley' poppies (right) and orange 'California' poppies (left) are from my garden this summer. They are mixed with English lavender and roses.
All photos are copyright Seasonal Wisdom.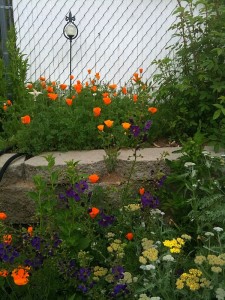 "The poppies hung Dew-dabbed on their stalks." John Keats.
Over the years, I've had luck with three easy annual poppies: California poppies; Shirley poppies; and 'Pepperbox Breadseed' poppies.
Poppies first popped into my garden a few years ago, when I sprinkled seeds for California poppies (Eschscholzia californica) behind my fence. That year, a few of the flowers appeared, and added some cheer to the garden bed.
That wasn't all, however. Each year, this drought-tolerant annual continues to reseed itself in my cottage garden, popping up among the roses, yarrow and canterbury bells.
Although these poppies are native to California, they will thrive in the right growing conditions elsewhere. They adore hot and dry areas. If you don't want these poppies to spread too much, be sure to deadhead the flowers after they bloom.
Orange is the most popular color for this type of poppy, and the color looks fantastic with blue and purple flowering plants.
However, I recently grew pink California poppies called 'Dusty Rose,' found at Renee's Garden Seeds. It's a terrific option for the gardener looking for something new.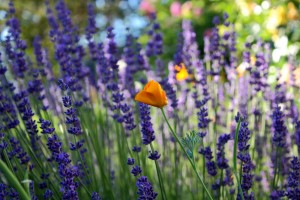 Shirley poppies (Papaver rhoes) are another easy-to-grow annual, which feature double flowers in a rainbow of colors. The first time I grew this variety, we had an amazing poppy palooza in the garden. Two years later, we still see poppies reseeding around the yard … all from one package of seeds.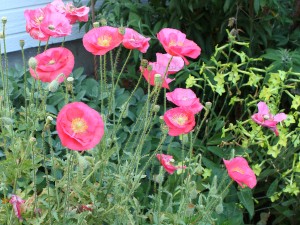 Somehow this Shirley poppy managed to self-seed itself next to some lovely Nicotiana alata 'Lime Green', which I was testing from Annie's Annuals. Don't you love when Mother Nature assists in the garden design?
Pink, rose, red and salmon are just some of the colors available for this variety of annual poppies. Be sure to deadhead this flower often, and you'll extend its blooming life considerably.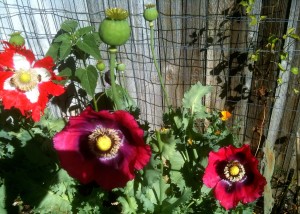 This year, I grew 'Pepperbox Breadseed' poppies for the first time. This old-fashioned heirloom not only has large flowers in bright colors that attract bees. The annual poppies also have handsome seed pods, which eventually provide black nutty-tasting seeds for cooking and baking. In fact, I'm drying some pods right now for poppy seeds.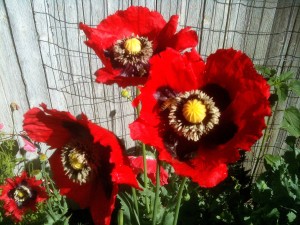 To Plant Poppies: Sow seeds in late fall or early spring directly in the garden. Seeds will overwinter well in colder climates and germinate when your soil finally thaws. Don't wait too late in the growing season to start your poppies.
Lightly cover seeds with soil and keep your garden moist until seedlings emerge in a week or so. Deadhead flowers religiously, if you don't want them to self seed.
Other Poppies: Don't limit yourself to these three varieties. Poppies come in all different colors and shapes, including annuals, biennials and perennials.
Learn more about poppies from Colorado State University Cooperative Extension Service.
See more Shirley poppy pictures from my garden. All photos are copyright Seasonal Wisdom.