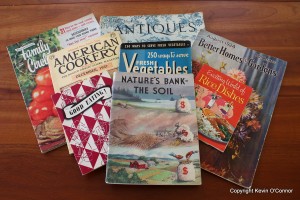 Vintage magazines, cookbooks and educational materials offer wonderful ways to better understand our culture in earlier times. Often featuring delightful illustrations or old photographs, these vintage periodicals can be found at garage sales, flea markets, library bookstores, and antique markets for a couple dollars.
Recently, I found a school booklet from 1953, published by the National Wildlife Federation. Nearly 60 years later, we still can learn a lot from this valuable resource about "Nature's Bank – The Soil."
Nature's Bank – The Soil was book four in the MY LAND AND YOUR LAND CONSERVATION SERIES, published by the National Wildlife Federation for grades 6, 7 and 8.  The objective of this illustrated, 48-page booklet from 1953 was to help children understand the importance of protecting our nation's soil, which the authors called, "the wealth of our country."
Protecting and improving our nation's soil was a big priority for George Washington, the first president of the United States. In 1796, he wrote that if gardeners and farmers "were taught how to improve the old, instead of going in pursuit of new and productive soil, they would make those acres, which now scarcely yield them anything, turn out beneficial."
When we don't protect our soil, it's easy for erosion to wash away most of the precious topsoil, explained this wise booklet to gradeschool children in the 1950s. As you can see by this chart, was significant erosion in the United States from 1492 to 1949.
One of the worst examples of erosion ever measured was in California. According to Nature's Bank, a farm had been planted with long rows of beans, and bare soil between each row. When a rainstorm suddenly dropped three inches, it carried away five hundred tons of soil from every acre. In other locations, these erosion gullies have been started by something as simple as water dripping from the roof and slowly eroding the earth.
The clever book encouraged children to understand that soil is alive.
"Soil that is rich enough to grow crops has decayed plants and animals in it," wrote the authors. "Whenever a plant or animal dies one group of tiny workers [bacteria] sets about returning the chemicals that were in its body to the soil."
Children learned that nitrogen-fixing bacteria in the soil "also take a gas called nitrogen from the air and put it into the roots of certain plants." As the authors explained, these nitrogen-fixing bacteria "live inside little swellings on the roots of such plants as peas, beans and clover. Then when these plants are plowed under and decay, the nitrogen stays in the soil where it can be used by other plants."
Schoolchildren learned how to anchor the soil and prevent erosion by using different methods such as crop rotation, as well as building terraces and contouring the fields. They also learned about strip cropping, where several kinds of crops are planted in strips across the field. In between the cultivated crops, are strips of cover crops like clover and alfalfa, which catch the water, hold the soil and add nutrients to the earth.
As this wise little book teaches, we all need to keep doing our part to save the soil. So, teach your kids and remind your friends and neighbors of the importance of preventing erosion gullies from occuring. In fact, one well-known Colonial War hero believed it was only patriotic to protect the nation's soil.
As Patrick Henry explained, "He is the greatest patriot who stops the most gullies."
Learn more about the National Wildlife Federation.