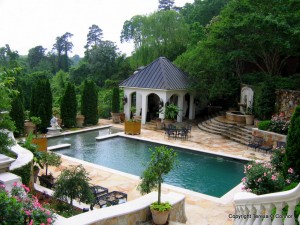 From Southern plantations to European-inspired estates, these three gardens, designed by P. Allen Smith, provided attendees of the first annual Garden2Blog event with plenty of ideas to apply to our own outdoor spaces.  Even if our gardens aren't nearly as big as the one photographed at the Murphy residence in Little Rock, Arkansas.
The Murphy Residence: For this nearly two-acre garden in Little Rock, the challenge was to make the backyard more accommodating for outdoor events and parties. The owners are important philanthropists, who throw a number of large charitable events throughout the year, including impromptu Little Feat concerts. For their garden, they wanted an elegant, but comfortable look.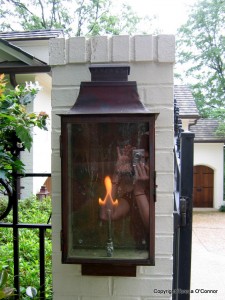 As you walk up to the estate, you pass through these ornate black metal gates, complete with old-fashioned oil lamps. I couldn't resist taking a picture, as you can see.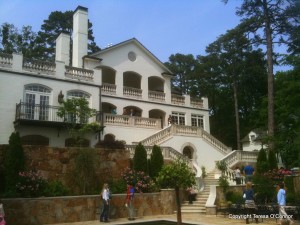 P. Allen Smith and his crew redesigned the rear access of the house, so it was more suitable to large outdoor events. The grand staircase and balustrate were created to improve the flow of crowds into the garden; the newly designed cantilevered balcony provides a view of the wooded valley.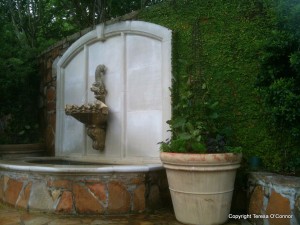 The overall feeling of the garden is one of Old World Europe, thanks to fountains and other accessories. Yet nothing feels over the top. There is an understated elegance behind every detail of this outdoor space.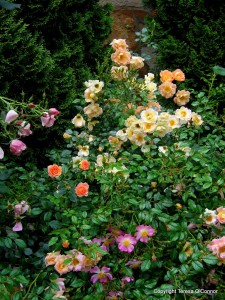 A collage of colors cascades over the wall with these romantic roses.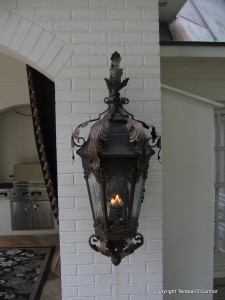 One of my favorite features was the outdoor kitchen. Simple, yet elegant, the entertaining space has views of the garden, an outdoor grill and heavy curtains that can be closed for privacy and warmth.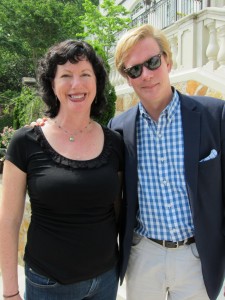 Another highlight was getting my picture snapped with the designer, P. Allen Smith, in between our garden tours.
Brockington: The next stop on the garden tour was one of my favorites. In a rather small lot (150 feet x 100 feet), this French Country style home features several charming garden rooms that circle the house.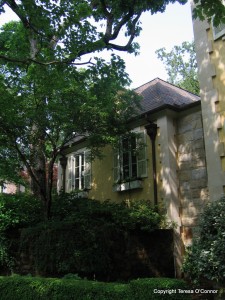 Although the house and gardens are only a few years old, they feel much older.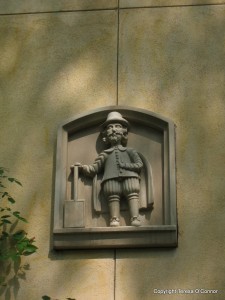 Little details like this little guy on the front of the house give an Old World feel.
Travel around to the side of the house, and you'll meet another little guy surrounded by boxwoods.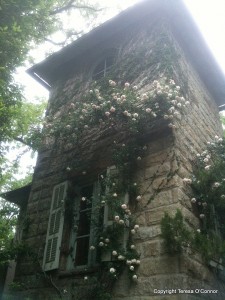 You'll also pass by this old-looking tower, which is covered already with climbing roses. If P. Allen Smith didn't tell us otherwise, I'd swear it had been there for generations.
Even the herb planters look like they've been there for years.
Keep moving around the garden and you'll pass by an outdoor fireplace and end up at a small swimming pool.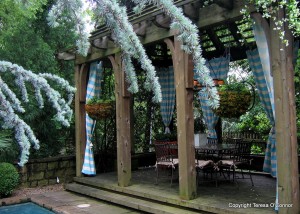 Then there is the delightful outdoor eating space, just minutes from the house and within diving distance to the pool. Who wouldn't want to sip a glass of wine out there one summer evening? This pretty porch makes one feel at home in Provence, even when you're actually in Arkansas.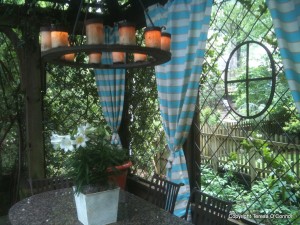 Want to see more? Here's a close-up view.  But hurry, the next stop is an authentic Southern Plantation.
 Marlsgate Plantation: What do you get when you combine an historic old house on a stormy day with a group of garden writers and an entertaining host? A garden tour to remember.
It was raining hard by the time we arrived at the Marlsgate Plantation, overlooking Bearskin Lake, outside of Little Rock.  The historic home was build in 1905, but the foundation is actually part of an earlier house from 1840s. Needless to say, the property was oozing Southern hospitality all over. Hollywood would have loved it.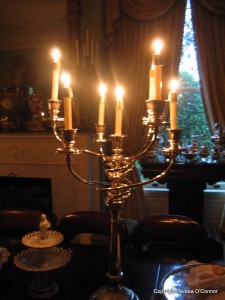 The storms had killed the power, so we were greeted inside with candlelight and a Peach Bellini and homebaked cookies. As you can see, the home was packed with mid-to-late 19th century Southern charm and hidden treasures.
Folks gathered in the richly decorated dining room, before touring the other ornate rooms filled with antique furniture, paintings and accessories from an earlier time.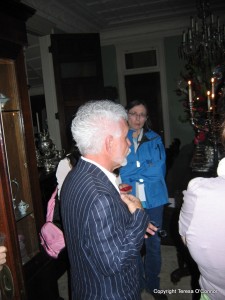 I'll be honest with you, I could have spent that entire stormy evening sitting around the candlelit table with our host Mr. David Paul Garner. His entertaining stories of the old Southern house never failed to get a laugh from our group.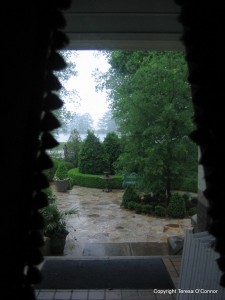 Over the last 20 years, P. Allen Smith and his design crew have created a number of garden rooms for the Marlsgate Plantation. Evergreen boxwood is interplanted with various annuals and perennials for four-season beauty.
The garden's geometric shapes and formal patterns were selected to create a romantic landscape that reflects the old home and its charming owner.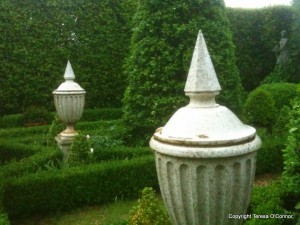 This is a garden where you expect to find love letters stuck in a special hiding place. It's also the sort of place where you might meander for hours, before sinking on a comfy couch with a Peach Bellini and a book by Jane Austin. (Or, would that be Gone With the Wind?) As one attendee said, "Whenever I think of old romantic houses from now on, I'll always remember Marlsgate." And I have to agree.
Learn more about these gardens at P. Allen Smith.  But hurry back, because there's more coming. Don't miss a peek at P. Allen Smith's original home, which he bought for a surprisingly low price, and his new garden retreat filled with luscious ornamentals, attractive edibles and adorable pasture animals.