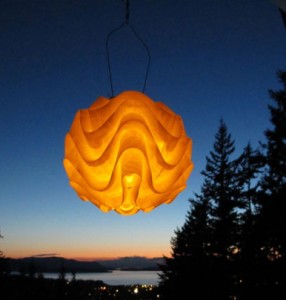 When it comes to outdoor lighting, why settle for the ordinary? Especially, when you can wow them in the garden with these elegant solar lanterns? These Soji lights may evoke delicate Japanese paper lanterns, but they'll stand up well in your garden.  Best of all, aHa! Modern Living is giving away one for free in today's Spring Fling Garden Giveaway!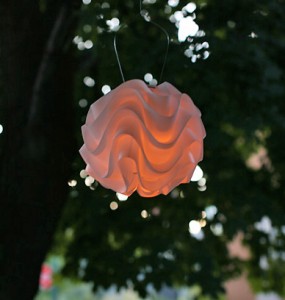 With the help of the sun's light, these Soji solar lanterns will shine down on your evening outdoor activities. Hang one on a tree in the backyard. Or line up several from your porch or pergula to cast romantic lighting for summer dining al fresco.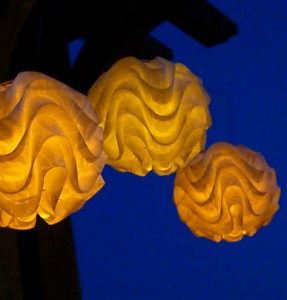 It couldn't be easier to set up this lantern. There aren't any cords to connect. Instead, the lantern's solar panels feed a AAA battery to power an energy-efficient LED light. So, as the sun goes down, the Soji lantern lights up.
This cool solar light is just one of the innovative home and garden products at aHa! Modern Living. Designed to make outdoor living simple, beautiful and accessible, this online store is the brainchild of Jayme Jenkins. You may remember that Jayme is my podcast co-host on Nest In Style, as well as the author of a new book called Garden Rules.
At aHa! Modern Living, you'll find lots of contemporary designs and modern garden accessories to dress up your home and outdoors.  From sophisticated bird houses to chic tabletop accessories to colorful tea towels, there's something for everyone on your gift list.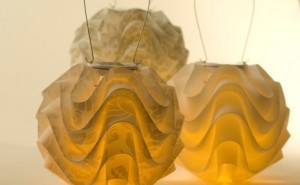 Today's Spring Fever Garden Giveaway Prize: One solar powered Soji lantern from aHa! Modern Living. Suggested retail price: $39.00. (But currently on sale for a short time! Only $29.25.)
How To Enter: It's easy. Just comment below and tell us how you are trying to be more earth-friendly in your home and garden. Whether you're encouraging beneficial bugs, sowing organic seeds or using solar lighting in the garden, we want to hear from you. But hurry! This contest ends tonight at midnight PT, April 5, 2011. Please note: this random drawing is open to US and Canadian citizens. Be sure to leave me a way to reach you, in case you win. Good luck!
What's Coming: Win more great prizes during the Spring Fever Garden Giveaway. Tomorrow, garden legend P. Allen Smith is giving away photo-packed  Garden How-To Cards to get your garden off to a good start.  You'll also get a mix of all-natural soil-conditioning teas from Authentic Haven Brand's family ranch. Just another way to keep your garden  green. That's one prize package you won't want to miss! In fact, Seasonal Wisdom is hosting giveaways every single day this week, so you have lots of chances to win.
Even More: Since we're talking about earth-friendly gardening practices, you might want to visit Thanks for Today. This blog is running a sustainable living project that encourages gardeners to spread the word about keeping Mother Nature green. Plus, she's giving away a lot of great products. Don't miss it!