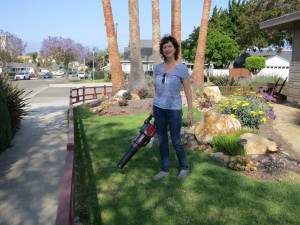 The Jacaranda trees are blooming in Southern California and spreading purple flowers all over the place. See how the Troy-Bilt CORE blower performs in cleaning them up, and enter to win a $100 Lowe's gift card.
Plus, take a tour my friends' new drought tolerant garden and learn more about Jacarandas trees.
Each spring and early summer in my Southern California neighborhood, the eye-popping Jacaranda trees bloom. These fast-growing, drought-tolerant trees reach 25 to 50 feet tall and 15 to 30 feet wide. It's a lovely sight to see the streets lined in purple, but as the LA Times reports, you either love these trees or hate them.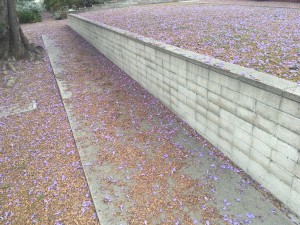 Why? Because they make a serious mess when they bloom, which is why this pretty tree isn't great planted near cars or houses. Many people on this street park their cars in the garage during this time to protect the paint.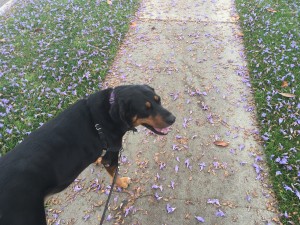 Even on Maggie's daily walks, we have to clean her paws so she doesn't track these pretty, but annoying flowers in the house.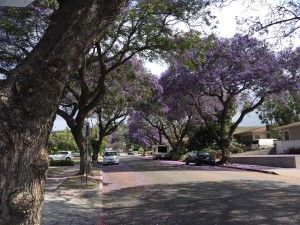 That's why I thought these trees might be a good challenge for the Troy-Bilt CORE blower, which I was asked to review recently as a Troy-Bilt blogger. And I knew just where to go to try it out – my friends Kurt and Lynn's house.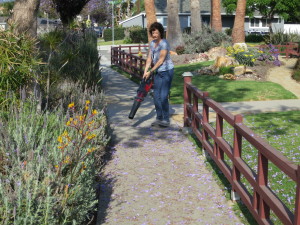 They inherited a Jacaranda tree when they bought their house, and the lovely tree makes a huge mess each year.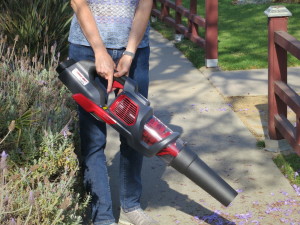 The Troy-Bilt blower has the industry's only motor with a limited lifetime warranty. It also has variable speeds up to 545cfm/125 mph to lift these stubborn flowers off the walkway.
The blower is powered by a Lithium-ion battery, which can be swapped for any battery needed in the Troy-Bilt CORE system.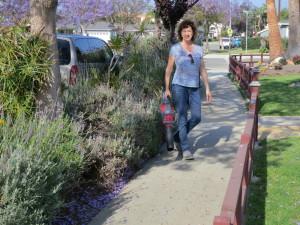 It did a great job of blowing away many of the flowers, as well as miscellaneous leaves and yard scraps.
You'll find plenty of power to do various yard work and the battery seems quite long lasting. We easily did the entire yard without any problem.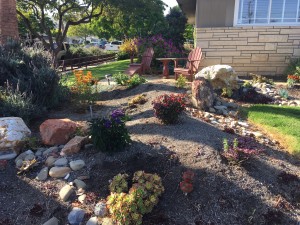 Meanwhile, Kurt and Lynn have done a charming job of building a new garden with succulents and other drought-tolerant plants. In a shady spot they added two Adirondack chairs to enjoy the space.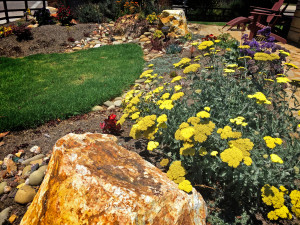 They've added lots of gorgeous stones that compliment the flowers. Groundcovers are slowly filling in the open spaces, and there is room for these plants to grow.
The rocks and plants match the midcentury style of the house and add a natural, rustic feel.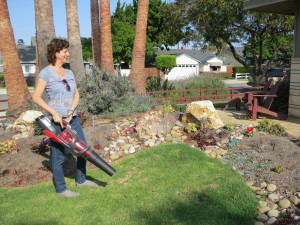 It was a fine place to test the Troy-Bilt CORE blower and I can't wait to see how the garden space develops in future years.
Win a Lowe's Gift Card
Here's your chance to win a Lowe's gift card for $100 to use on whatever you want.
It's easy to enter this random drawing. Just be sure to enter by midnight, July 2, 2017 and PLEASE include your email so we can alert you if you win. (This drawing is limited to the United States.)
GOOD LUCK everyone!
Disclosure: This Troy-Bilt review was sponsored and a blower was provided to me at no cost. However, my opinions are always my own.
Save
Save