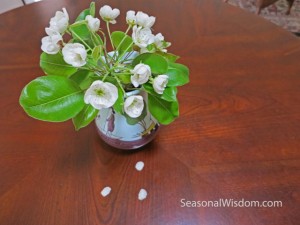 Another gardening season is here. If you're like me, it's easy to get a bit overwhelmed with everything that needs to get finished outdoors – instead of enjoying your time playing in the soil.  So, in the spirit of pleasure and priorities, here are five tips for keeping your garden looking its best this year.
Unforgettable Foliage
Flowers come and go, but fabulous foliage looks good in the garden all season long. Look for plants with striped, variegated, spotted or unusually colored foliage. Often the flowers are insignificant or unimportant; it's the leaves that matter.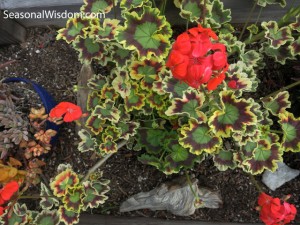 For example, you could grow an ordinary geranium with traditional green leaves and red flowers. Or, you could experiment with the stunning 'Mrs Pollack' geranium (shown above), which sports dramatic red, green and yellow leaves, along with red flowers.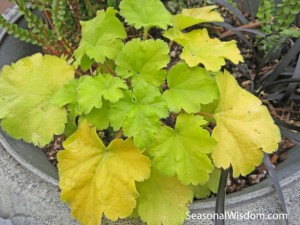 'Key Lime Pie" heuchera adds a bright dash of color to a garden spot, especially when combined with darker plants such as black mondo grass.
From lighter leaves to bold, variegated patterns, plants come with different colored foliage that can bring plenty of drama to your garden, long after the flowers have stopped blooming.
Fragrance Matters
We're often in such a hurry to pick good looking plants for the garden that we don't consider other important factors, such as how those plants smell.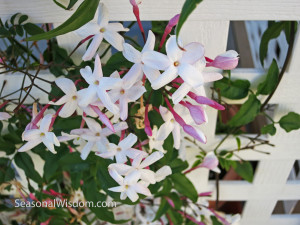 It's easy to overlook the importance of aroma in the garden, until you happen to catch a whiff of sweet, spring-blooming jasmine on a California evening. Then you'll wonder how you ever lived without it.
Wherever you happen to garden, make it a priority to add more fragrant plants to your outdoor spaces. From jasmine, rose and citrus to heliotrope, gardenia, even pine needles and eucalyptus leaves, there are lots of options for fragrant plants. Make aroma an important ingredient in your garden's pleasures.
Healthy  Soil
The most beautiful gardens start with the healthiest soils. Every spring, I add a couple inches of compost  to my garden beds to revive the nutrients and microbial activity levels. Ideally, you're striving for about 5 percent organic matter in your soil, which will help retain water, add good drainage, improve soil texture and add micronutrients.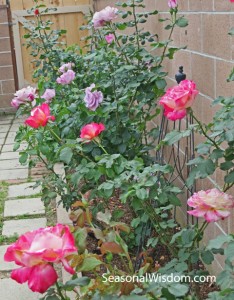 This spring, I fed these roses with a one-time serving of a homemade tea made from Authentic Haven Brand alfalfa tea.  Then a few weeks later, I sprinkled a quarter-cup of Epsom salt around each rose plant and watered well. The plants have rewarded with me with bright green foliage and plenty of blossoms that are just now coming, as you can see. Although I had tried this company's cow manure teas in the past successfully, this was the first time I had bought the alfalfa tea.  I recommend it as your rose garden beds are waking up in the new growing season.
Control Weeds
Another way to keep your garden looking attractive is to effectively manage the weeds. This year's rainy spring has germinated weeds like crazy around here!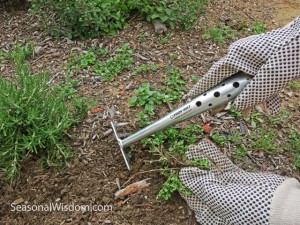 Make it a goal to keep your weeds under control. Start early in the season, before they spread. Work on dirt that is slightly moist, because it's easier to remove weeds when the soil isn't bone dry. Carefully loosen the soil so you can remove the entire root system. This Troy-Bilt Premium Garden Rake ($6.99) is an effective tool for this task. It's made of galvanized steel, so it can stand up to the job.  Even if I wasn't a Troy-Bilt Saturday6 blogger this year I would still recommend this tool.
Prevent weeds by covering the soil with mulch. I like to put about 8-10 sheets of newspaper on the soil, and then water it well. I cover the newspaper with three to four inches of fine wood chips. Over time, the newspaper and wood chips will decompose slowly into the soil and add organic matter, but in the meantime, they will smother the weeds and save water in the garden.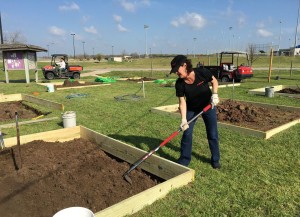 Recently, I helped Troy-Bilt and Planet in Action build a new edible community garden at Travis County Park in Austin, Texas. During the day, I spent hours using the Troy-Bilt Long Handle Garden Hoe ($29.99), as you can see above. It came in handy breaking up and spreading the soil over the day. There may be times when you want or need to weed standing up; this tool can really save your back.
Grow Food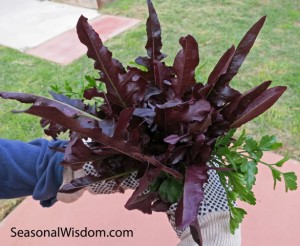 From red lettuces (shown above) to deep purple eggplants to yellow cherry tomatoes, growing your own food is an easy way to add beauty, taste and fun to your garden.  Once you get used to picking your dinner fresh from the backyard, you'll never look the same way at those grocery store vegetables again.
Don't have a big garden? Feel free to mix your edibles with your ornamental plants, as long as you garden organically. Besides some of those vegetables are just as pretty as flowers, and deserve a front row spot in the garden. Don't forget containers. Lettuces and salad greens grow easily in window boxes and pots of all sizes. Mix them with edible flowers like nasturtiums, violas or pansies.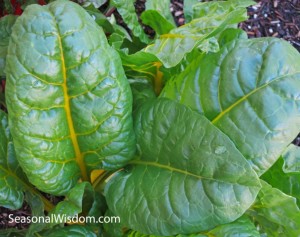 Swiss chard (shown above) is a "cut and come again" vegetable. When you clip these leaves back to the ground, they'll grow again. Here in California, these plants have been growing in my garden for a couple years already in a sunny spot.
Start with Seeds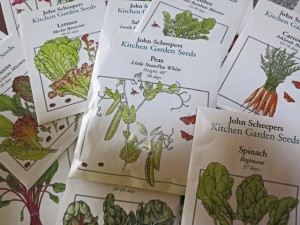 Many vegetables grow easily from seeds, and you get a lot of plants for the price of a seed pack. Seeds allow you to grow more unusual heirlooms, which are often hard to find as transplants. Growing food from seeds also teaches patience and persistence, while waiting for the plants to germinate.
If you want to grow tomatoes, peppers or eggplants, start those indoors about 8 to 10 weeks before your last frost date. So, the time to start these seeds is February or early-March in many places.
But you can plant many other seeds in the ground right now.  John Scheepers Kitchen Garden Seeds recently sent me a free selection of seeds to review, and all are easy to grow when directly seeded into the garden.
Spinach, carrots, radishes, beets, peas, lettuce and Swiss chard are just some of the vegetables that grow well from seeds sown in the garden right about now. In fact, many of these plants prefer to start from seed in your garden, rather than as a transplant. Personally, I'm eager to try 'Little Snow' peas, which start to produce in only 30 days. These would be ideal for areas with short spring seasons.
But, Most Importantly …
However, you decide to garden this season, remember to have fun. The most beautiful and memorable gardens are the ones where you can tell the owners really enjoyed themselves while planning and working there.
As Kate Morton wrote in The Forgotten Garden, "It was such a pleasure to sink one's hands into the warm earth, to feel at one's fingertips the possibilities of the new season."
Hope you have a great time this year sinking your hands into the warm earth and feeling the possibilities in your garden.
Disclosure
Seasonal Wisdom is a Troy-Bilt Saturday6 blogger for 2016, and this is a sponsored post. The John Scheepers Kitchen Garden Seeds were provided for review at no charge.