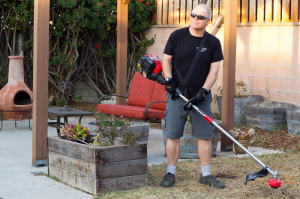 The holidays came early for my husband this year. That's because he had the chance to try out Troy-Bilt's Straight Shaft String Trimmer and several attachments in our garden. As he gives his review of the Troy-Bilt tools, an unexpected guest comes for a look. Check it out!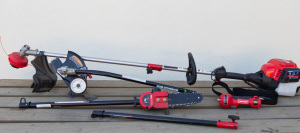 As you may know, Seasonal Wisdom is a #Saturday6 garden blogger for Troy-Bilt.
Recently, the company asked me to review its string trimmer and two TrimmerPlus® attachments. My husband Kevin was excited about receiving these particular tools, because we have a relatively small suburban yard in California where trimmers, lawn edgers and pole saws really come in handy. (We're also going through a historic drought at the moment, so please excuse how dry our turf looks right now.)
The tools reviewed:
Troy-Bilt Straight Shaft String Trimmer, TB685-EC
TrimmerPlus® Add-On Lawn Edger, LE720
TrimmerPlus® Add-On Pole Saw, PS720
JumpStart™ Lithium-Ion Engine Starter, 49MRBESP966
Troy-Bilt EC Straight Shaft String Trimmer, TB685
This 30cc, 4-cycle gas trimmer is a cool little system that allows you to use any TrimmerPlus® attachment with it. That means you can do multiple tasks with just one trimmer. This was a big plus for Kevin, as it helps save room in the garage.  He says, "It's very quick and easy to change over the attachments. And the trimmer itself is very heavy duty."
We both liked that the engine ran cleaner and produced less noise than our old trimmer. The trimmer uses the clean fuel, so you don't need to mix the oil and gas. And you don't need to replace the fuel as often.
The trimmer's adjustable handle can be used for either right or left-handed use. (We're both right-handed.)  A multi-position handle reduces vibration and operator fatigue. Anything that reduces "fatigue" is always popular around our house.
"I also really like the sling," says Kevin. "It helps you balance the weight, so your arms don't get as tired."
JumpStart™ Lithium-Ion Engine Starter
This cordless  engine starter got high marks from Kevin. He really liked not having to pull the cord to start the machine. The battery is supposed to last up to 25 starts between charges.
TrimmerPlus® Lawn Edger, LE720
The edger works well on our turf, which is suffering greatly from the historic California drought, as I mentioned.
Kevin liked how quickly he could connect the edger to the string trimmer without any tools. The edger is adjustable in depth up to 2.5 inches.  He used it on walkways, patios and other border areas.  The large guide wheel made it easy to maneuver.
TrimmerPlus® Add-On Pole Saw, PS720
In our yard, we have a huge trumpet vine that we inherited with the house. It grows like a weed, and has to be pruned regularly. So, this attachment was another one of Kevin's favorites.  It easily prunes the thick, intertwined branches.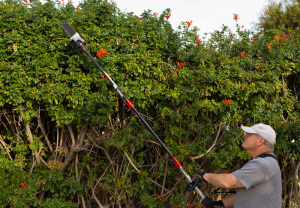 When you add the extension to this pole saw, it reaches 11 feet.  You can see the strap helping him to balance the tool, as he works.
Good Choice for Holidays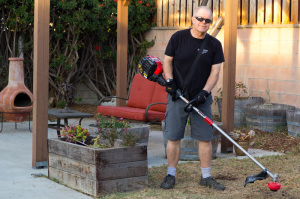 Around here, we're more likely to use a trimmer than a mower.  So, we need equipment that's reliable and easy to use.  Kevin gives these garden tools a "big thumbs up," and looks forward to many years of use.
Meanwhile, our dog Maggie thought this post needed a little excitement and decided to photo bomb Kevin unexpectedly. She gave the garden tools a good rating too.
Disclosure:  As a #Saturday6 blogger, these garden tools were provided at no charge. But our opinions are always our own.