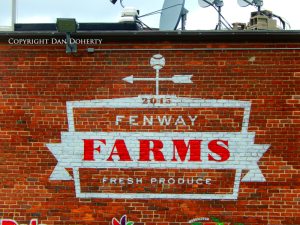 "Take me out to the ball game. Take me out with the crowd." But forget about buying me "some peanuts and Cracker Jack," as the 1908 Tin Pan Alley song by Jack Norworth and Albert von Tilzer recommends.
I would much rather tour the new 5,000 square foot rooftop farm on top of Fenway Park for Red Sox fans.  Come along with me on an armchair tour of this new innovative urban farm above Boston's favorite baseball field.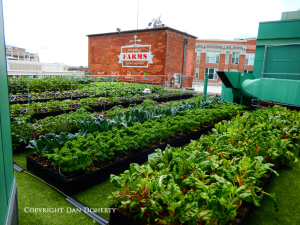 The next time you go to a Red Sox game, be sure to head over to the Third Base side of Fenway Park. From there, you can observe the new Fenway Farms on the roof of the Front Office on the Third Base of the EMC Level. It was installed and launched on opening day of the 2015 Boston Red Sox season.
More than 2,000 pounds of fresh foods are being grown this first year using a special milk crate container growing system, which fits within the structural load constraints of the historic stadium. A drip irrigation system waters plants efficiently, and can be operated offsite.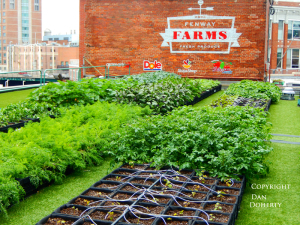 "The produce is used in food and cocktails sold at the concessions, at nearby restaurants and in the team's flagship restaurant that prepares meals for about 40,000 people during home games," reports WCVB-TV in Boston.
What's Growing
In spring 2015, urban farmers from Green City Growers planted and grew arugula, broccoli, broccoli raab, carrots, chard, chives, cilantro, collards, greens mix, head lettuces, kales, lettuce mixes, mint, oregano, parsley, pea shoots, radishes, rosemary, scallions, snap peas, spinach, strawberries, thyme and violas.
For summer, the productive rooftop garden grew warm-season favorites such as beans, eggplants, hot peppers, sweet peppers, tomatoes and zucchini.
Strong Responsibility
It's not the first time this historic ball park has grown vegetables either.
During the 2000 season, former bullpen coach John Cumberland grew some tomato plants in the bullpen. But this new rooftop garden at Fenway Park is definitely something special, according to Green City Growers.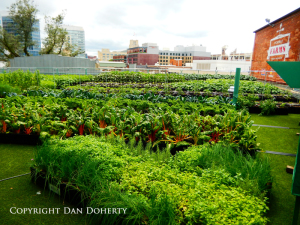 "The installation of Fenway Farms marks the ongoing process to make America's most beloved and oldest ballpark also one of America's greenest," reports the Green City Growers website. "We feel a strong responsibility to act as a community leader to demonstrate the social, health and environmental benefits of urban agriculture."
Go, Red Sox! You scored a home run with Fenway Farms.
Special thanks to Dan Doherty, who loves Boston, healthy food and the Red Sox.  He alerted me to the story, and supplied a first-hand look at the garden.