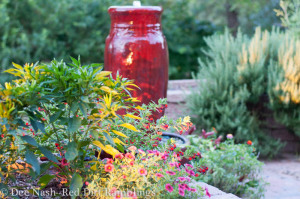 No one is born with a green or brown thumb. We all need a little help developing our gardening skills from time to time. Sometimes those skills are passed on from generation to generation, if you're lucky. But more likely than not, they aren't.
Dee Nash, the author of The 20-30 Something Garden Guide (St. Lynn's Press) wants to pass along practical, down-to-earth advice to younger gardeners. The kind of advice that you might have learned from a grandmother at an earlier time, who inspires you to become a lifelong gardener. Recently, I sat down with this talented author to learn more.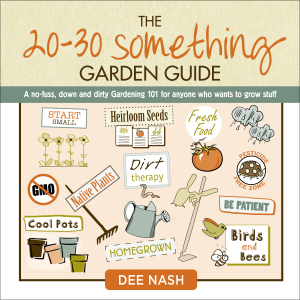 Dee Nash is a friend of mine, who writes an award-winning blog called Red Dirt Ramblings. When I heard she had written The 20-30 Something Garden Guide, I was curious why she felt inspired to reach this age group.
"Three of my four children are in the 20-30 age group," explains Dee. "I knew they and their friends were interested in gardening, but didn't know where to start. I wanted to give them the encouragement to get started and then help even more along the way."
Dee also wanted to "leave a legacy for the next group of gardeners." As she explains, "If we don't reach out and lend a hand, we might lose that generation. Then, where would all of us be?"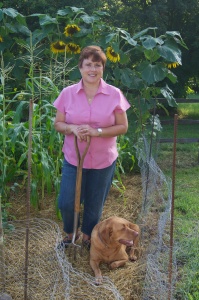 Dee Nash and her constant companion Maddie
A third-generation Oklahoman, Dee has gardened in everything from a city apartment with a south-facing balcony to her present home on 7.5 acres. In her book, she writes about Oklahoma's torrential rain, tornadoes and oppressive heat. "Perhaps you've heard about the Dust Bowl in school … but my grandparents lived it," she writes.
 A Grandmother's Inspiration
Just as Dee wants to inspire young gardeners, she credits her own grandmother with instilling the love of gardening into her life.
"I used to stay with my grandmother Nita in Miami, Oklahoma in summer, and I would toddle after her in the garden," recalls Dee. "She taught me about bugs and which ones helped the gardener. She would give me seeds to plant. She let me harvest tomatoes. Later, we'd go inside, read books and make supper. She would put on a spread of everything she grew from green beans, tomatoes, peaches, potatoes, corn and summer squash. They were not wealthy, but they felt rich because there were so many great things to eat there."
Years later, Dee's own kitchen garden (shown above) is continuing this tradition and growing many of the foods her family eats.
In the 20-30 Something Garden Guide, Dee understands that today's gardeners often have to make do with tiny patios or small gardens. That's why her book is organized around three types of gardens, including:
 Small Space Gardening with Containers
An Edible and Ornamental Garden in the Front or Backyard
A Garden to Delight the Senses
Along the way, Dee gives plenty of practical, down-to-earth tips on everything from deciphering a seed packet to building healthy soil to attracting butterflies. Everything is written in a way to demystify the mysteries of gardening, and put the fun back into this popular hobby.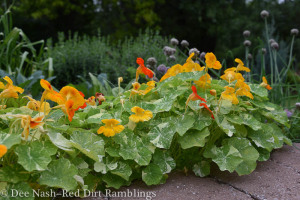 The uplifting, encouraging tone is exactly what makes this gardening book so special. As Dee writes in the book, "One of the great disadvantages to being a gardener is perfectionism… I want to help you think more about gardening as a process and not a series of to-do lists. Let's turn the idea of chores into a meditation that benefits your entire life…"
Beginning gardeners will especially find this book helpful, but experienced gardeners will still appreciate Dee's horticultural knowledge and attention to best practices.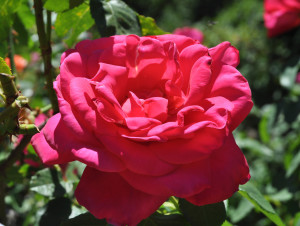 Rose photo copyright Dee Nash
Dee admits that roses were her first love. "Roses were my gateway into gardening," she says. "I bought three moderate roses, and when they bloomed, I was hooked."
Getting her readers hooked on gardening is an important goal for this author.  With her book, Dee says she wants people to know "that gardening isn't hard. It's work, but it's blessed work, and anyone—I mean anyone—can do it."
Disclosure: A review copy of this book was provided at no charge. I was not paid to write this review, however, and my opinions are strictly my own.