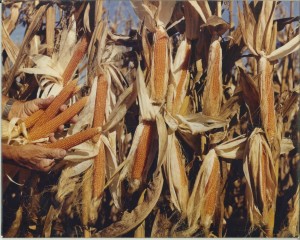 This summer, why not grow your own popcorn? And not just any popcorn either. We're talking untreated, organic and non-GMO popcorn, which is getting harder and harder to find in grocery stores … and seed catalogs.
Seasonal Wisdom teamed up with Angie's Popcorn and Fiskars to make it easier for you to grow popcorn in your own garden this year.  We're giving away TWO garden prize packages with untreated, non-GMO Boomchickapop™ popcorn seeds, Fiskars garden tools and more. You'll be popping your own homegrown corn before you know it! Hurry — This random drawing ends at midnight on Wednesday, April 30, 2014. Congratulations to Cindy from Virginia and David from Pennsylvania for winning this random drawing.
What's Going On?
When Angie's Popcorn approached me recently about participating in their summer-long "Grow Some Boom" campaign, I was already familiar with the products. I first bought their popcorn, because of a relatively small logo on their packaging that said they didn't use GMO corn.
Finding non-GMO popcorn in your stores isn't easy these days. It's getting more difficult to find non-GMO corn seeds for your garden too, according to the Baker Creek Heirloom Seed Company.
What's a GMO? Basically, this term stands for genetically modified organisms, and is commonly used by the public to talk about foods that have been genetically engineered.
This isn't your typical plant cross breeding, according to Sustainable Table.
"With genetic engineering, genes from completely different species can be inserted into one another," writes the website. "Scientists in Taiwan have successfully inserted jellyfish genes into pigs in order to make them glow in the dark."

Now I don't know about you, but I don't want my pork glowing in the dark. And I don't want my corn and my popcorn genetically engineered either.
Unfortunately, approximately 88 percent of corn grown in the United States is now genetically engineered.
"The majority of genetically engineered crops grown today are engineered to be resistant to pesticides and/or herbicides," writes Sustainable Table, "so that they can withstand being sprayed with weed killer while the rest of the plants in the field die."
Sadly, the United States does not require genetically altered foods to be labeled, although 64 + other countries (including China and Russia) do require labeling, according to Just Label It!
Last week, the state of Vermont took steps to start requiring mandatory labeling on GMO ingredients by July 1, 2016.  Definitely a move in the right direction for those who want to know what is in their food. Here's more from Treehugger.

Grow Some Boom
So to make a long story short, you can see why the timing could not be better to grow your own organic, non-GMO popcorn.  Besides, the weather is finally warming up after a long winter, and corn seeds should be planted after the last frost date in your area.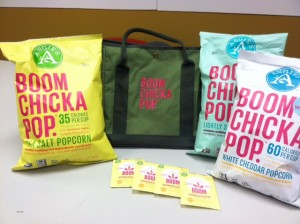 Here's what we're giving away in this random drawing … TWO Grow Some Boom Packages with:
Untreated, organic and non-GMO Boomchickapop seeds to grow your own popcorn
Boomchickapop non-GMO popcorn, to eat while you're waiting for your own popcorn to grow
Boomchickapop garden bag for tools, supplies or whatever you want
From Fiskars, two winners will each receive a 3-piece Softouch® Garden Tool Kit for digging, weeding, loosening the soil and more.  All with a lifetime warranty.
Enter to Win
Before midnight on April 30, 2014, enter to win this Grow Some Boom drawing by using the Rafflecopter device below.  It's easy to participate, and you have multiple chances to win.
This random drawing is limited to residents in the United States.  Please check your spam folders to see whether you're one of the two winners! Congratulations to Cindy from Virginia and David from Pennsylvania for winning this random drawing.
Good luck all, and happy gardening!
Disclosure: If you read this blog often, you probably know already I'm a paid writer on Fiskars' national Garden Experts Team. The Fiskars products were provided at no charge for this random drawing, but I was not paid by the company to conduct this promotion. Angies' Popcorn packages also were provided at no charge, and I was compensated by this company for the promotion.  But my opinions are always my own.
More Help to Grow Your Own Popcorn
Grow Some Boom and Boomchickapop Facebook Page have growing tips and photos from gardeners around the nation.
Popcorn growing tips from Utah State Extension
Want to try sweet corn instead? Blue Jade Corn is another corn you need to try. It's one of the few sweet corns to grow in containers!