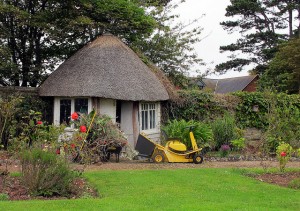 Guest Contributor: Early fall is the perfect time to get outside and putter around in your garden. But what if the inside of your garden shed is such a disaster that you'd rather bury your head in the sand? Before cold weather sets in, take the time to organize your garden shed, so that "yard day" won't begin with a frustrating search for missing necessities. Photo copyright  crabchick/Flickr.
Don't worry – even if you don't have tons of storage space or a shed devoted entirely to your gardening tools, there are several ways to make it all work together. Here are a few clever ways to organize your garden shed this fall.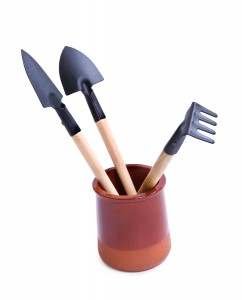 Pulling Double Duty
For creative storage that is both fashionable and functional, use your flower pots two ways by repurposing them as storage containers when they aren't in service as a planter. Photo courtesy of Extra Space Storage.
Make sure they are clean and free of dirt and debris before you bundle up your hand tools and "plant" those inside. Arrange them on your countertop or work table to provide easy to access to these metal flowers.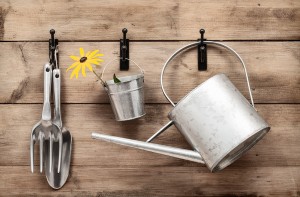 Picking Up the Pieces
When your floor space, countertop or table surface areas are in short supply, don't get down about it – pick those pails up and hang them from wall hooks instead. Photo courtesy of Extra Space Storage.
You can purchase matching wall hooks in a multitude of sizes to achieve a streamlined look or mix and match for a more eclectic feel. From there, anything you can dangle on a hook is fair game!
Garden Hose Hook
The same idea applies if you have a garden hose that is simply fit to be tied having to hang out in a huddled heap on the floor. Get it off the ground by neatly looping it over a large (horse collar-sized!) hook with a long arm and steep angle to prevent the hose from unraveling over the edge.
Tooled Up Tools
Most hand tools come with holes in the handles for this very purpose, but if yours do not have pre-drilled handle holes, don't worry! Tightly knot a piece of twine or rope around the end of the handle to create your own loop holes, the other end of which can attach to the wall hook.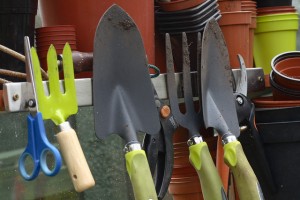 Raising the Stakes
Gardeners should take an organizational tip from chefs and attach a magnetic strip (magnetic knife rack) to the wall for a clutter-free counter. Photo courtesy of Paul Albertella/Flickr.
Make sure the rack you select has a strong enough magnet to support the weight of heavy spades, claws and pruning shears. Also, install these high enough off the ground so that kids and pets aren't in danger of running into an accident and high enough off of the work station that you won't inadvertently poke yourself if you bend at the waist to get something.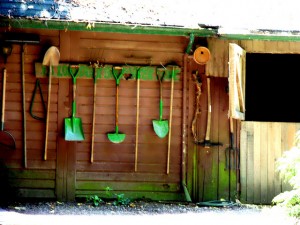 Just Hanging Out
If you run out of space inside your garden shed, think outside of the garden shed box and take your tools outside…literally! Hanging them from secure hooks on the outside of your shed can be a creative way to display pretty or otherwise interesting looking tools and prevent cluttering up your inside storage. Photo courtesy www.metaphoricalplatypus.com.
Like the shovels, rakes and hoes pictured above, if you have matching or coordinating pieces hanging outside, you have a pretty pop of color and tools in a handy position all at the same time.
Just be sure you have an awning or roof extension to provide sufficient protection from the elements like rain and snow that can rust and damage tools.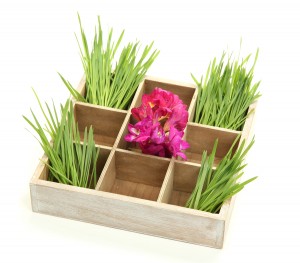 Keep 'Em Separated
Finally, when you want to sort your seeds or gardening notes or even dried flowers and herbs, opt for the segregation possibilities of a container with individual compartments. Photo courtesy of Extra Space Storage.
In addition to actual flower boxes, you can use:
Vintage milk bottle holders
Repurposed utensil caddies from a dishwasher
File boxes
Jewelry organizers
Craft boxes for thread and sewing notions
As a final note: once you organize your garden shed just the way you like it, do your absolute best to keep it in order. Because now that the hard work's done, a bit of maintenance here and there will keep you coming back outside all season long.
What are some of the smart storage solutions or organization efforts you've set up for your garden shed?
About the Author: Jessica Johnson works for www.extraspace.com and contributes to the Extra Space Storage blog, exploring various aspects of organizing and storing possessions.