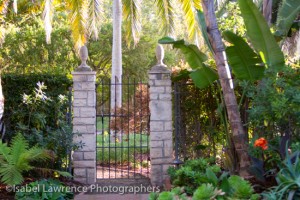 Behind these gates is a private garden in the upscale, coastal city of Santa Barbara, California. Best of all, you can enter this exclusive home garden now with a special Seasonal Wisdom tour, hosted by award-winning writer and landscape architect Billy Goodnick, author of Yards: Turn Any Outdoor Space into the Garden of Your Dreams.
So grab a glass of prosecco, and get comfy. In this post, you'll get garden design tips from Billy Goodnick, and see gorgeous photos of the garden he designed in a picturesque part of the United States,  commonly known as "The American Riviera."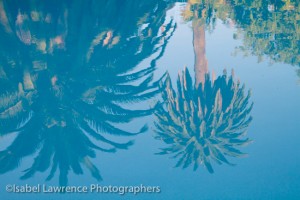 When we first started preparing for this garden tour a month ago, Billy told me the Southern California garden design was inspired by the Mad Men television series to evoke the cool elegance of "Don Draper at the Beverly Hills Hotel."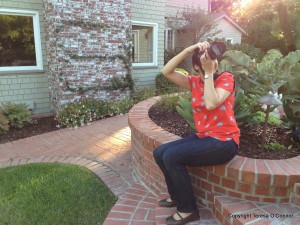 So, who better to join our garden tour and capture this classic California scene than Isabel Gomes of the award-winning husband and wife team at Isabel Lawrence Photographers?
Over the years, my friend Isabel has photographed celebrities such as Halle Berry and Michael Douglas, and her wedding, event and lifestyle photos have been featured in magazines such as People, InStyle and Town & Country. I knew she'd be wonderful in this Seasonal Wisdom blog post. (By the way, you can make Isabel's photos larger by clicking on them.)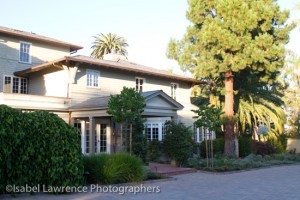 As the three of us walked around this gorgeous half-acre garden on an early summer evening, Billy shared his thoughts about this home garden, landscape design in general and his new book Yards (St. Lynn's Press, 2012).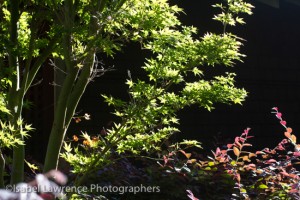 The biggest misconception out there is that gardens are all about the plants, according to Billy. "Yes, plants are what we look at and enjoy most about our gardens," he admits. "But picking out 'which plant goes where' is actually one of the last steps in the design process."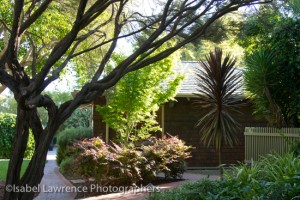 He instead recommends that you first analyze your property for opportunities and constraints, and combine those discoveries with your expectations for how you want to use your garden. This shady side yard still manages to delight as we pass from the front yard to the back area of the property.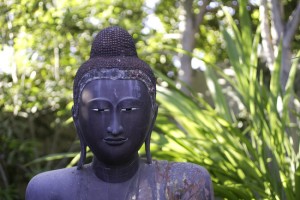 This 4-foot Buddha was an integral part of the garden, and the owners wanted it to have a prominent spot in their new backyard.
"The Buddha was one of the first things we discussed in planning the garden," Billy Goodnick recalls. "When I saw the raised area, I knew instantly that we had found the perfect spot. But we had to demolish all the brick paving that was there from the previous owner."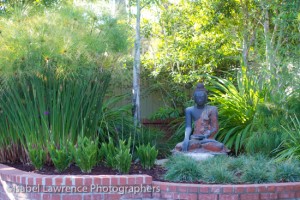 Today, dwarf Mexican weeping bamboo, purple cane orchid, palm grass, fishtail palm, papyrus, Greenlee moor grass, mat reed and pygmy date palm are some of the plants that create a serene, peaceful setting for the majestic Buddha.
In this bed, as in Billy's other designs, you can see repetitions of similar plant shapes, contrasting textures and complementary colors. All these elements helped to create garden beds that are low maintenance but filled with unexpected and exciting plant choices.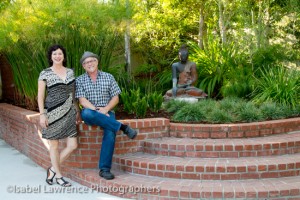 Billy and I are standing in front of the raised garden, so you see how the Buddha area is elevated in the backyard.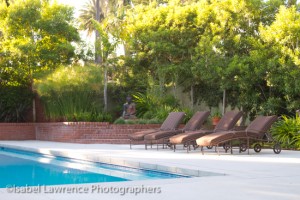 Billy spent hours considering where to place the statue, so that the Buddha would be visible from different spots in the yard.
Moving further back, you can see how the Buddha remains a focal point in the garden, as it gazes upon the large swimming pool.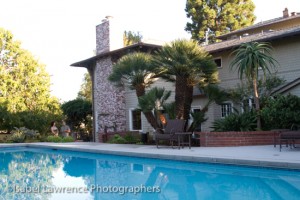 It's important for your yard "to do more than just sit there looking cool," says Billy. "It's supremely important to make your yard work for you."
He encourages homeowners to make their gardens an extension of their homes and to ask themselves "What do I want to be able to DO when I go outside?"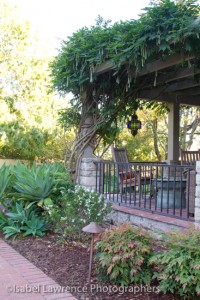 For instance, here's a pretty pergola on the property with a wisteria growing above. It was an established part of the yard, and other than some heavy pruning, it has remained relatively untouched. The outdoor veranda remains a popular spot in the garden.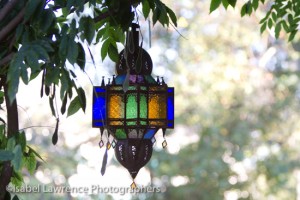 The covered patio is an ideal spot for relaxing with a book, or enjoying cocktails with friends during the balmy Santa Barbara evenings.
Near the swimming pool, this garden bed evokes the sea with its sculptural shapes, looking almost like a coral reef.
Billy says the plants include velvet elephant ear (big grey/brown one), fan aloe (in front), Sedum 'Angelina' (chartreuse ground cover), 'Duet' New Zealand flax (variegated grassy plant) and Aeonium canariensis (chunky succulent with rosette forms).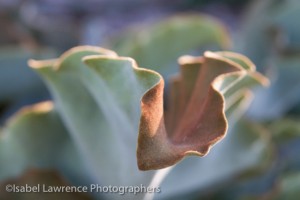 Here is a closeup of velvet elephant ear (Kalanchoe beharensis), which blew us away with its amazing shapes and colors.  A slow grower, this succulent will eventually reach about 12 feet tall.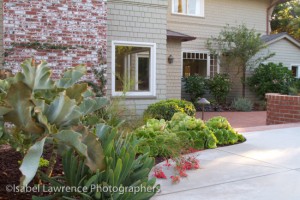 Throughout the garden, Billy uses a principle of mixing trees with large, medium and small-sized plants to fill the outdoor spaces with excitement and visual interest.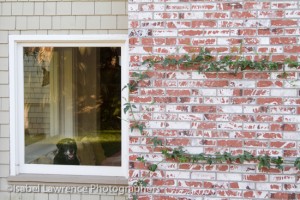 One of the family dogs watches us take the garden tour with Billy Goodnick.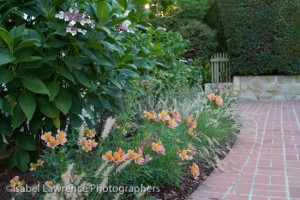 Isabel and I particularly liked this side garden, which repeats shades of peach and pink in the flowers. The colors complement the color scheme of the hardscaping, accenting the hues of the brick and stone.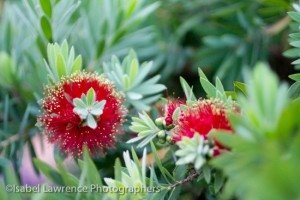 "When it does come time to select plants, I want people to get the most out of the plants they choose," says Billy.
Shown above is a Callistemon 'Little John' bottlebrush shrub that only grows 3 feet tall and wide. This drought-tolerant shrub flowers year round in Santa Barbara's Mediterranean growing climate.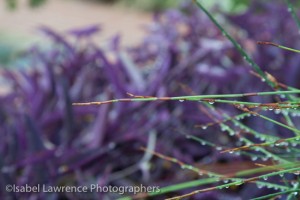 A purple wandering jew (Tradescantia pallida 'Purple Heart') grows alongside a dew-dipped cape reed (Chondropetalum tectorum), showing how exciting foliage can be in the garden.
Despite their beauty, Billy believes strongly that these plants' appearances should be secondary to what they can contribute to the usability of your garden.
"Do the plants make your garden more comfortable by shading a patio or blocking the wind? Or, create a secluded, fragrant getaway, or keep a hillside from eroding?" he asks. "Once those considerations are addressed in your garden, you have my permission to make your yard drop-dead gorgeous."
In this young herb garden, Billy planted silver-leaved Pittosporum tenuifolium 'Silver Sheen' in front of some old bamboo to add more privacy to this garden from its neighbors.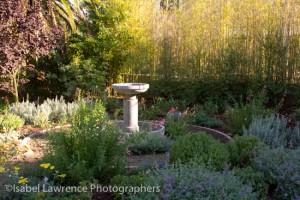 The drought-tolerant herb garden is especially attractive as the sun begins to set for the evening.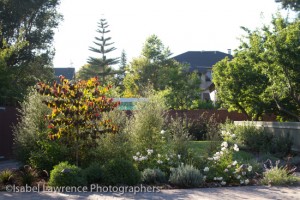 With his new book Yards, Billy wants people to know they don't need to spend a lot of money or hire a professional designer to create the garden of their dreams. The book's appendix features helpful resources for determining whether you're up to the job.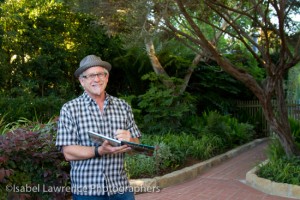 Billy says he wrote Yards for two main audiences:  "The first are people with an existing garden that needs improvement, and the second are those who will likely end up hiring a pro but want to be fully engaged participants in the design process."
Regardless of which camp you find yourself in, Yards will expand your thinking so you can get the most out of what you undertake in the garden.  Plus, this award-winning contributing editor for Fine Gardening is a real hoot, so you'll enjoy reading his laid-back, humorous writing too.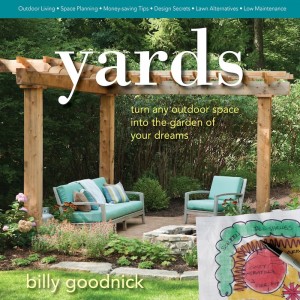 You can enter to win a free autographed copy!
Not only was Billy nice enough to take us on a garden tour, he's also giving a free autographed copy to a lucky Seasonal Wisdom reader.
Enter to win a copy of Yards in this random drawing, by logging into the Rafflecopter giveaway below.
Thanks to all for entering. This random drawing ends at midnight on August 5. Please check your spam folders on August 6, and get back to us right away to claim your prize. Good luck!
Learn more about Billy Goodnick at BillyGoodnick.com.