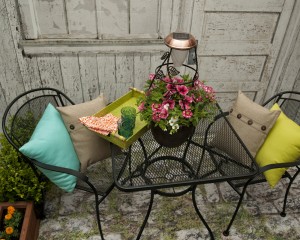 Welcome to the Seasonal Wisdom Mid-Summer Garden Giveaway. Could your garden use a little help right about now? If so, here's your chance to win several cool prizes for your home garden, valued at approximately $100.
One prize is this SolaRadiance solar-powered plant container, shown above, which you'll have a chance to try even before it's sold in stores! There are also great prizes from Fiskars, RESCUE! and Authentic Haven Brand.  But hurry. This random drawing ends at midnight on July 23, 2013. Good luck all. Congratulations to Stephanie of Merced, California for winning this random giveaway. Here's how to enter…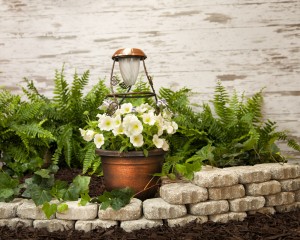 The first prize in this Mid-Summer Garden Giveaway is a SolaRadiance solar-powered planter, shown above.
This product — which will be available throughout the United States in Spring 2014 — features:
An antique bronze-style planter with solar light
A $10 Lowe's gift card for plants of your choice
A bag of specially formulated potting soil.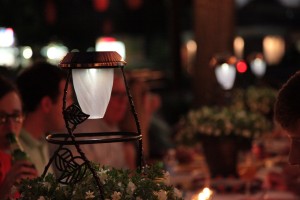 Be sure to place this attractive solar light/planter somewhere prominent in your garden. You'll especially like the way your SolaRadiance product looks at night, when it provides a delightful glow for your garden and outdoor dinner parties. As this solar-powered plant container isn't yet available in stores, you'll be the first in your neighborhood to have one.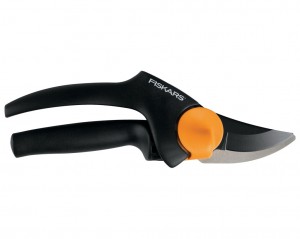 Also included in the Mid-Summer Garden Giveaway is a Fiskars PowerGear Large Pruner, which cuts easily through stems and light branches up to 3/4″ diameter.
The tool's low-friction coating helps the blade glide through wood, and prevents the blade from gumming up with sap and debris. It also helps the blade resist rust.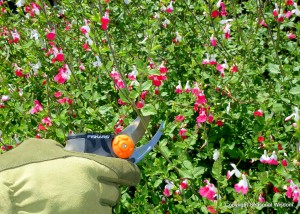 As many of you may know, I'm a member of Fiskars national garden authors team. So, I've had the chance to use this product many times in my own garden, as you can see above.
Especially in late-summer and fall – when you have a lot of pruning to do in the garden – you'll appreciate the way this pruner was awarded an Ease-of-Use Commendation from the Arthritis Foundation. There's also a lifetime warranty.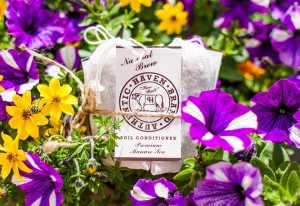 Another prize in the Mid-Summer Garden Giveaway package is a three-pack sampler of all-natural Authentic Haven Brand Soil Conditioning Teas.
If you can brew a cup of tea, then you can make this effective manure tea for your garden.
This three-pack of Authentic Haven Brand products includes cow manure tea, horse manure tea and alfalfa tea. The ingredients come directly from the Haven family ranch in Southern California.
Use the cow and horse manures for feeding your herbs, vegetables, flowers and lawns in your garden. They also would work great with your SolaRadiance planter.
The alfalfa tea is a great way to give your roses a jump start in the spring.
Also featured in the Mid-Summer Garden Giveaway is the RESCUE! Japanese and Oriental Beetle Trap. With beetles devouring many garden plants right about now, it seemed a great time to give you a little extra help in battling them.
This earth-friendly product slowly releases a natural pheromone over 8-weeks to capture these garden pests without harming beneficial insects. The trap is reusable, and the zippered bottom allows the beetles to be discarded easily.
Contrary to urban myths out there, these beetle traps DO NOT attract more beetles to your yard. But they will trap those in your garden without dangerous chemicals. Learn more about this green garden product and other myths about Japanese and Oriental beetles.
The final prize in this Mid-Summer Garden Giveaway involves flies – which can be a real nuisance during the dog days of summer. You'll win a three-pack of RESCUE! Fly Tapes, which use the VisiLure™ technology to lure flies with colors, shapes and other visual stimuli.
These attractive fly tapes are pretty enough to hang in laundry rooms, garages or other places where flies gather in your home. Personally, I like the way they provide a safe, chemical-free way to capture annoying flies and keep them away from your food – and you!
Enter to Win:
SolaRadiance Solar-Powered Container (suggested retail price [SRP] $45)
Fiskars PowerGear Bypass Pruner (SRP $29.99)
Three-Pack of Authentic Haven Brand Soil Conditioning Teas (SRP $12.95)
RESCUE! Japanese Beetle Trap (SRP $10.99)
Three-Pack of RESCUE! Fly Tapes (SRP $3.99)
Please use the below Rafflecopter to enter this giveaway.
Disclosure: These prizes were provided at no charge to Seasonal Wisdom. However, I was not paid to run this promotion, and my opinions are strictly my own.
Good luck everyone! Don't forget to enter before midnight on July 23, 2013. 
Please note this giveaway is only available to U.S. residents, and that by participating you agree to allow your first name to be mentioned as the winner. Don't forget to check your spam folder, in case you win.
Thanks everyone for entering, and for your support of Seasonal Wisdom all year long. Enjoy the remainder of your summer, and watch for more fun gardening, food and folklore stories coming soon.