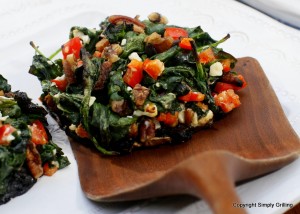 Nothing says "summer" better than a delicious meal prepared on a sizzling grill. Whether you prefer to eat vegetarian or crave a juicy steak, a new cookbook called Simply Grilling provides a lot of delicious ideas.
For instance, this Spinach-Stuffed Portobello Mushroom dish features grilled mushrooms stuffed with spinach, garlic, red peppers, pecans and feta cheese. Throw in a simple salad, and you have a complete meal. Learn more about how this new cookbook is determined to make you rethink the way you use your grill.
All photos copyright Simply Grilling.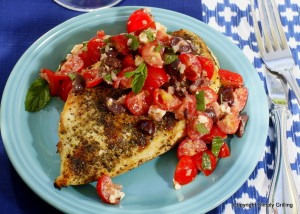 With summer here, it's a wonderful time to pull out the old barbecue and impress your family and friends with your grilling skills. To help me brush up on my talents in this area, I was pleased to have the chance to review the new book Simply Grilling (2012; Thomas Nelson) by Jennifer Chandler.
The four-color book features 105 delicious recipes for all kinds of starters, poultry dishes — such as this Grilled Herb Chicken with Greek Tomato-Olive Relish (above) — along with meats, seafoods, salads, sandwiches, vegetables and side dishes, and even desserts!
There's a brief, but informative Grilling 101 section that covers everything from grilling methods and meat temperatures to applying marinades, rubs and sauces.  It's these types of practical details that help achieve professional results on the barbecue.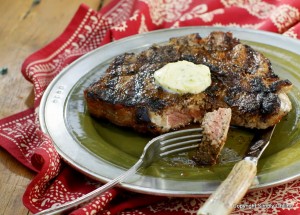 Even a traditional steak gets a special touch in this clever book. The meat-eaters in your household will thank you kindly for this Cowboy T-Bone with Whiskey Butter.
Each recipe in Simply Grilling features a handful of helpful details — such as which culinary steps can be done ahead of time; how long to marinate the meal; suggested side dishes; cooking tips; and variations on the recipe.
For instance, you'll be happy to know the steak recipe's Whiskey Butter can be stored up to one month in the freezer, and that Smoky Steak Fries (page 191) and Grilled Cherry Tomatoes with Sweet Basil (page 205) go deliciously well with this steak.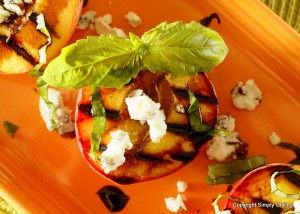 We're big vegetable and fruit eaters in this household, so I was pleased to see that the author included many fresh foods as side dishes and accompaniments to these meals. For instance, just look at these gorgeous Grilled Peaches with Balsamic Syrup and Crumbled Blue Cheese.
Look a bit further in this book and you'll find such nutritious dishes as Grilled Zucchini Ribbons with Fresh Mint and Pine Nuts and a yummy looking Grilled Bananas Foster.
Meanwhile, I've already tried the Lemon-Oregano Chicken and Tandoori Chicken with great results. But those grilled peaches and Cowboy T-Bone have definitely caught my eye.
From clever recipes and delightful photos to good solid grilling information, Simply Grilling will provide you with plenty of ideas to spice up your meals all year long.
Disclosure: Seasonal Wisdom was supplied a  free review copy of this book, although I was not compensated for writing or researching this article. My opinions are my own.